Crane Operator Salary in South African Rands
In South Africa, the crane operator's job plays a pivotal role in the industrial and construction sectors in efficiently moving heavy materials and objects. The crane operators navigate giant machines with precision and safety. However, this makes us wonder how much a crane operator makes in South Africa.
A crane operator makes around R325,631 per year or R157 per hour. However, this is just an average amount, and it can be lower or higher depending on the operators' experience and work area. So, let us explore the factors that influence a crane operator's salary.
Crane Operator Salary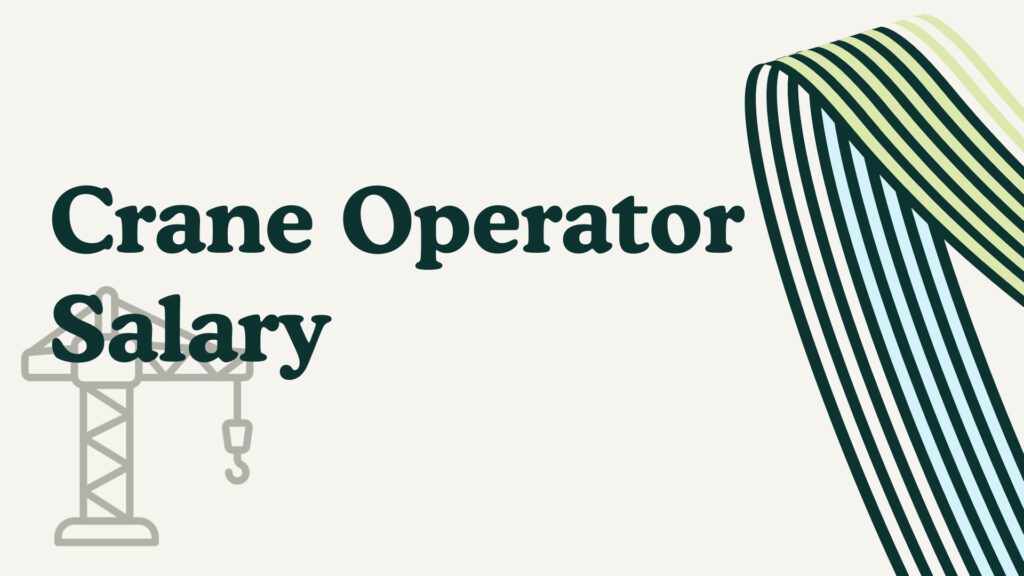 Currently, a crane operator's job is in demand in South Africa with a decent salary. Moreover, a crane operator in South Africa earns an average of R325,631 per year and around R27136 per month. Similarly, their hourly wage is R157, and an additional average bonus of R6,447.
In comparison, a crane operator's average base salary in the United States is &24.36 per hour, $4018 per month, and $56751 per year. For reference, it converts into around 1,096,510.47 South African rands, a significant difference between the average annual salary of crane operators in the two countries.
The salary is estimated to increase by at least 16% over the time span of five years. This indicates that the crane operator's average wage in 2028 will be roughly around R377,495 per year. Moreover, this is a decent increase in pay; however, it might be different than the given figure because multiple factors can influence the pay.
Salary Variations for Crane Operators in South Africa
Based on Experience
The crane operator's salary depends on their experience; an experienced crane operator will always make more money than a beginner. For instance, the average salary of a senior crane operator is around R401,949, while someone with less than three years of experience makes around R240,234. This is a considerable difference based on the knowledge and expertise of the operator.
Based on the Work Area
| City | Crane Operator's salary |
| --- | --- |
| Durban, Kwazulu-Natal | R428762 per year |
| Johannesburg, Gauteng | R249673 per year |
| Cape Town, Western Cape | R211542 per year |
| Rustengburg, North West | R160636 per year |
| Kathu, Northern Cape | R160573 per year |
Please note that the average base salary mentioned in this blog is based on the reported salaries. The specific salary amount may be more or less than the given figure. However, this will provide you with an overview of the average wage of a Crane Operator in South Africa.
What Does a Crane Operator Do?
Crane operators are skilled professionals who operate cranes, which are large machines with the ability to lift and move heavy objects and materials. An operator's job is to control the crane's movements, including lifting, lowering, and moving loads horizontally. Similarly, they calculate load weights and determine the crane's lifting capacity.
Crane operators are also trained to be prepared to follow emergency procedures to ensure safety in case of an emergency or equipment failure. So, they play a role in ensuring the safety of the people by maintaining the crane and keeping it in good condition.
Factors Determining Crane Operator's Salary in South Africa
Experience
As mentioned above, experience plays a vital role in determining an employee's pay. When employees gain experience, it means they have become more efficient in their field of work by learning new skills through practice. Moreover, an experienced crane operator earns twice as much as an entry-level employee.
Location
The area of your job also has an impact on your salary. In some cities, the industrial and construction sectors are more active, and the crane operators have high demand. Therefore, you can earn a maximum of R428762 per year as a crane operator in Durban, Kwazulu-Natal, and the same job will make you an R160573 per year in Kathu, Northern Cape.
Education
Education also plays a huge role in determining your salary because, with education, you can learn the physics behind operating such huge machinery. However, 95% of crane operators have a high school degree, so you can have a huge margin if you join this field with a proper degree and training.
What is the highest-paid crane operator in South Africa?
The average base salary of a crane operator in South Africa is around R325,631 per year or R157 per hour. An entry-level employee can make R240,234, while an experienced crane operator earns around R401,949.
Is crane operator a good career?
Yes, crane operators can go for various niche job options, and due to the increase currently, the job is also in high demand.
How much is the mobile crane operating course in South Africa?
The mobile crane operating course costs around R5000 and is completed in a week.
How long does it take to become a crane operator in South Africa?
You can complete a crane operator course in three days to one week, depending on your course type.
How much do overhead crane technicians make in South Africa?
Crane technicians can make around R120 to R230 per hour in South Africa.
In short, a crane operator in South Africa makes around R325,631 per year or R157 per hour. Moreover, the salary largely depends on your experience and expertise in the field because it requires high precision and control, which comes with practice. So, if you are considering a crane operator job, read the blog thoroughly to learn about its salary dynamics.