Fixed-term Contract Meaning in South African Businesses
What does a "fixed contract" entail, and why is it important? A fixed-term contract refers to a specific contract of employment with a determined end date. This contract plays a key role in South African labor laws, providing a framework for temporary employment relationships.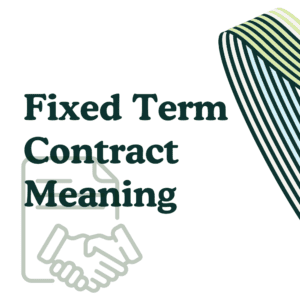 These contract, which differs from open-ended employment, plays a key role in governing the employment environment and ensuring that both employers and employees work within a clear and legally defined structure. In this article, I will explore the basics of fixed-term contracts in South Africa, including the benefits they offer to their employees. Therefore, keep reading to enlighten yourself.
Fixed Term Contract Meaning
A fixed-term contract is a legally binding agreement between two entities or parties (employer and employee) for a specific duration during which the employees agree to offer their services and perform specific roles in exchange for compensation. Furthermore, the agreement specifies that it will conclude on a determined end date, and the employer and employee relationship will come to an end.
In South Africa, the management of fixed-term contracts falls under the domain of the nation's labor laws, with the primary statutes, including the Labor Relation Act of 1995 and the Basic Conditions of Employment Act, serving as the principal legislative instruments. These laws put forth the basic rights and responsibilities of both employers and employees regarding fixed-term employment. Moreover, it is the responsibility of every employer to adhere to these laws when entering into fixed-term agreements with their workers.
Time Frame
What is the specific duration of fixed-term contracts? The duration of the contract can vary significantly, ranging from months to years, depending on the nature of the job and the mutual agreement between the employer and employee. However, in South Africa, the fixed-term contract comes with specific legal requirements that both employer and employee must follow.
On August 17, 2014, South Africa's president enacted the Labor Relations Amendment Act, 2004 (Act No.6 of 2014), in accordance with section 84 (2)(a) of the constitution. This action brought significant change to the Fixed-Term Contract employment by introducing section 198B.
The new act states that an employee cannot enter a fixed-term contract for longer than a period of three months. In addition, it also prohibits unjustified renewal of a fixed-term contract. Furthermore, in South Africa, a fixed-term contract is justifiable only under particular conditions, which are as follows:
If the employee is filling in for another employee who is, for the time being, absent from work.
A fixed-term contract is justifiable if the employee is hired due to a temporary increase in workload that is not expected to last more than twelve months.
If the employee is a fresh graduate and is currently on a probation period.
Employer and employee can enter the fixed-term contract if the employee is recruited to work exclusively on a specific project with a limited time frame.
If the employee holds the position funded externally for a limited duration.
What Are The Benefits Of a Fixed-Term Contract?
Employees who have entered fixed-term contracts are entitled to receive certain benefits and protection. Let me list them down one by one:
Fair Treatment
Fix-term employees receive the same treatment as permanent employees when it comes to working conditions, remuneration, and other benefits. Any discrimination due to the nature of the agreement is strictly prohibited, ensuring fairness. Therefore, these employees have the right to enjoy the same privileges as permanent staff.
Retrenchment
The employees have a fair chance to explore other employment options within the organization when their current positions are at risk due to retrenchment or other changes. This helps protect the employee's job security.
Renewal
Employees also have the opportunity to renew their contract if both parties mutually agree to extend the contract. This allows the employee to continue their tenure within the company, providing job security and the opportunity to further contribute to the organization's goals.
Regrettably, in certain cases, employees misuse fixed-term agreements as a way to save money by denying an employee the chance to access pension and medical aid benefits. You must be careful and well-informed when entering into such contracts.
Concluding Statement
To sum up, a fixed-term contract refers to an agreement between two parties that outlines a specific duration of employment. These agreements offer a structured framework for both parties, covering essential aspects, including termination, legal safeguards, and employment benefits. Moreover, it is necessary for both the employer and employee to follow the relevant labor laws to ensure a fair and lawful employment relationship.