Grade C Security Rate Per Hour in South Africa
What is the cost of Grade C security per hour? This is a common question asked by businesses and event organizers when seeking security services in South Africa. Grade C security refers to the basic level of protection and is a common choice for many organizations looking to protect their possessions, assets, or events. Understanding the associated hourly rate is essential for making informed decisions about your security needs.
In this article, I will explore Grade C security hourly rates and the factors that influence the rates charged per hour for these services. Therefore, keep reading to enlighten yourself.
Grade C Security Rate Per Hour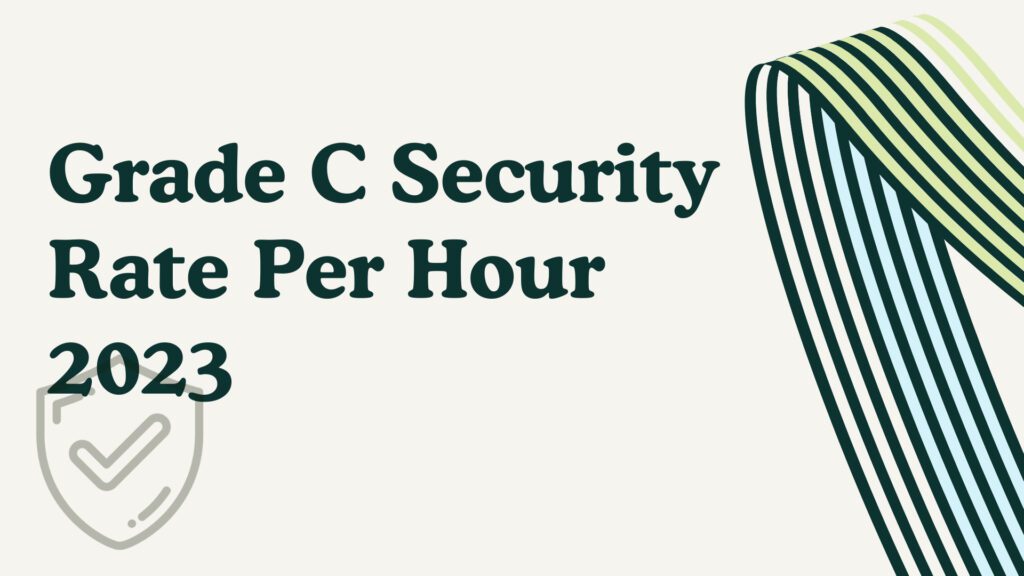 Security is a top concern for many individuals, businessmen, and organizations. When it comes to the level of security required, security services are categorized into different grades, each representing a distinctive level of skill set and proficiency. Grade C security refers to the basic or fundamental level of security services provided at a lower level.
Grade C is the third level in a graded security system, with Grade A being the highest and Grade D being the lowest in the rank. Individuals opting for Grade C level are usually trained to handle multiple tasks, including patrolling, surveillance, and more. Moreover, Grade C security personnel duty may also include monitoring security cameras and responding to basic security complaints or incidents.
If you are interested in working as a Grade C security personnel, it is necessary to understand its salary structure. Consequently, the most important question that arises is, what is the hourly rate for Grade C security services? Payments for security guards in South Africa vary due to their grading (A, B, C, or D).
The higher the grade level, the higher the salary. The National Minimum Wage Act sets minimum wages for all workers in South Africa, including security guards. South African government has established a minimum wage, which means no worker in the country must be paid below this mandatory minimum rate of pay.
The minimum wage for Grade C security personnel in Area 1 and Area 2 is R25,42 per hour, which equals a monthly payment of ZAR 5,036.0. On the other hand, Grade C security personnel in Area 3 receive a lower salary, approximately ZAR 4,786.0. Additionally, beyond the minimum wage, Grade C security officers also receive bonuses and commissions.
Per Hour: R25,42 per hour
Monthly Area 1+2: ZAR 5,036.0
Monthly Area 3: ZAR 4,786.0
What Role Does Grade C Personnel Fulfill?
Grade C personnel undertake a variety of tasks. Let me list down some of their common responsibilities and roles.
Common Responsibilities of Grade C Security Personnel
Patrolling
Patrolling is one of the basic roles that Grade C personnel have to play. It is their responsibility to regularly conduct patrols, whether in a vehicle or on foot, to detect any potential security threats.
Surveillance
The list of their responsibilities also includes monitoring security cameras, alarms, and other surveillance equipment to detect any suspicious activities.
Maintaining Order
Many Grade C security personnel have the responsibility of maintaining order, controlling crowds, and ensuring the safety of attendees at public places, events, or any gatherings. They also have to make sure that there are no disturbances, making their role vital in creating a peaceful and secure environment.
Factors Affecting Grace C Security Rates Per Hour
Security guard's salaries in South Africa vary because of different factors. Let me tell you the key elements that affect Grade C security rates per hour:
Location
Location significantly contributes to the security guard's salary. In major cities or regions with high costs of living and elevated security demands, the income for Grade C security personnel tends to be higher. On the other hand, regions with low demand offer comparatively lower salaries.
Experience
In every profession, individuals with vast amounts of experience have the opportunity to earn a higher salary, and the same principle holds true for the field of security services. Security guards who are well-trained and holds years of experience can command higher salary or rates. Moreover, additional skills, such as specialized training or first aid skills, can also impact rates.
Overtime
Security guards often work irregular hours, including night shifts, holidays, and weekends. Through overtime or night shifts, security guards can earn additional income.
Concluding Statement
In conclusion, Grade C security services offer a basic level of protection for individuals and businesses. The hourly pay rate for Grade C security personnel is R25,42 per hour, equating to approximately ZAR 5,036.0 per month (Area 1+2). Whereas Grade C security guards in Area 3 earn about ZAR 4,786.0.
However, keep in mind that the salary can vary due to multiple factors, such as experience, overtime, additional skills, and location. It is important for both employers and employees to consider these elements when determining compensation in the security industry.