Public Servants Salary Increase South Africa 2023 Latest News
The Department of Public Service and Administration DPSA launched a statement on March 31, 2023. According to the statement released, the Public Service Co-ordinating Council in collaboration with the National Treasury accepted the wage increase of 7.5% for the government employees.
Here is a complete guide on the public servant salary increase in South Africa in 2023, so keep on reading to know more.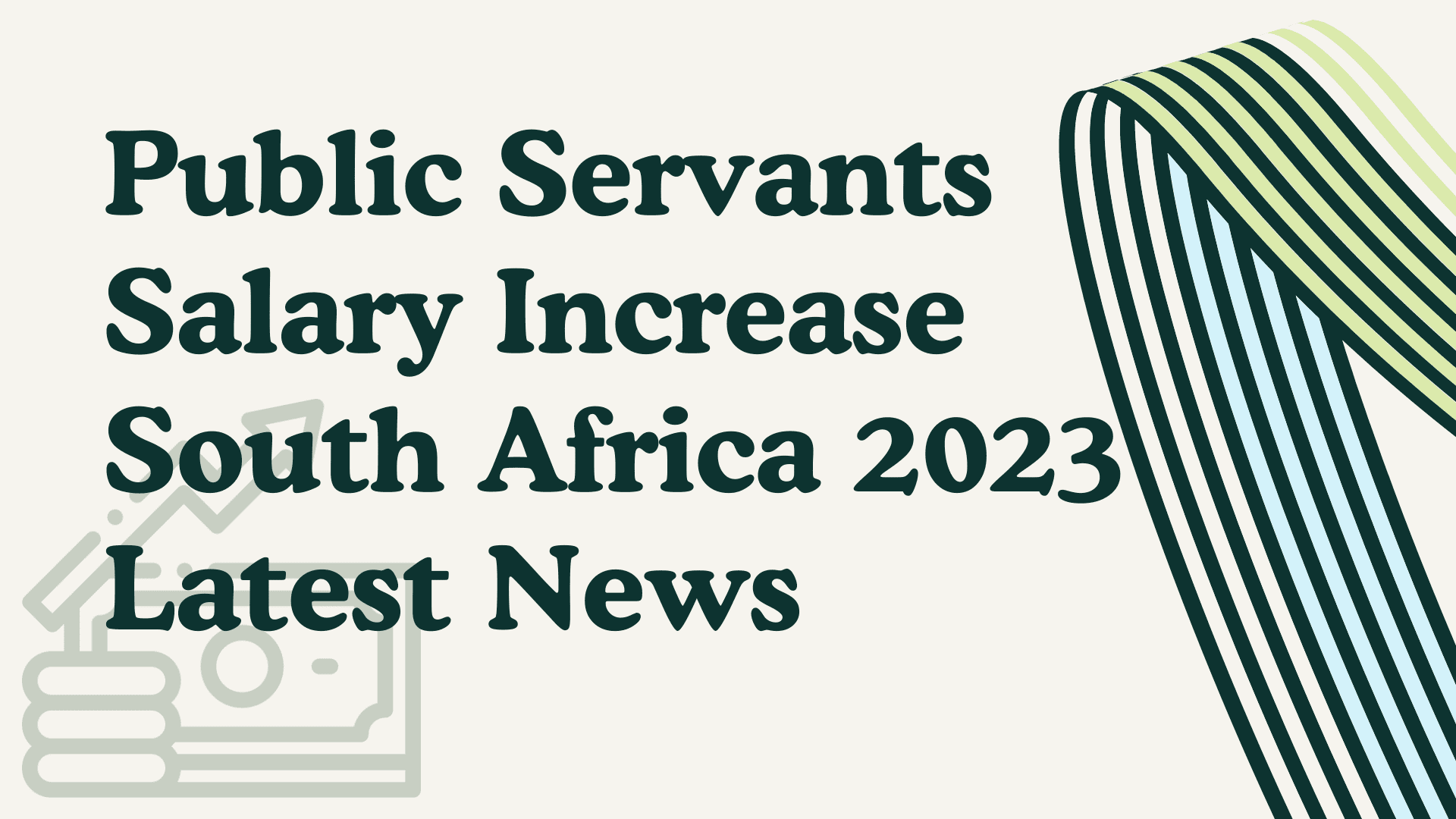 Increase in Government Employees Wage
The contractual offer proposed a 7.5% increase in the government employees' wages and here are some conditions of its implementation across the country, revised back on April 1, 2023.
Here is a list of all the provisions included in the settled agreement by PSCBC.
Two-year agreement for the next two financial years 2023/2024 and 2024/2025.
At least a 7.5% increase in the pensionable salaries of employees appointed between levels 1 and 12.
The transfer of the current non-pensionable salary to at least a 4.2% increase at the baseline.
An increase of 1.5% in the government employees/ public servant salaries across all departments within South Africa.
This decision was made in response to the laborers' demands for wages back in 2022. The labor community demands a number of reforms in the salaries and increments, followed by which the PSA came up with the first draft of the employee's wage-negotiation response. This proposal included the following pretext.
Single-term agreement with a 10% increase in the total package for government employees, known as GTP.
Extending the family responsibility leave in order to enable them to apply for leave under the legal guardianship of extended family members.
Increasing the current awards (long-service) by doubling the increment amount and incorporating this award in the long-term GTP plan (for 25, 30, 35, and 40 years).
This proposal was soon rejected by employees, as it was a long-term plan. They proposed to prioritize the salary increase and change two or three items in the draft of this contract. In response, the employees came up with a proposal stating at least a 6% increase in salaries across the board, which was then finalized in the statement released by DPSA, as explained before.
Average Salary of Government Employees in South Africa
According to a report published by the Public and Administration Sector Ministry, an average government employee in South Africa earns anywhere around R457 209 per year, which means R38 100 each month. This is a little higher for defense and education sector employees. Similarly, the report further suggested that the employees in the low cycle of employment earn around R8 700 per month.
PSA Latest Updates on Salary Negotiations
Now that the increase in the salaries of the national department government employees is active in South Africa, the national treasury has come up with a number of updates. Here are some key highlights for anyone following this news.
Government announced a 1.5% increase in the salaries of public servants.
In addition to this, they will also be getting around R1000 cash allowance, adding up to a total of 11.7% increase for employees hired in the lowest earning grades.
These cash allowances will be non-pensionable.
According to the new updates, employees can apply for voluntary contributions to GEPF.
Unions have the authority to revise the mandate offered at any point in time.
According to the new plan, payments will be broken down into two stages, first with 4.47% once the agreement is registered and signed (which was scheduled for April 2023) and 3.03% when the agreement is completely in order (scheduled for November 2023). This agreement is a revised version of the initial 6% increase proposal, suggested during the official meeting between the PSA Public Servant Association and the National Treasury.
Salary Breakdown of Government Employees in South Africa
In South Africa, the salary scale is divided into 16 levels, each based on the category of their job and listing. The average lowest wage earner receives an annual salary of around R103 562, whereas, for highest wage earners like Ministers, this number goes around R2.1 million each year. Here is a breakdown of the salaries received by South African government employees on the basis of their current level of employment.
| | |
| --- | --- |
| Grade Level (Posting and Skillset) | Average Salary (Per Year) |
| 1 | R103 562 |
| 2 | R171 278 |
| 3 | R206 957 |
| 4 | R247 296 |
| 5 | R283 227 |
| 6 | R332 985 |
| 7 | R411 227 |
| 8 | R479 868 |
| 9 | R567 956 |
| 10 | R710 273 |
| 11 | R851 022 |
| 12 | R1 222 246 |
| 13 | R1 147 609 |
| 14 | R1 378 620 |
| 15 | R2 130 602 |
Similarly, it is also to note that this salary scale varies on the basis of departments, given that some sectors like education and defense receive relatively more amount from the national funds. Here is a breakdown of how the government of South Africa distributes its funds for headcounts across all the departments. So, dive right in to know more.
| | | |
| --- | --- | --- |
| Sector/ Departments | Average Annual Pay for Government Employees | Growth in Salary (from 2016-2022) |
| Education Sector | R458 335 | 6% |
| Health Sector | R455 767 | 7% |
| Police Sector | R439 404 | 5.30% |
| Defense Sector | R473 391 | 5.30% |
| Correctional Services | R446 775 | 5% |
| Other | R468 033 | 4% |
FAQs
What is the average salary of a South African government employee?
An average South African employee earns around R38 100 per month. An average lower wage earner receives a salary of around R8 700 each month.
What is the proposed increase in public servant salaries in 2023?
According to the National Treasury, the Department of Public Service and Administration announced a 7.5% increase in the salaries of government employees.
Finally, the PSA government employees' demands have been put to an end with a revised statement from the Department of Public Service and Administration. I hope this guide was clear enough for you to understand the conditions and implementation of this contract.