9 Reasons for Termination of Employment Contract in SA
Contracts play a vital role in clarifying the certainty of an agreement, the legal protection of both parties, facilitating trust and collaboration to establish a business relationship, and much more. However, some situations lead to the termination of the contract by the employee or the employer.
What is an Employment Contract?
An employment contract is a legal document that plays a fundamental role in establishing the terms and conditions of working in a company. Furthermore, it is vital to establish a responsible working relationship between an employer and an employee to highlight the rights and duties of both parties.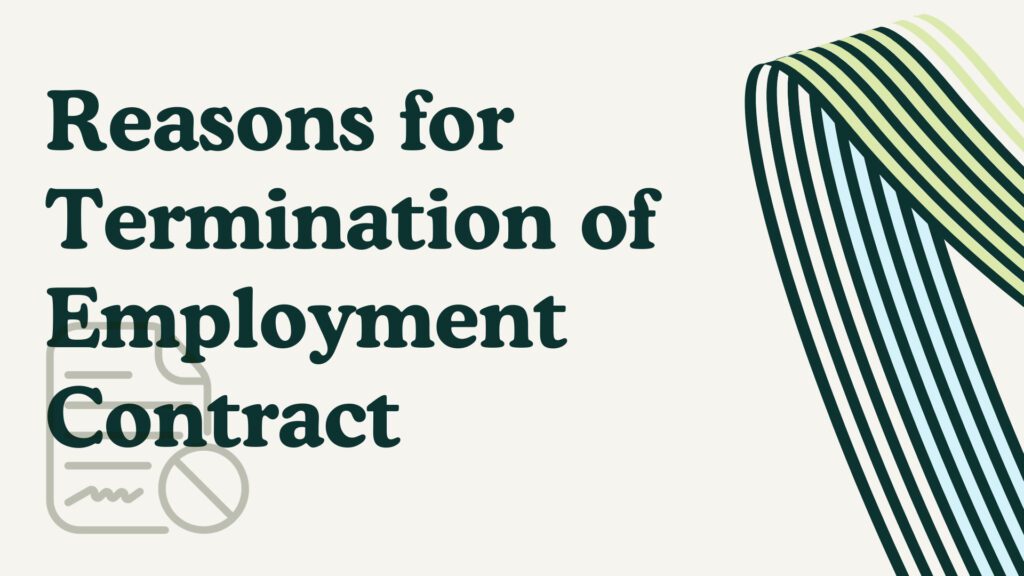 Factors Leading To Employment Contract Termination
Though many people find contract termination a normal act, contract termination in South Africa is a legal process that is overlooked by different rules, laws, regulations, and contract terms. Now the question is, what are the common factors that lead to the termination of an employment contract? The following article details all the reasons for an employment contract termination.
1. Fixed-Term Contract Expiry
Some companies hire employees for a particular period. For this purpose, they sign a fixed-term contract which has a specific duration. When the duration of the contract reaches its end, the contract automatically expires.
2. Resignation
The most common reason for the termination of the employment contract is resignation. If an employee wants to resign from their job, the employer terminates the employment contract. Several situations can lead to a resignation, including retirement, better opportunities, a change of career, or other personal reasons.
Though every employee has a right to resign from his job, he must give his employer a 15-day notice. This duration allows him to rethink his decision.
One of the most significant things to remember is that your employment contract terminates after the completion of the 15-day notice. Hence, you can withdraw your duties during this period.
3. Retirement
In this employment contract termination, both parties terminate the contract with mutual consent. If an employee has to retire from his job due to his retirement date, the employer terminates his contract.
4. Mutual Agreement
In some cases, such situations occur where an employer and an employee agree to resolve an employment issue by terminating a contract. In other words, the mutual consent of both parties exists in this type of contract termination. This contract termination can be either due to a career change, retirement, or severance agreements.
5. Unilateral Termination By The Employer
As clear from its name, this type of contact termination includes the consent of one party. In most cases, the employer terminates the contract without an employee's consent.
The most prominent reasons for this type of contract termination are operational requirements, meaning if the company undergoes financial crisis and has to fire some employees to reduce workforce. Furthermore, if the company of the employer becomes bankrupt, he terminates the employment contract with his employees.
6. Violation Of Statutory Rights
When I was new at applying for a job, I didn't know much about the employment contract and the factors that led to its termination. Employment contracts are vital in sticking to labor laws and regulations.
If an employer terminates the contract with an employee by violating the employee's statutory rights, his act will be considered unlawful. Therefore, the employer must not terminate an employment contract with an employee based on his age, religion, gender, or paternal leave because such acts are illegal.
7. Incapacity
If an employee fails to perform his job well, the employer can terminate his employment contract due to his incapacity. It is a bit critical to instantly terminate a contract due to an employee's incapacity. Hence, the employer must give him a chance to check his improvement.
8. Termination For Cause
Termination of a contract occurs when an employee's actions result in serious misconduct. One of the common reasons for a breach of a contract is gross misconduct, which includes fraud, violence, theft, rule violations, etc. Moreover, poor performance of an employee also plays a prominent role in the failure of a contract.
9. Death of a Worker
This is a rare case which leads to the termination of a contract. If an employee dies, the contract is no longer valid, and the employer has to terminate it.
Conclusion
Employment contract plays a prominent role in attributing the rights and responsibilities of the hiring company and an employee. Contract termination in South Africa is a legal process overlooked by different rules, laws, regulations, and contract terms.
However, some situations lead to the termination of the contract by the employee or the employer. Some of the most prominent reasons for contract termination include resignation, retirement, employee incapacity, unilateral termination, mutual agreement, gross misconduct, and much more.