Salary Expectations Answer: How to Negotiate a Salary Offer?
One of the most common questions everyone comes across in job interviews is about the salary. As an employee, you are asked about your expectations from the job. The employee and the employer might not always be on the same page, which is why the art of negotiation is essential.
You must have the skills to negotiate a salary offer given by the potential employer. After years of experience, I find myself in the position to guide you all today. Read the tricks and tips given below if you want to ask for a desired pay cheque without offending your employer.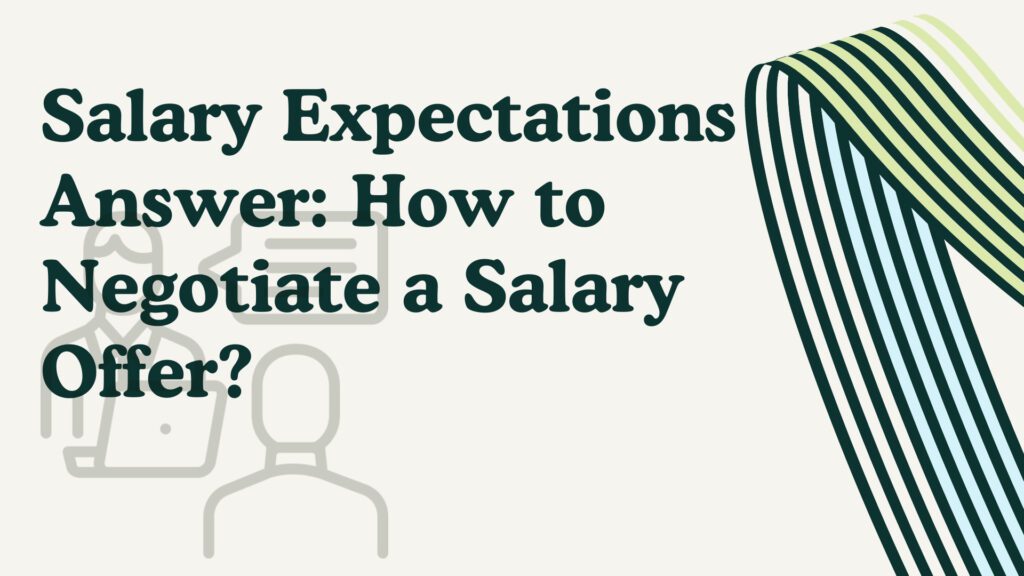 You are fully prepared when you walk into an office for a job interview. The same should be the case when you get appointed and have to negotiate a salary offer. People focus on getting the job but forget about the next important step: negotiating a salary offer for themselves.
If you've recently stepped into the market, learn the art of negotiation right away. If you're experienced and looking for a new position, build the skill and utilize it when needed. As someone who deals with people regularly, I can give a few tips and tricks that will help you negotiate and get an offer you like.
Tips and Tricks to Negotiate a Salary Officer
Based on my experience, I have jotted down some tricks and tips that will get you the salary offer that you'd like. Keep on reading the points carefully and use them when you secure a position at your favorite workplace.
Know The Industry Salary Trends
Rule number 1 is to become familiar with the salary trends in the market/industry. You should be fully informed about the salary of people working at the same post in a different office or a company. Conduct research online or use your sources to know the rate of the market.
You should be aware of what others are paying so you can negotiate the offer. The market value of the role you're going to play at the workplace should be known. This can also work as evidence and support your argument when asking for a higher pay cheque.
Sometimes the employer is offering you more than the market so you can inquire about your responsibilities. You should know about his expectations and why is he paying more than others.
Prepare/Practice Your Points
This is a very important tip for people who get nervous during interviews and want to boost their confidence. Ask your friends or family members to help you practice your points for negotiations. Make a list of points that can be useful when conversing with your hiring manager.
You can ask a colleague working in the corporate world to help you by asking relevant questions. Practicing before the actual encounter with the hiring manager can make you feel sure about yourself. You can even lead the conversation and get the desired salary offer from the employer.
Ask About Benefits/Perks
You must ask the employer about the perks and benefits related to your position. Discuss things like a flexible schedule or the amount of days for work from home. If you're willing to accept the salary offer from the employer, make sure your position has the perks you want.
If the job doesn't fulfill your expectations, negotiate and ask for more than what is being offered. As a professional, you should have perks like growth opportunities and promotions. Some give and take is important when it comes to salary negotiations and the workplace environment.
Emphasize On Skills/Expertise
You should always focus on your skills and expertise when negotiating a salary offer with a potential employer. This can give an impression that you'll be an asset to their company/organization and they cannot afford to lose you. The occupational knowledge and the skills you can offer will increase their productivity.
Moreover, you can talk about your previous work experience and training so they think of you as an expert in the field. A conversation like this can increase the chances that your demand will be met. Hence, focus on what you can offer when negotiating an offer.
Be Flexible
There are times when the employer's budget is limited, so he cannot accept your demand. You should be flexible and ask for other compensation such as a bonus, annual vacation, or work-from-home facility. These compensations can sometimes be more valuable than the money.
In such cases, you can enter an agreement that says that your salary will be increased after every six months or a year. As an employee, you can get loans or ask for emergency payments in uncertain situations. However, make sure the minimum salary fulfills all your requirements, such as bills, transportation expenses, and other utilities.
How do you negotiate salary expectations?
You can negotiate salary expectations by being aware of the market trends or discussing your skills and expertise with the potential employer. This can help you lead the negotiation with confidence. You can write down some valid points and practice with a friend before coming for the interview.
How do you humbly negotiate a salary?
The first step is to show gratitude and excitement for a new job position at a new workplace. Ask the employer about your responsibilities and their expectations of you. You'll have a better idea and can ask for a raise in the basic salary or agree to monthly bonuses or other compensation.
What are some salary negotiation skills?
In my opinion, the best salary negotiation skills are patience, open communication, and emotional intelligence. These three skills can get you the desired pay cheque you've wanted since the beginning of your career.
An informative article on tips and tricks for negotiating a salary offer is written for all the people looking for a job. These tips can be useful when you walk into an office for a job interview. Your potential employer offers a package that is not always up to the expectations.
These tricks can help you negotiate and bring the employer to the same page. I hope my article will be helpful for all the people who've entered the market to earn a decent amount of money.