Free Online Courses on UNISA's Website
The University of South Africa, being the largest institute for providing secondary and tertiary education, is the attraction for a third of all students in Africa. After the outbreak of covid-19, the table turned toward the virtual education system, and likewise, UNISA introduced many online courses including paid and online courses of three to six months.
Not everything related to courses is mentioned on the UNISA's official website, you need to do your own homework and talk about people who're oriented with UNISA.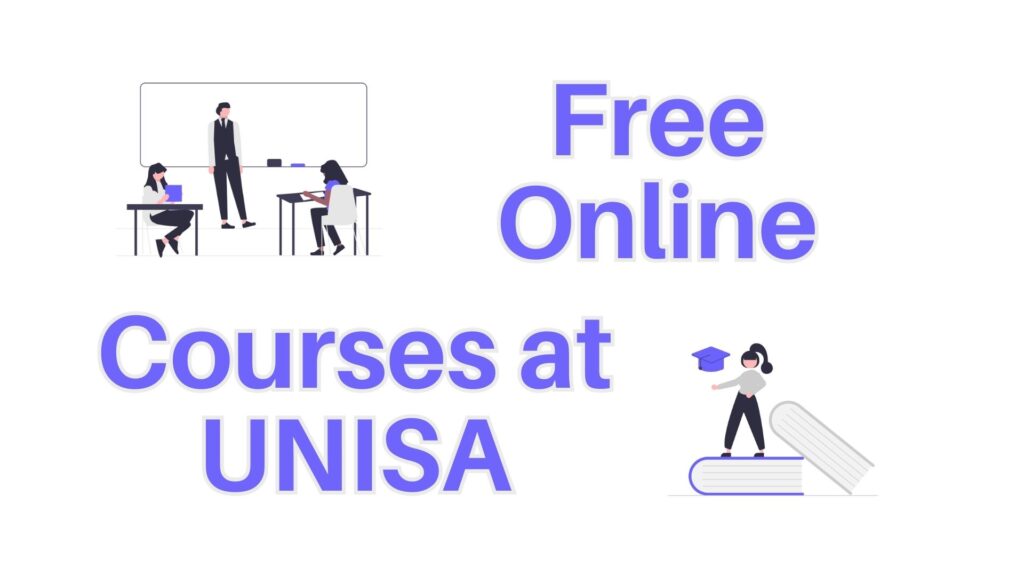 In this sequence, as a former UNISA student, I'm writing this blog to answer frequently asked questions about free online courses by UNISA, programs, colleges, and more.
Let's discuss this in detail:
Does UNISA Offer Free Courses in University?
UNISA does not offer courses for free of cost, but there are scholarships and offers for deserving nationals. NSFAS (National Student Financial Aid Scheme) funds are also eligible for UNISA courses.
What Courses Does UNISA Actually Offer?
That's one of the most frequently asked questions by students what courses are offered by the UNISA?
The University of South Africa has different colleges (departments) and each of the departments offers many courses.
These are the colleges in the UNISA:
College of Accounting Sciences
College of Agriculture and Environmental Studies
College of Education
College of Economics and Management Sciences
College of Human Sciences
College of Law
College of Business Leadership
College of Sciences
Engineering
Technology
College of Administration.
Types of Courses at UNISA
All of the aforementioned colleges offer different courses that are divided into:
Courses
Short Courses
Advanced courses
Advanced Short courses
But what's the difference between all of these?
Courses & Short Courses
The short courses and courses span three months or six months, with one to up to three modules. These courses are the primary courses that provide basic information about a skill or a discipline. Some of the short courses offered by UNISA are a short course in Advanced Information Security (76808), a short course in Database Design (70041), short courses in communication in different languages, and more.
Advanced Courses & Advanced Short courses
In contrast, the advanced courses span at least twelve months (a year), with four to eight modules. These courses provide intermediate to advance level knowledge or skill of a discipline.
Some of the advance short courses offered by UNISA are as follows: advanced short courses in African and Marine Law (77086), advanced short courses in Property Management and Innovation (76818), and more.
How To Apply For UNISA Course?
Now that you're aware of the different types of courses offered by UNISA and their span, it's time to reveal how to apply or register for a course offered by UNISA.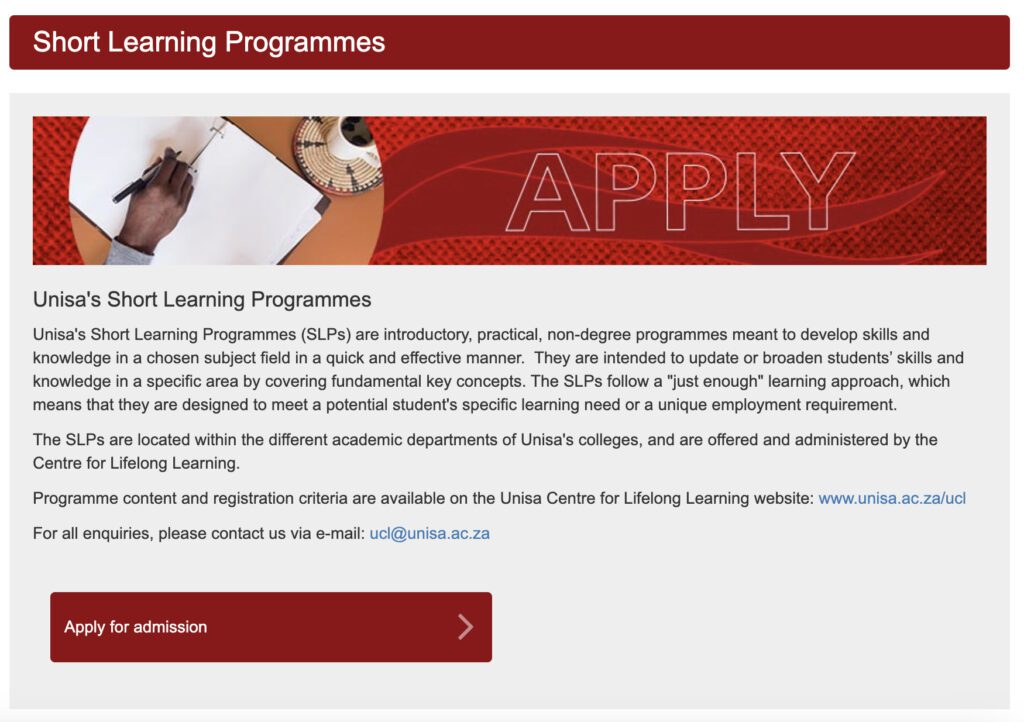 To apply for UNISA courses, applicants should visit their official website and choose the short learning program in which they want to enrol.
If you're applying for UNISA coursework or have applied previously but didn't selected or got the offer, you're eligible for the course.
Also, UNISA students who want to change or switch to a new course, are eligible for the UNISA coursework.
Admission for the UNISA short learning program was open till 3rd February 2023. Next, the admissions will open in the summer. You should keep an eye on the official website of UNISA for regular updates.
To apply for UNISA courses,
You need to fill out the online application form and attach the required documents.
You'll need to submit a copy of your educational certificates including school qualification, tertiary academic record (if any), marriage certificate (if you're married), documents, and more.
Once you register for the UNISA course program, you'll get a myLife email login for free. All the important notices, information, and updates will be sent to you on this account.
UNISA also has the right to request the original form of all the above-mentioned documents, so make sure, to be honest with what you submit online.
On submission of fake documents, you'll not get any admission and the university will take legal action against you under the student disciplinary code.
When submitting the documents on the UNISA website, make sure that no file is larger than 2048 KB or 2MB; and that the documents are in black and white print.
According to the set of rules, only PDF, DOC, and TIF formats are allowed. Please scan all the documents in a way that they are visible to avoid any inconvenience in the future.
Once you complete the documents, submit the application form.
After completing the submission, UNISA will see your application and make an assessment. UNISA will also send you a verification email to inform you that your application has been considered by UNISA. Well, that's temporary registration, not permanent admission in UNISA.
Can Free Online Courses Get You A Job?
To be honest, the UNISA course does not give any guarantee of a job or something, but you will get a job after learning skills from taking the UNISA course. In other words, it is up to you and your interest in a course; if you perform well, you'll get the job as the UNISA courses add up to your resume and empower it.
Does UNISA have free courses?
UNISA offers many courses, short courses, advanced courses, and advanced short courses but they don't offer free courses. You can enrol in these courses by paying fees as well as for free by applying for the scholarship. NSFAS funds are also eligible for UNISA courses.
Which course can I study online at UNISA?
To be honest, this depends on the course in which you are getting enrolled. Some courses are online while others are offered on campus only. Some coursework is offered in both modes. In short, you need to see the details from the official website of UNISA.
The Bottom Line
UNISA is one of the top-most universities in South Africa that offers many different courses including short courses for primary knowledge and advanced coursework for intermediate to professional level.
These courses are offered in different modes including online, on-campus, and both. You can enroll in the course by paying fees, as well as on the scholarship. To know more details, please read the entire blog!