Fasta Loans Reviews & Contact Details | Is it Legit?
Fasta Loans has been a popular alternative for residents of South Africa who want quick access to the amount. And they have a flexible repayment period along with a low-interest rate, not to mention multiple credit offers.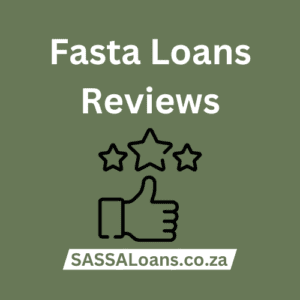 Well, there is no doubt that it seems too good to be true, which makes most people skeptical of the scheme at the same time.
And to answer all your queries and confusion regarding these loans, I am here with this detailed Fasta Loan review. So, read carefully and make a decision.
About Fasta Loan
Fasta is the most popular financial lender in the South African market, known for its short-term loan program. It was founded in 2012 under the division of Knickle Holding Private Ltd.
This company has made its name in the industry for quick, self-service loans that get approved and sent within the same day, which is also why it's given the name Access to Credit Instantly.
Their loans range from R800 to R8000 with a flexible repayment period of six months. All of their loans are paperless, self-service, and online. Hence, you can do pretty much everything yourself, from application to approval and getting access to money, with little to no guidance.
Another advantage of these loans is that they are designed and distributed within the regulations of the NCA. Therefore, the loan applications are thoroughly evaluated, scored, and granted, which eventually minimizes the chances of any fraudulent activity in the process.
Types of Fasta Credit Offerings
Fasta has a wide variety of credit offerings that allows the beneficiaries to get the money the same day in their bank accounts. Here is a list of the three most popular credit offerings you can use to get access to the amount almost instantly.
The Fasta Cash facility is designed for beneficiaries to get the loan cash amount instantly in their accounts. So, if they are applying for an R8000 amount, the cash gets directly into their bank account, from where they can use it for anything, anywhere.
The second offering is Fasta Card, which allows them to utilize the loan money virtually with a Mastercard. All you need to do is activate this offer on the card and use this to spend money as you do with a credit or debit card.
This credit offer is only for online shopping from a specific retailer. So, when you have all the desired items in the cart, you can opt for the Fasta checkout service to pay the money.
Borrowing Amount
Fasta is known for its short-term loans that help customers and employees to spend on additional expenses. In a nutshell, this lender allows you to get access to an amount between R2000 and R8000 and repay it in a flexible time. It is monitored by NCA's regulation, so you don't have to worry about any fraudulent activities regarding the borrowing amount.
Repayments Terms
The repayment period for Fasta loans is flexible and allows you to tailor the repayment fees according to your feasibility. They have allocated a time period of around three to six months, so you can choose to pay as you like. And if you do not have sufficient repayment fees for one term in your account, they will add a little penalty for the next term.
For this, Fasta has its own loan calculator for people who want to customize their repayment plan. It helps them determine the interest rate, initiation fee, monthly fee, and so on. Do consider that beneficiaries who are opting for monthly installments for repayments will end them quickly.
Interest Rate
The reason why Fasta loans are really popular is the minimum interest rates. Given that this loan is regulated by NCA's guidelines, it only has an interest rate of 3%, which is based on the credit score of the candidate applying for the loan.
The best part about this interest rate is that it is personalized for each candidate. For instance, when you are applying for an amount, Fasta won't give you the amount right away. Rather, they will present approval for you, and you can avail of it after acceptance.
Are There Any Other Charges?
Yes, there are some other charges you have to submit with this loan scheme. For instance, along with the interest rate and repayment fees, you are required to provide R69 as an administration fee. Apart from this, you will be asked to pay a one-time initiation fee based on the amount of loan you have applied for.
Loans are Quick and Convenient
Another thing that makes Fasta loans fast and convenient is the large third-party network. It includes everything from customer support centers, dealers, debt collectors, and third-party agencies that covers the entire country. Hence, with all of them operational, the beneficiaries enjoy the same-day approval and distribution facility through online banking.
Some of the known Fasta loan merchant partners include SnapScan, Zapper, and Mastercard commercial banks. Apart from this, it has a number of retailer partners like Digicape, BU Co, SPCC, Prime Persian, Queen Park, and so on. With these partners, you can utilize the Fasta Checkout and Fasta Card services.
Requirements for Fasta Loans
To apply for these short-term loans from Fasta, you must fulfill the following requirements.
The candidates must have South African citizenship and a verified national ID Card number.
They must be 18 years old or older at the time of application.
If the candidates are applying for a loan amount over R5000, they will be asked to provide a record of their latest salary slips and bank statements.
During the application, the credit score of each applicant will be checked.
The candidates will be required to submit proof of residence.
The applicants are required to provide an employment letter.
The candidates should have a cell phone to monitor the entire application process.
The entire application is online, so you are required to have a device and a stable internet connection to apply for this loan.
Application Process
The good thing about Fasta loans is that all of them have a straightforward and easy application process. The company is registered by NCR National Credit Regulator, meaning that there are no frauds involved, and everything is done online through an official portal. All you need to do is fill in some personal details and submit the required documents.
Customer care is available 24/7 on the official mobile phone and email address. So, in case you find it challenging to submit the application, consult them for any query.
Let's Recap the Pros and Cons of Fasta Loans
Finally, like any other loan service, Fasta has some good and bad points. Here is a recap of all of its merits and demerits, so you can decide whether to apply for their scheme or not.
Pros of Fasta Loans
The application process is convenient, fast, and straightforward. All you need to do is fill in the details and submit the documents. The entire process doesn't take more than five minutes.
The approval rate is faster than all other competitors.
You can always check your credit score, evaluated by the authorities at Fasta.
They have multiple credit offering options so that you can choose the preferred one.
The repayment period is quite flexible. And it has a loan calculator that allows people to customize their plans with Fasta.
Cons of Fasta Loans
To apply for a Fasta loan, it is mandatory for you to have a credit protection plan. Though it is good in the sense that it protects the payments for you in case something happens to you, Fasta has made it compulsory. So, you have no options to select your own preferred CPI, which is not the case in other loan applications.
There is no large cash loan available on Fasta. So, you cannot trust it for long-term loan plans.
FAQs
Who is Fasta loan best for?
Fasta offers short-term loans for needy people who are looking for some amount to cover their additional expenses. So, if you are currently employed and hold a South African nationality, not to mention need a safe alternative, Fasta will work best for you.
Are Fasta loans reliable and safe?
Yes, the entire evaluation at Fasta is done under the regulation of NCA, also known as the National Credit Act. Hence, there are no chances of fraud anywhere in the process, be it the approval or distribution stage.
How much loan does Fasta offer?
Fasta offers short-term loans between R800 and R8000. And the beneficiaries are required to repay this amount within six months, along with a 3% interest rate.
Final Thoughts
Fasta is a big name in the financial lending industry and offers small-scale, short-term loans to the residents of South Africa. For anyone planning to apply for these loans, I hope this review has been helpful. Finally, I would advise you to consult their customer care before making any decision so you know what you are getting yourself into.