How Do You Pay Back Fundi Loan?
Getting quality education is everyone's basic right, however, the financial aspect might become a hindrance in their way. Therefore, Fundi offers student loans for South African citizens to pursue their dream degree without worrying about the expenses. However, the loan must be taken after careful consideration as it requires a commitment to pay it back.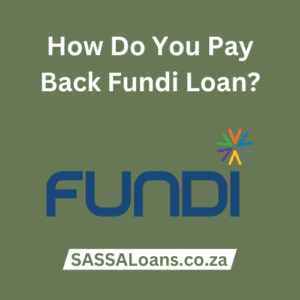 Fundi takes full responsibility for your education and covers everything from tuition fees to other small expenses. The only catch is that you must pay them back the money they spent on you as it is a loan and not a bursary. So, allow me to explain all the methods you can use to pay back the Fundi loan.
Tips To Pay Back Fundi Loan
Fundi is a leading private education finance specialist in South Africa. It helps financially weak students by funding 100 percent of their tuition costs so that they do not have to ask for money from other sources to sponsor all of their educational expenses.
Similarly, this loan is only for South African students who can prove that their income is below a certain level. Moreover, they must be enrolled at an educational institution to be eligible for the loan.
Once they get the loan they will receive a FundiCard which will help them in debiting their loan money. Furthermore, it has several pockets to prevent students from overspending their loan money and spend it wisely.
When will you Pay Back Fundi Loan?
As established earlier, it is a loan and you will have to pay it back to Fundi. Unlike other grant and loan companies, Fundi does not give you the luxury to pay back your loan money after completing your education. Moreover, they need this money to continue helping other students as it is a private institution.
Similarly, to get the loan you will have to present a sponsor or a signee who will pay back Fundi the loan money. The signee will start paying back the money while you are still studying. Please note that there is a small interest rate that will be paid every month by your sponsor.
Additionally, it is an unsecured loan which means you do not have to provide anything as collateral or security for repayment. Once you get accepted for the loan you will get all the money immediately.
Ways to Pay Back Fundi Loan
There are two ways to repay Fundi. You can either choose a salary deduction method or debit orders. So, let's discuss each in detail.
Salary Deduction
It is by far the easiest and most convenient method. As its name indicates the monthly installments will be deducted from your salary. Moreover, your employer will pay the monthly installments to Fundi from your salary automatically.
For this method to work you need a stable and permanent income source. Furthermore, it is convenient because you will not have to worry about the installment dates and manually paying it every month. Similarly, it ensures regularity in your repayment.
Additionally, if you want to initiate a salary deduction method, you must provide Fundi with the necessary authorization and give all the details to your employer as well. After doing so, you will not have to worry about anything else.
Debit Orders
A debit order is also a convenient method, however, here your employer will not be involved. You will have to give Fundi permission and authorization to directly deduct money from your bank account on a certain date of the month. Moreover, this is also a hassle-free and convenient method.
You can initiate this method by filling out the debit order mandate form given by Fundi and giving them your account details like your account number, branch code, and other related information. Afterward, Fundi will start debiting money from your bank account on a fixed date every month. It is a convenient method to ensure you are repaying installments on time without worrying about the due dates.
Additionally, this method will only work if your bank account has sufficient funds in it. If you have a stable income source that guarantees depositing a certain amount of money in your bank account every month, then this method is best for you.
FAQs
Does Fundi give pocket money?
Fundi gives a FundiCard that has pockets for various expenses like tuition, books, accommodations, food, etc. Each pocket has a set amount of money that you can spend for that purpose.
Conclusion
In a nutshell, Fundi loans are facilitating South African students by providing them with a student loan that covers all of their educational expenses. However, it is a loan and your signee must pay it back with a low-interest rate on a monthly basis. Furthermore, you can choose to pay it through salary deduction or debit orders.