How Long Does an ABSA Personal Loan Take to be Approved?
Securing a personal loan in hard times is a wise yet difficult decision for many individuals. Absa is one of the leading banks in South Africa that has been providing loans to individuals for years.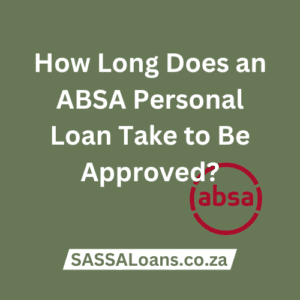 However, before taking personal loans from this bank, understanding the approval process and the time Absa takes to approve personal loans is essential.
That is why we are here today to discuss the duration of a personal loan and the factors that impact the approval time.
Whether you are applying for a personal loan for the first time or are seasoned in this financial landscape, this article will explain the timeline for Absa's personal loan approval for everyone. So let's get started.
General Approval Timeline of Absa Personal Loan
Generally, Absa approves a loan application within 24 to 48 hours if the submitted application has no mistakes and the applicant's credit history is good. Usually, the initial decision on a loan application is made on the first day and the bank requires another three to four business days for evaluation and scrutiny.
According to my personal experience with Absa, my loan was approved after 48 hours of applying. I am sharing the information about the eligibility criteria and documentation process of Absa's loan for those who are planning to apply for a loan soon.
Who is Eligible for the Absa Personal Loan?
An accurate application checks all boxes of eligibility criteria for a personal loan application. The following information is for all those who are wondering about the eligibility criteria for an Absa personal loan. Individuals who wish to apply for a personal loan at Absa should fulfill the following conditions:
Earn at least R2000 monthly for a year or longer loan and R1500 for a loan over 2-6 months.
An active bank account where monthly income is received.
Should be 18 years old or above.
What to Bring While Applying for a Personal Loan?
Many of you must be applying for a personal loan for the first time at Absa. So make sure you bring all the following documents with you to get your application approved as soon as possible.
A complete personal loan application form.
Your current payslip.
3 months bank statement.
Copy of ID.
Confirmation of employment.
Balance of loans and credit cards if any.
Factors Affecting Personal Loan Approval Time
If you are eligible for the personal loan according to the above-mentioned criteria then Absa will approve the loan application within two to seven business days but sometimes it takes more than a week for a loan application to be approved. I am mentioning the factors that cause a delay in personal loan applications below.
Application Completion and Accuracy
A major factor that delays the approval of a personal loan is when applicants don't fill in the application completely or accurately. Missing information or document delays the process of loan application approval. Therefore, all applicants should carefully fill out the loan application and submit all the necessary documents to avoid any delay.
Verification and Assessment
Banks don't offer loans to individuals who put the bank's credit at risk. This is why Absa takes time to verify and assess the accuracy of the provided information and documents. The verification step takes time but once satisfied the applications are sent for further processing.
Creditworthiness
Just like all other banks Absa also evaluates the creditworthiness of the applicants. This includes reviewing the applicant's credit score, credit history, and financial ability to return the loan. If after scrutiny your credit report is in good standing then your loan application is likely to be approved faster.
Overall Demand and Workload
Absa personal loan application could be delayed from the usual time depending on the current workload and demand of the loans. There are times when the bank is receiving more loan applications which potentially delays loan application approval time.
FAQs
How long does it take for me to get approved for a personal loan?
Many banks and private companies offer personal loans to individuals. Usually, these applications are approved in five to seven business days.
How long does a personal loan take to be approved in South Africa?
In South Africa personal loan applications are approved within a week. However, some applications with missing documents take more time and the process can exceed to two weeks.
What is the interest rate on an Absa personal loan?
The interest rate on an Absa personal loan starts from 13.75% per year. Moreover, the interest rate depends on the loan amount and repayment period.
Conclusion
Absa approves all personal loans in five to seven business days after completing the paperwork. However, there can be a delay so applicants should wait patiently as many factors influence the approval time. So make sure you submit an accurate application to complete the process smoothly and get your loan approved in time.