Lime Loans Reviews & Complaints | Is it Legit?
Lime Loans is a very famous company that offers short-term loans and provides efficient services to South African citizens. They have been in the limelight for the past few years but for the wrong reasons. The clients have mixed views related to the service being provided by them.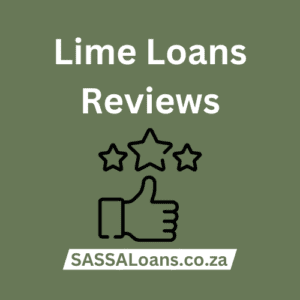 I went through the customer reviews and experiences to dig a little deeper. It would be great if you go through my article on Lime Loans review if you plan on getting a loan through them. The information will help you when making a decision that you may regret later.
About Lime Loans
Lime Loan is a South African agency that offers loans to people who are facing cash emergencies. They can apply for a loan and get money ranging from R300 to R5400. You have to pay an interest amount of 29% or more depending upon the repayment period.
The longer the duration for loan installments, the higher the interest rate will be. It is mentioned on the website that the loans have to be repaid within 5 to 7 weeks after getting the payment. It was a go-to company for the majority of South African people who faced money problems at any point in their life.
The reviews related to Lime Loans are pretty confusing. People have had different types of experiences when they applied for loans with them. A few of them were happy/satisfied customers while the rest said that it was their worst experience ever.
I did my research and checked the internet to see some of the reviews. It came as a shock that the company was rated 1 star by most of the users. Some of the reviews/experiences are shared below so you can have an idea before applying for a loan.
Reviews and Complaints
1st Review:
One of the customers applied for a loan in June 2022 and was extremely disappointed by the service. He paid all the amount and was asking for his security but did not get a response from the team Lime Loans. After trying for months he wrote a review and mentioned that dealing with this company was his worst nightmare.
He rated Lime Loans South Africa with 1 star and warned people not to get any service through them. The company did not respond to his review nor did they get back to him. Hence the customer had a terrible experience and lost his money.
2nd Review:
Katlego N, a customer of Lime Loans company since May 2023 called them pathetic. She applied for a loan and paid back all her installments yet the team was not helpful when she faced credit issues. They did not respond despite her mentioning that it is impacting her credit profile.
The Credit Bureau themselves contacted Lime Loans but they failed to respond or look into this matter. Katlego mentioned that all the employees working at this company are unprofessional and extremely rude. She wrote in her review that they don't even deserve a single star as they cause distress to their clients.
3rd Review:
Another frustrated customer talked about her experience with Lime Loans and was completely heartbroken. She mentioned that they are giving her a new date for her loan every time she contacts them. It has been more than three months that she is waiting now but did not hear anything from the company's end.
She's afraid that she will have to pay the installments for the loan she won't be getting as it was mentioned in the terms and conditions. Hence she gave them 1 star and is still waiting to hear from a representative.
4th Review:
Another unhappy customer, Lizzy applied for a loan in March 2023 and is outraged because of the pathetic service. She mentioned that there is always a delay from the company's side while I submit my payment right on time. Lizzy gave them 1 start and added that no one ever receives her call.
She added that Lime Loans company claims to deliver efficient and fast service but is doing the opposite. Hence the internet is full of bad reviews regarding this lending company. Even the employees working in Lime Loans say that the only benefit they have while working there is that they have a job.
FAQs
How long does Lime take to pay out?
You can get the loan on the same day if your application is submitted before 2 pm on a working/business day.
Can I apply for Lime Loan anytime?
You can apply for Lime Loan if you have a good monthly income and are older than 18 years.
Conclusion
A short article on Lime Loans review is written so South Africans can have an idea about the service before applying for a loan through them. They have hundreds of unhappy customers because of the service they provide.
You should do thorough research before getting into any contract with them. I hope my article has enough information that will help you decide on whether to apply for a loan through them or look for another option.