How to Re-Register/Re-apply for NSFAS?
Are you receiving an NSFAS allowance currently? Well, you will have to re-register to continue getting funds.
NSFAS has recently brought some changes in its system, which means students must re-register themselves and update their information.
The National Student Financial Aid Scheme, or NSFAS, is a South African bursary scheme that helps poor and working-class students cover their tertiary education.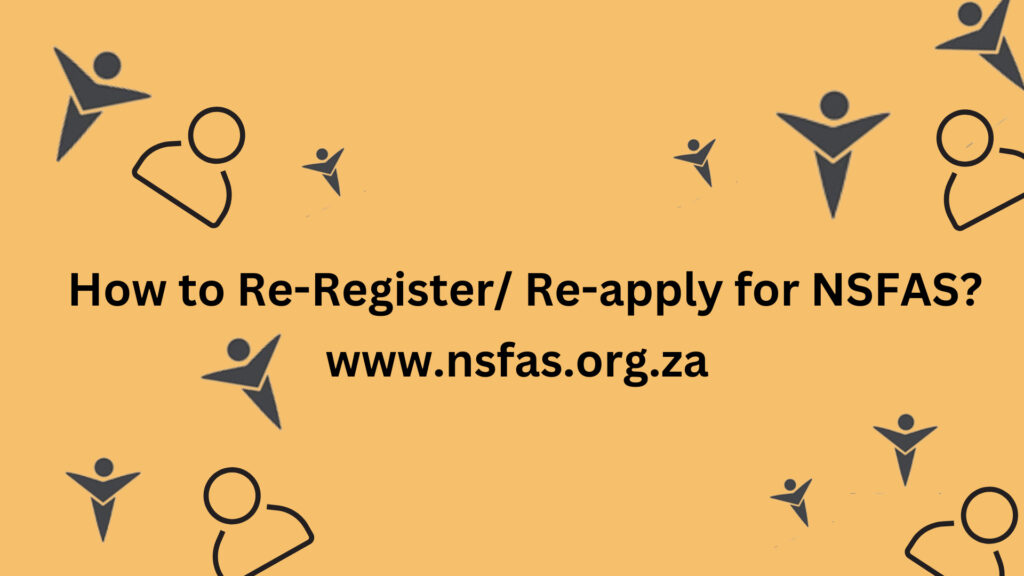 The Department of higher education and training funds this financial aid. NSFAS requires all continuing students to re-register for the new academic year.
Why do you Need to Re-register for NSFAS?
Re-registration is for security reasons. NSFAS students were facing scamming and fraud issues, so NSFAS made the necessary changes to tighten up their security. There are several reasons why you have to re-register.
You might need to re-register if you are using your Facebook or Google account to sign into your myNSFAS account.
If you are trying to sign in to your account and it asks you to re-register, it means some information is missing or incorrect; you must re-register yourself.
If you are currently studying at any of the NAFAS TVET colleges.
How to Re-register for NSFAS Allowance?
To re-register or reapply for NSFAS, you can follow either of the two ways. You can manually submit your application at National Youth Development Agency (NYDA) or Thusong Centre near you.
You can also re-register through the NSFAS student portal. Here are all the steps you need to follow to re-register online.
First, visit the NSFAS student portal by clicking here www.nsfas.org.za
Next, you will see a 'myNSFAS' tab. Click it.
Then, press the 'register' button.
Then, you will have to tick a given box to proceed further.
Now, enter your ID number correctly.
Then, enter your full name according to your Identity Document.
Next, you will have to enter your email address and confirm it.
You must enter your mobile number. Please note that you must provide the correct contacts, as NSFAS will use this number and email to contact you and keep you updated.
Next, create a unique password and confirm it. Do not share your passwords with anyone.
Upload a copy of your Identity Document (ID) and click on the 'register' tab.
You will receive an OTP on your email and mobile number, which will expire after 24 hours.
Finally, type the OTP in the given box and press 'submit.' Your re-registration is complete.
Eligibility Criteria for Re-registration?
The eligibility criteria for re-registration are the same as registration. There is no addition to the already existing criteria. You can re-register if;
You are a South African citizen.
Your total and complete household income is R350000 or less.
You live with a disability, and your total and complete household income is R600000 or less.
You intend to study at an NSFAS-affiliated TVET college or university.
FAQs
What should I do if my NSFAS registration is unsuccessful?

The applicants can appeal after their registration is unsuccessful. Once their appeal is approved, they can re-register for NSFAS.

My application for NSFAS funding was approved, but I did not register when I was approved for NSFAS. Do I have to reapply?

The applicants must apply again if they did not get admission to a TVET college or university for a full year even though they were approved for the NSFAS fund.
Conclusion
In a nutshell, students should check their NSFAS registration and update their accounts occasionally. If NSFAS asks to re-register, you must follow the prompt to continue your allowance and studies.