SARS Vacancies | 3 Ways to Find SARS Jobs
The South African Revenue Service (SARS) is the tax authority in South Africa that is in charge of collecting revenue and managing the country's tax laws. As a dedicated organization striving for excellence, SARS constantly seeks highly skilled and dedicated individuals to join its workforce.
Therefore, if you are hunting for challenging career opportunities in taxation, administration, etc., SARS may have the perfect job for you.
If you are interested in pursuing a career with the South African Revenue Service (SARS), you can explore various platforms to find vacancies and job opportunities within the company. The South African Revenue Service (SARS) has announced new vacancies for 2023, providing exciting job opportunities for aspiring applicants.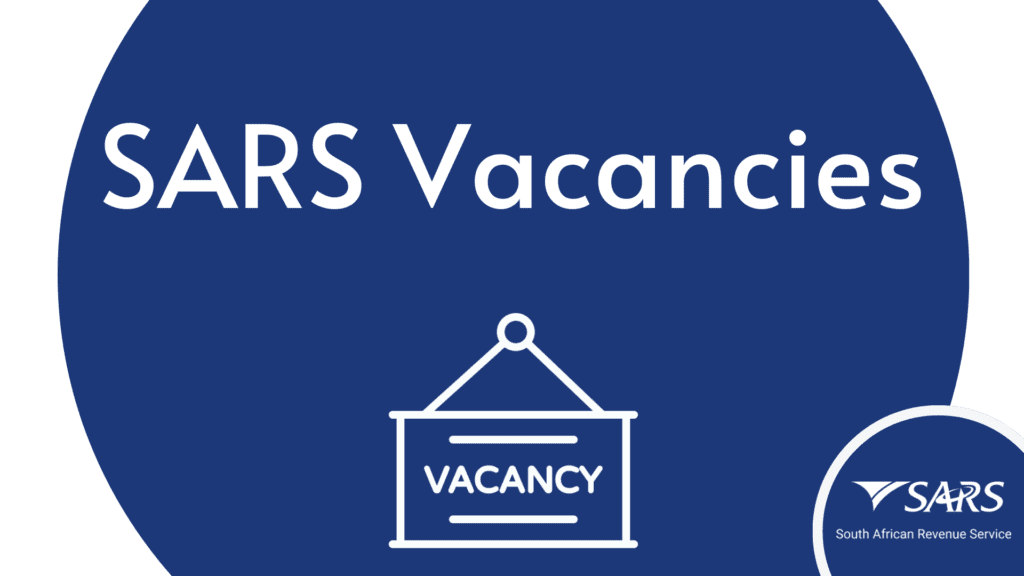 How to Find Vacancies For SARS?
To begin your job search with SARS, let me tell you about a few channels that will make the job hunt much easier and more convenient. These channels provide valuable information and updates on SARS vacancies, ensuring you do not miss any opportunities. Furthermore, you can access these platforms from the comfort of your home.
To find vacancies for SARS, you can access their website, which offers up-to-date information and updates regarding the SARS careers and job opportunities. The website is the primary source for all current job openings within the organization. In addition, you can also apply for these vacancies through SARS online portal.
Let me guide you on how you can utilize this online platform to discover exciting job opportunities with the South African Revenue Service (SARS). The following are the step-by-step instructions:
Step 1: Visit the SARS Official Website
Open any browser on your device and search for the SARS official website, or you can directly click on the link sars.gov.za/. The website is user-friendly, so anyone can effortlessly navigate through it.
Step 2: Navigate to the "Careers" tab
After you have opened the SARS website, scroll down, and you will see the "Careers" tab on the left side of the page. Press this option, and it will direct you to a new page.
Step 3: Look For Vacancies
After you have clicked "Careers," it will direct you to the SARS Career portal, where you can explore the world of job opportunities. On this page, you will see the instructions and main objective of the SARS organization. After reading the instructions, click the "Click here" link that will take you to a new page.
Step 4: Search and Filter Job Listings
You can use the search bar or the filter available on the web page to narrow down your search. You can utilize keywords like location, region, language, and division to find a comprehensive list of available job positions that match your requirements and qualifications.
Step 5: View Detailed Job Descriptions
If you come across a job that interests you, you can click on it to find detailed information about the position and its specific requirements, and the closing date. Moreover, if you come across a vacancy but need more time to decide, you can either bookmark or save it. This way, you can effortlessly access the job later and avoid missing the chance of a potential opportunity.
Furthermore, to apply for the job, you must create an account on the SARS official website and provide your personal information, academic background, professional background, and more. In addition, you must also submit your CV and other relevant documents. After performing all of these actions, press "Apply," and your application will be submitted.
Social Media Platform
You can use social media platforms to search for SARS vacancies and stay updated on the latest job openings. Follow SARS official account on Twitter, Facebook, Linkedin, etc. SARS often posts job listings, career-related updates, and recruitment announcements on their social media platforms.
Hence, if you do not want to waste any opportunity, you must constantly stay in touch with SARS and follow their official account. By following them on social media, you can be the first to receive news regarding SARS vacancies and other career opportunities.
Recruitment Websites
There are multiple job portals and recruitment websites in South Africa that will lend you a helping hand when searching for SARS vacancies. Recruitment websites or job portals are online platforms where organizations or companies post job listings to attract potential candidates.
Moreover, these online platforms allow job seekers to search for a particular job based on various criteria, such as region, location, company, job title, and more.
You can use recruitment websites like PNet, Linkedin, Career Junction, and other reputable and authentic platforms to explore a diverse range of career opportunities, including those offered by the South African Revenue Service (SARS).
FAQs
How can I stay informed about the new SARS vacancies?
You can stay updated or informed regarding SARS vacancies by using different platforms, such as SARS official website, or by following them on their social media platform, such as Linkedin, Twitter, Facebook, and more. In addition, you can also use recruitment websites which will keep you updated regarding any new job opportunity.
Is there a dedicated career SARS portal?
Yes, there is. SARS has a dedicated career portal where you can search for available vacancies, and it also allows you to apply for the job directly through the portal. This user-friendly platform simplifies the application process, providing applicants with a convenient way to explore different job opportunities within the organization.
Final Thoughts
In conclusion, finding vacancies for SARS is a straightforward and accessible process with an accurate approach and resources. There are multiple platforms that you can utilize to find vacancies for SARS. You can use the SARS official website, which is a reliable source that offers up-to-date information regarding career opportunities.
Furthermore, you can also use other platforms like social media, recruitment websites, and job portals that provide a wide range of job opportunities tailored to your qualification and requirements. Since SARS has opened the vacancies for 2023, you can now have the chance to apply for the job using these different platforms.