SASSA Status Check for R350 Payment Dates for 2023
Have you applied for the SASSA SRD grant and looking for a way to check your application status?
Do the SASSA status check and see payment dates for the SRD R350 grant online by entering the applicant's phone number and South African ID number.
What is the application ID for SASSA?
You might be thinking about how to check the Application ID for SRD; the application ID is required to check the status of the application. This is the unique 13-digit South African ID number of every resident of South Africa.
Which phone number is required to check the SASSA Status?
The phone number you need to enter above is the one you used to sign up for your application.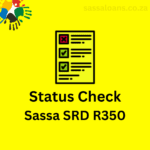 Why Check the Application Status?
The reason to check the status is that after applying for the grant, the recipients must check whether their application is accepted or declined. The status tells about each recipient's application status and payment dates.
Contents
SASSA Appeal Status Check
In case your grant was previously rejected and now you have resolved the issue, you can appeal for the grant and check its status afterward.
The process for the appeal status check is similar. Go to the SRD status check form above and enter your phone number and South African ID number. The page will reload with the appeal status of your application.
SRD Status Check for R350 Payment Dates for 2023 / 2024
SRD R350 grant payment dates are different for every person. Normally, the pay is on the 20th of each month, and if the 20th falls on a weekend, the next business day is the payday.
To check your exact R350 pay date, check your SRD status. You will get your pay date.
Past dates for the SRD grant and the expected dates for the coming months are
| Month | SRD Payday Date |
| --- | --- |
| March 2024 | 19th |
| Feb 2024 | 20th |
| Jan 2024 | 21st |
| Dec 2023 | 22nd – Till the End of the Month |
| Nov 2023 | 27th – Till the End of the Month |
| Oct 2023 | 28th |
| Sep 2023 | 26th |
| Aug 2023 | 28th |
| July 2023 | 21st |
| June 2023 | 20th |
| May 2023 | 22nd |
| April 2023 | 20th |
| March 2023 | 20th |
| February 2023 | 20th |
| January 2023 | 20th |
If you have a SASSA card, you can withdraw cash for free at ATMs using your card and PIN. You can also get cash back on purchases at Shoprite, Boxer, or Pick n Pay stores.
If you wish to see payment dates for other grants, such as Disability Grant or Child Support Grant, you can check them on the below link.
How to check the SASSA status of the SRD grant?
There are five methods for SRD Status Check: checking online, through phone calls, data-free using the Moya app or Govchat, through an SMS, or, at last, through any SASSA office.
How do you check SRD status online using srd.sassa.gov.za?
The SASSA organization (srd.sassa.gov.za) has made it effortless for applicants to view their application status online. What you have to do is to,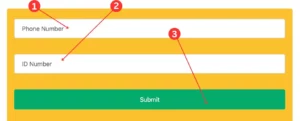 At the top of this page, enter your South African ID Number and the mobile number you entered while applying for the grant. (Your details are not saved; the details you enter above are used to look up your information from the official servers.)
Then press the "Check Status" Button.
The tab will reload with your status.
Now, easily scroll through the results and see your payday as well as the status of your application.
SASSA Status through Phone Call
If the Govt. website is down, or you don't have access to the internet, you can also perform an SRD status check through a phone call.
I prefer this more over checking the status from SASSA's official website.
Here is how to do it.
Do the SASSA status check of the SRD online application by calling the toll-free number 0800601011 and get the exact R350 payment dates.
Dial using the phone number that you used during the application process.
Answer the fundamental identification question, which could be your date of birth, and you will be guided by an agent about your status afterward.
350 Status Check through the Moya App
You can also check SRD status without using data by installing free apps like Moya status app or GovChat.
Do note that installing these apps once would use your data, but once either is installed, you can check your application status without any data.
Here is how to do it
You can use apps like Moya or GovChat
These apps work similarly to the above form.
You must provide both your Phone Number and Your SASSA reference ID number.
Then, you will get your status.
Once your application is approved and you get a notification SMS confirmation, you can withdraw the amount. You can also change the bank account details of all applications submitted before March 2023. Do contact SASSA if you have any questions.
Check SRD Status through SMS
To check the status through SMS, follow the below two-step process
Send an SMS to 32555 in the following format:
STATUS <space> ID Number
You will get your status in a reply. Do note that it isn't free, and the sending cost of the message will apply.
Offline Status Check through Offices
The South African government is aware of the situation of South African citizens. Those who are applying for this sustainability grant can't afford the latest mobile phones and internet connections. For this reason, they can also check their status through any SASSA office.
Just go to any SASSA office near you, tell them your Application ID, and they will tell you your application status.
SASSA has multiple regional and local offices throughout South Africa. Even they have offices outside South Africa, such as in Lesotho and Zimbabwe.
See the complete list of offices, along with their landline numbers, emails, and Google Maps links.
Branches operate during the weekdays, with varying opening times between 7:30 AM and 8:00 AM and closing times ranging from 4:30 PM to 5:00 PM.
In cases where you are unable to personally visit an office due to illness, old age, or disability, it is permissible for a family member or friend to apply on your behalf or visit the branch on your behalf.
These Offices also give you another facility to withdraw up to R500 at any time if you have that available in your balance. You can also get R180 emergency cash from any of these offices.
Contact Details in case of any issues or fraud
How to Apply for an SRD Grant?
SASSA is a well-known Social Security Agency in South Africa that grants financial aid and assistance to all the needy individuals in its country eligible for the social relief grant.
SASSA launched an SRD grant called Social Relief of Distress R350 Grant in May 2020 to help with people's basic needs after COVID-19. It is one of many SASSA grants. The name of Distress Grant R350 is because of the 350 South African ZAR.
Click on the following button to see an in-depth guide on how to apply for an SRD grant.
Status Checking Errors & Their Meanings
Sometimes, you check the status on https://srd.sassa.gov.za/sc19/status, and instead of status, you end up with errors; here is how to tackle them.
When you check the status and if you receive an unexpected like status Failed or Identity verification failed, then don't worry. There are solutions to every status.
The following are the most common ones you may encounter when you check the status of the SRD grant. You can click on each status and check about it in detail.
We will now learn the answers to common queries that often come across the mind of the applicants.
| Common Issues | Explanation of Issues |
| --- | --- |
| What does Application Complete mean? | It means everything is okay. Wait and keep checking the status of your application for your payment dates. |
| What Bank details pending means? | It means that you have to add your banking details to the application. |
| What does period Pending mean? | It means the application was successfully received, but verification of the application for the current period is pending. |
| What does period Approved mean? | This means the application was approved for the period. Now you should wait for the payment date for this month. |
| What does period declined mean? | It means your application hasn't completely declined, and it is just withheld until the next payment period. |
| What does a canceled application mean? | It means your application has been declined. What you have to do now is to reapply. |
| What does "SASSA status check reapplication pending" mean? | If your income status recently fell below the poverty line, then you were allowed to request reconsideration of your social relief grant SRD r350 application until your financial status improves. If you filed an appeal but forgot to add the SRD grant payment method, then you will still get SRD reconsideration pending status or reapplication pending R350 status. |
| Can't check SRD status? | If you can't check the distress R350 grant status, then you are missing the reference number of your application. |
| When SASSA says approved? | If your application passes all the requirements, then your status says approved, and then you can check your payment date to go and collect the payment. |
| Means_income_source_identified | It appears that your application for benefits was unsuccessful due to failing the means test, which may be due to any additional sources of income. |
| SASSA Approved with payday but no SMS | This can be due to Incorrect Personal details, or a Delay In Processing of the Application, or an incorrect mobile number. |
F.A.Q.s Regarding Status
I have been asked a lot of questions regarding SASSA's status checking. I will answer some of the most frequently asked questions below.
How do I check my SASSA Payday? How do I check my sassa r350 payday?
You can check your payday and application status using the status check tool. What you need for this is your application ID and your active phone number. Enter these on the status check portal, and you will get your payment dates.
How do I know if my R350 is Available?
If your application is approved and your payday is also assigned, wait for the payday to pass. Afterward, go to the nearest Post Office to pick up your payment. Your SASSA R350 is always available for pickup after the payday has passed. You can collect it anytime you see fit.
How do I check my Status for 2022 or 2024?
You can use the SRD status check tool on SASSALoans.co.za to check for past payment dates, even those of 2022.
What is the SASSA R350 payment date for November 2023?
The payment dates are not fixed for this month. You need to check your status, and it will show your payment date.
Once you have checked the status and your payment is approved, you can collect your social relief of distress payment in your added banking details on the payment date.
How do I cancel or reinstate my canceled application?
To cancel or reinstate your previously canceled COVID-19 Social Relief of Distress Grant application, read a convenient process here.
How to check the SASSA balance online?
If you wish to check the SASSA balance online, you can do so by checking your approved payment months. Multiply all approved payments by R350 and subtract the amount you withdrew; the remaining is your SASSA balance.
What is 13 digit application ID?
An application ID (AppID) is a unique 13 digit identification number that is assigned to each SRD Grant application, used by SASSA for tracking purposes and processing the application.
How do you check if R350 grant is approved?
You can check if your R350 grant is approved or not by checking your SASSA status online using tools like sassaloans.co.za
Can you download your SASSA status?
Yes, you can download your current SASSA status. For this, check your 350srd status using any online website and print the page in the form of a PDF. You can also print it on any page as well.
Note: If you are a SASSA beneficiary and are found to violate any of the terms, your application status will be denied, and your payment date for the current month will not be issued.
The grants can be temporary and allow individuals to explore different career opportunities. The latest update is that President Cyril Ramaphosa announced in a national address that the COVID-19 R350 grant is further extended until the start of March 2025.
If you have any questions, you can contact us.