Apply for SRD Grant (SASSA Unemployment) Application
The SRD grant is a social relief of distress grant provided by the South African Social Security Agency (SASSA) to provide temporary financial assistance to South African citizens who are in urgent need of support due to difficult economic circumstances.
The SRD grant was initially introduced in May 2020 as a response to the COVID-19 pandemic and has been extended to 31 March 2025. It was designed to provide a form of income support to people who were not eligible for other forms of social assistance, such as unemployment benefits or social grants.
The grant is paid monthly and provides a set amount of financial support to eligible individuals.
If you are willing to apply the online procedure, you have three different options.
SRD website (Online)
Applying in Person
WhatsApp line
SASSA GovChat Application
First, understand the requirements and eligibility criteria
SASSA SRD Grant Eligibility Criteria
Make sure that you are fulfilling the eligibility criteria before applying for the grant.
You can apply for the SASSA SRD grant only if you are a resident of South Africa, a refugee and asylum seeker, or someone with a special permit holder in South Africa.
Your age should be between 18 to 60 years.
You should be a resident of South Africa.
You should be unemployed.
You should not be receiving any financial support from any official programs of the government.
Your financial means should be insufficient to meet the basic requirements of your living.
You should not be among those who are receiving the stipends from NSFAS.
You can only apply for the SASSA SRD grant if you are not eligible for UIF payment.
You also have to make sure that you meet the requirements of the means test.
SASSA SRD Grant Requirements
SASSA SRD also demands certain requirements and documents to be attached to your application. You have to make sure that you have all of them with you so that your grant is accepted within no time.
You should have a 13-digit barcoded South African ID number with you.
You have to provide the officials with proof of the application and proof that you have encountered an emergency.
Proof that you have no support and no financial assistance from any other resource.
You also have to provide them with information about your marriage or divorce, if any is the case with you.
You also have to provide them with proof that you have a disability and you're unfit for a short time.
On the other hand, if you do not have your ID card with you, you have certain other requirements that you should fulfill before submitting the application.
Provide an affidavit, sworn statement, and proof that you have applied for your identity card or birth certificate.
You have to submit the temporary identity documents.
You have to submit your health clinic card, if you have any, and the school certificate, in case you have ever gone to school.
How to Apply for an R350 Grant?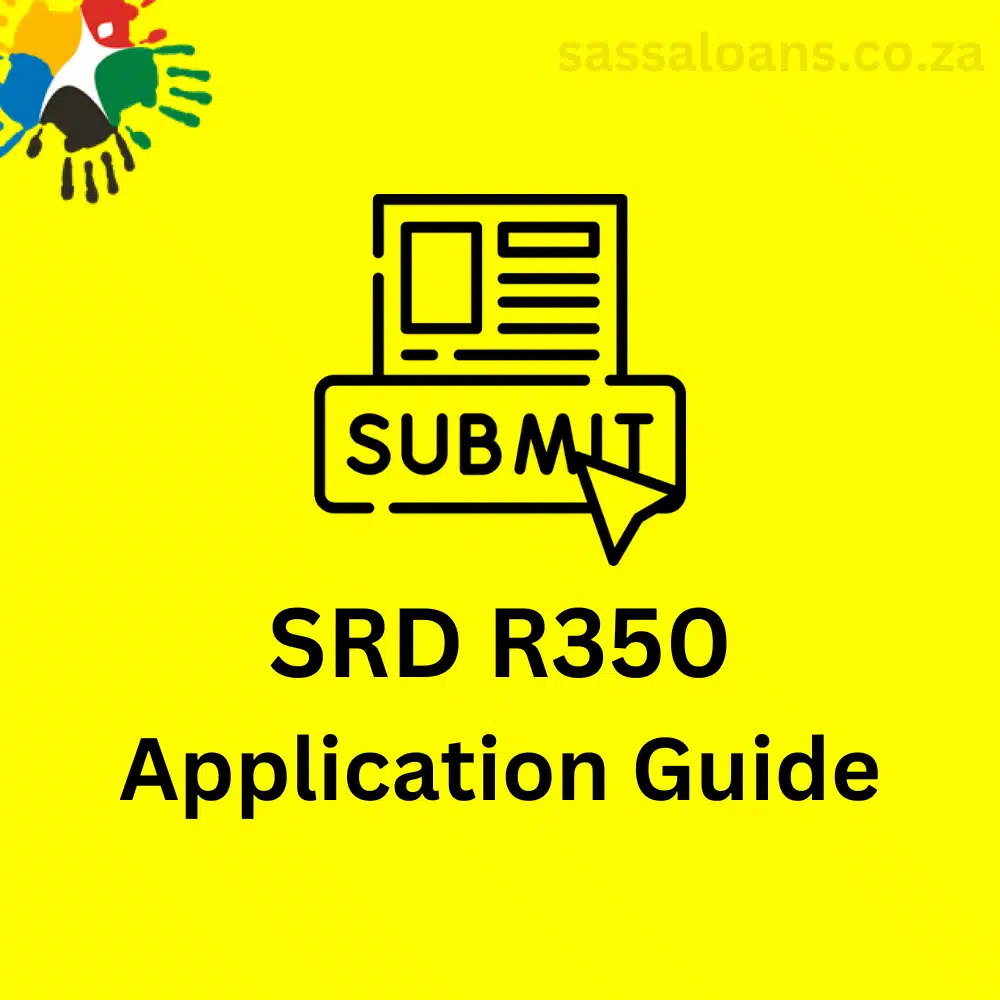 SRD online application includes three different things to focus on. You have to look for the application procedure, you have to look for the eligibility criteria, and you have to focus mainly on what are the requirements that you have to fulfill before applying. We are going to talk about each individually.
First, read and understand the following requirements for SASSA SRD. If you fulfill the following requirements, you are eligible to apply.
1. Register on the Website
Once you have read all the above requirements, the next step is to register on the website. Here is the step-by-step process to do it
Open the SASSA Services Portal
Click on Apply Online
Agree with South Africa's Protection of Personal Information Act (POPIA) & Cookie Consent
Fill The Information
You will need to fill in the following information

Your citizenship (South African citizen/ permanent resident/ refugee)
Your ID number
Your ID document type (ID document/ temporary ID)
Confirm your ID number
Your title (Mr/ Mrs/ Miss)
Your surname
Your full name
Your email address
Your chosen password (must be at least eight characters, containing at least 1 of the following: uppercase or lowercase letters, numbers, symbols or special characters) (must not be a common word or name, or a close variation)
Confirm your chosen password.
Your cellphone number (your 10-digit South African cellphone number, starting with 0)

Click on Register Me
2. Login After Registration
Once you have successfully registered, the next step is to log in to the site for the application process.
For this, open the services page again.
This time, click on the login page instead of the registration page.
Enter the ID Number, Email, and Password you choose above.
Click on Login
3. Selection of Suitable Type of Grant
After login
It is the time to apply for the SRD grant. You will have to choose from the following grant type,: SRD.
Select the one that suits you and click on Apply. (Make sure you have read its requirements above and that you are eligible for it)
You are Done!
If your application is not approved, you can also appeal for it; here is the guide below to do it
Once you have applied for the grant, you can check your SASSA status to see if it's approved or not. It will first go into a pending status and then be approved. Once approved, check the payment day, and you will receive your payment on your banking details. It might be declined if there is something wrong.

If your application is declined, you can appeal for reconsideration or contact SASSA for further help.
Applying in Person
Applying in person is nearly the same but a bit difficult as you must locate the nearest Sassa office. Then, you can apply in front of the person to your desired Grant Category.
However, remember that the requirements and process are the same; you will have to sign the application forms manually.
You can download these e-forms in pdf format below, which you can print and can be used to apply quickly in the office.
Whatsapp Line
Here is a number for you to contact the SASSA officials via the website line. You can send a message here. Wait for the reply and follow the instructions keenly. It is further explained here.
GovChat Application
SASSA SRD GovChat Application is another reliable and official online means for applying to get a grant from SASSA. This is developed and introduced by SASSA to slow down the traffic on their official website. If you are looking for the procedure to log in to SASSA via GovChat Application, what you have to do is,
Visit the official website through the above-mentioned URL.
The page will open that will ask you to enter your mobile number.
As soon as you enter your mobile number, you will receive a verification code via SMS on your mobile.
Now, enter the verification code.
Whether you choose the WhatsApp line, the official website of SASSA SRD, or the GovChat Application option for applying online for the grant, all of these three will take you towards the agreement where you have to agree with the terms and conditions.
Then, you have to provide your personal details like ID card documents, phone numbers, and banking details.
Afterward, they will ask you to choose the payment option from where you would be collecting the payment.
After submitting all the details, you will then receive a confirmation SMS on the mobile number you have provided that will ask you to accept the ID.
Then SASSA will verify and consider the application via their official means and will let you know soon whether your application is accepted or denied. It is further explained here.
How do I apply for SRD via chatbox?
Application of SRD via chatbox is very simple and quick. Open your internet browser and open the official website of SASSA SRD. Click here and you will see the SRD R350 Grant assistance chatbox. Click on that and enter your ID number and mobile number. After entering your mobile number and South African identity card number, you will see an option to apply for the SRD R350 grant. Click on that.
Who cannot qualify for the R350 Grant?
Those who are already receiving some financial assistance from other government programs are unable to qualify for an R350 grant. Similarly, those who can earn a good living monthly and are eligible to work and have a job also cannot qualify for an SRD 350 grant.
Is SRD r350 still available, and is the application still open??
Yes, SRD r350 is still available, and you can still apply for it in 2023; there are even chances that it might be extended up to March 2024.
What does SRD stand for?
SRD stands for Social Relief Distress Fund. It is a fund issued by SASSA during COVID-19 and is equal to R 350.
That's all about the SASSA SRD Grant and its application process.
Want to cancel your grant for any reason? Click on the above button to check that guide!