University of Johannesburg Online Application Guide | SASSALoans
If you are planning to study at the University of Johannesburg but are wondering how to apply for it then let me guide you about the platform through which you can apply for the university. Moreover, it's free, so you don't have to worry about the application fee.
The University of Johannesburg has announced the closing and opening date for enrollment. Hence prospective students can start applying for admission. Don't miss the opportunity to enter one of the prestigious universities of South Africa. Moreover, the admission process is easy; you can apply for it in the comfort of your home.
Opening Date: 1 April 2023
Closing Date: 31 October 2023
Moreover, remember that the closing date may vary according to different programs. Hence your selected program might have a different closing date.
Online Application Process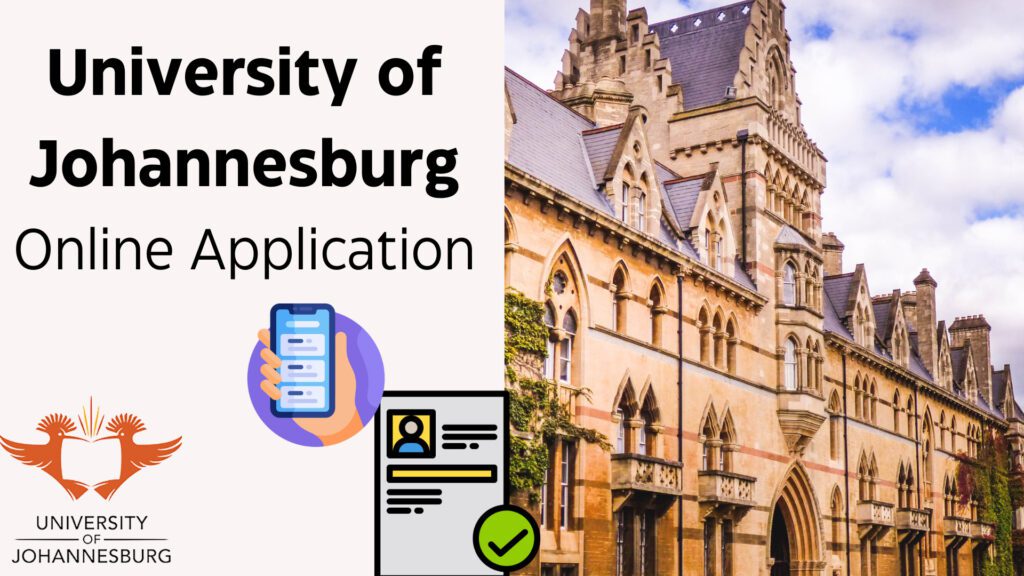 Before telling you about the application process, note the following information.
The fee for online application is free, so you will not be charged for the process.
If you had previously submitted an application and possessed the UJ student number, then call the UJ call centre to confirm that your cell number and email are recorded in their student database. This step will ensure you receive a PIN number. Moreover, this PIN will help you complete your online application.
But if you haven't applied before and are new to it, let me tell you how to apply online for admission.
Step By Step Guide
Step 1: Search For The Website
Go to google chrome, and write uj.ac.za. This is the official website of the university. Moreover, the website has been modified, and it's much easier to operate now due to its user-friendly interface.
Step 2: Click On the "Admission + Aid" Tab
On the very top of the website, you can see the tab "Admission + Aid" Click on it. You will see a list of options. Click on undergraduate if you are an undergraduate student. Select the programs you want to pursue.
Step 3: After Selecting The Program
After selecting the program of choice, you will observe various options such as "new Applicant Apply," "Returning Applicant Apply," check status," FAQs, and more. If you are a new applicant, click on the "New Applicant" option or returnee, then click the "Returning "option.
Step 4: After selecting "New Applicant"
You will be asked for your student number. As discussed above, the students who have applied before have UJ student number. Hence if you have one, say yes if you don't, then say no. Enter the appropriate information asked from you. After this, select the option "I accept."
Step 5: Provide "Biographical details"
They will ask for your:
Nationality: Mention your nationality and ID number.
Personal Information: Enter your name, gender, address, language, marital status, etc.
Postal Code
Contact Information: Provide your phone number and email address.
Kin details: Provide your family member's name and contact detail.
Step 6: Give Your Account Details
Provide account information of the person in charge of payments made to the university. It can either be your guardian or yourself. Provide the account contact's name, address, and email address.
Step 7: Provide Your Result
The year in which you completed your Matric or Grade 12, enter it in the "year" box. Select if you are applying for an undergraduate or post-graduate program. They will receive your result from the Department of Basic Education. Moreover, you can contact the UJ if you want to change anything in your result. They will also ask for your school's details.
Step 8: Select Your Discipline
Enter your field of study and select the program. They will ask for the year in which you are applying for. Provide all the relevant information regarding your field and program.
Step 9: Check Your Application details
This step asks you to confirm your details before sending the application. You can click on the links above the pages if you have made any mistakes. It will lead you to the previous steps. However, if everything is correct, click the "continue " option.
Step 10: Generate Your PIN Number
You need to create the PIN number that will be needed for you to log in. Generate a PIN number that you can easily remember.
Step 11: Submit Your Application
You can click on the "submit" option, and your application will be submitted to the UJ.
Documents That You Need To Upload
Following are the lists of documents that you need to submit.
If you are in Grade 12, you will be required to submit verified copies of Grade 11.
If you have completed Matric, you must provide a certified copy of the result.
However, if you are currently in Matric, they will not ask for any documents from you.
After submitting your application, you will be informed about the documents that you need to upload depending on different programs.
How You Can Track Your Application
You can keep tabs on your application by following the provided steps.
Navigate to the official UJ website or open UJ application status.
Choose the "Admission+ Aid" option to proceed. You will see the option "Check your status." Click on it.
After logging in, you will be able to see your application status. The status indicates the progress level of your application.
How To Know About The Outcome Of Your Academic Application
You will be notified via SMS or email. Hence you must provide the correct phone number and email address on the application form. Moreover, if you want to make any changes to your email address or number, notify the UJ immediately through [email protected].
FAQs
How many choices of study can I apply for?
You can only opt for two subjects for both undergraduate and postgraduate programs.
When will I be notified about the outcome of my application?
The online candidates will be notified about the outcome within 48 hours.
Final Analysis
You can easily apply for the University of Johannesburg via their official website. The steps are easy and straightforward, hence saving you from the hassle of taking a trip to the university. Moreover, you can apply online without any application fee. After submitting your application, you can also check your application progress status by visiting the website.
In addition, if you have any further queries, you can visit the UJ official website, which provides all the necessary instructions to the applicants. Moreover, since the website has been updated, it is much easier to operate now. Hence you can easily navigate through it. Lastly, I want to advise you to check your application details thoroughly so as not to cause any inconvenience for yourself.
Contact Details: If you didn't receive a response from the UJ, you can contact the UJ call centre on 011 559 4555.