South African Army Salary During & After Training
Joining the South African Army (ZA Army) is a commendable and noble endeavor that requires dedication, discipline, and commitment to serving your country. However, before embarking on this journey, it is crucial to understand the financial aspect of Army life, particularly during the training phase. Therefore, if you are interested in finding out about the compensation offered by the South African Army, then you are at the right place.
In this article, I will delve into details regarding the salary structure for ZA Army recruits during their training phase and the factors that influence their salary and earning potential. Hence, keep reading this exciting guide to enlighten yourself.
SA Army Salary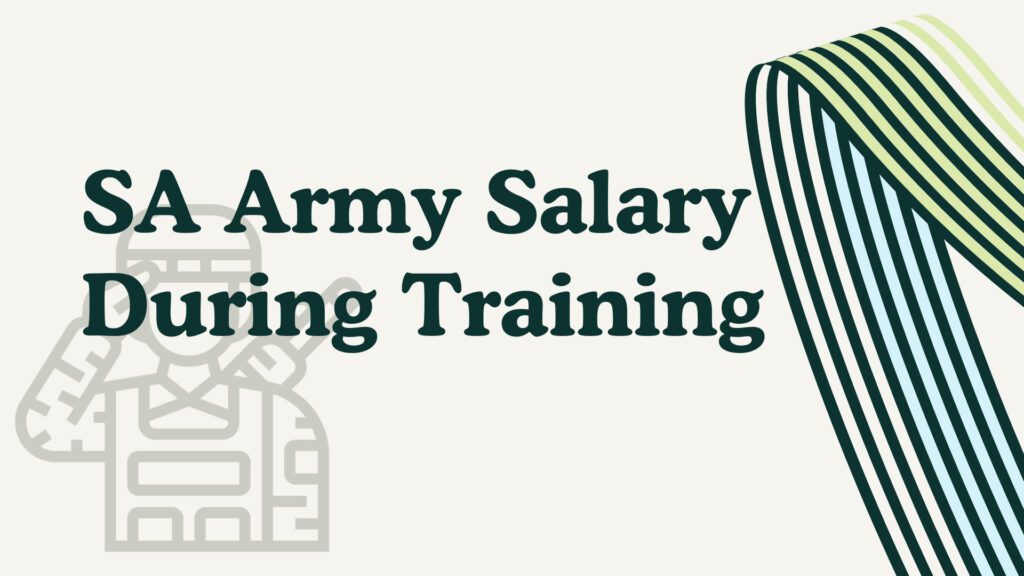 ZA Army recruits undergo rigorous training to prepare them for the challenges they will face in their role. The recruits have to undergo an intensive 22-week Basic-Military Training (BMT) program. This crucial phase of training takes place at the South Africa Army Training Depot located in Kimberley.
Now, the question is, how much do the trainees earn during their training? In South Africa, the junior soldiers who are a part of the Military Skills Development (MSD) program during training make approximately R 2,643 (Rand) per month.
At the same time, those soldiers who have completed their first year of training and are in their second year will earn R5,343 per month. The salaries vary due to the military ranks, so their wage will increase as the trainee's rank progresses.
Furthermore, trainees who have completed their training and are at the rank of private will earn R5,286 (Rand) per month. Comparatively, the average pay for military training in the United States is $ 41,075 per year and $ 3,422 per month. In addition, the base pay for U.S. military trainees at the E1 rank is higher than that of ZA army soldiers in their first year.
The salary for the ZA Army recruits during training is structured differently from the regular wages paid to serving soldiers. The wages for recruits, referred to as "basic training salary," is a fixed amount meant to provide financial support while they are training.
ZA Army Training Salaries Across Career Levels
It is essential to keep in mind that the figures I provided are subject to change due to inflation or policy adjustments. To get the latest information related to the ZA Army training salaries, it is advisable to consult or contact the recruitment office.
Now, let's focus on the wages provided based on different career levels, ranks, and experience. Here is an overview of the typical salary ranges for recruits, trainees, and soldiers at different career stages during their training.
Recruits (Basic Training)
Recruits who do not have any experience and are in the first year of training make approximately R 2,643 (Rand) per month; on the other hand, recruits in their second year of training earn R5,343 per month.
Private (After completing training)
Once recruits successfully complete their training and attain the rank of Private, they can expect a monthly salary of approximately R5,286 (Rand) per month.
Junior Non-Commissioned Officers (NCOs)
As trainees gain experience and progress in ranks, their salary also increases. Junior NCOs, such as Lance Corporals and Corporals, receive higher pay than Privates. Their salary depends on their level and years of experience.
Senior Non-Commissioned Officers
Seniors, such as Sergeants and Staff Sergeants, earn higher salaries compared to the junior ranks.
Warrant Officers and Commissioned Officers
Warrant Officers and Commissioned Officers, including Lieutenants, Captains, Major, and higher ranks, receive the highest salary in the ZA Army. However, remember that military wages vary based on numerous factors, such as changes in government policies, economic conditions, and individual qualifications.
Roles and Responsibilities of Soldiers in the South African Army
The profession of a soldier in the South African Army involves a range of duties and responsibilities aimed at protecting the nation's security and interests.
What Does This Profession Entail?
Soldiers are the nation's backbone, and their duties revolve around safeguarding their country against any threat and foreign existence. So, what are the soldier's responsibilities? Let's look at the roles and duties one by one:
National Defense
One of the primary responsibilities of the soldiers is to defend and protect their nation against external threats. They are responsible for protecting the country's borders, territorial integrity, and sovereignty. The soldiers are specifically trained to protect and fight for their country and people.
Military Operations
Soldiers are specifically trained to engage in military operations when required. This includes different missions, such as combat missions, disaster relief, and humanitarian services within South Africa.
Stability and Security
Providing security and maintaining stability within the country is the responsibility of the soldiers and the Army. It is their duty to tackle various security challenges, such as crime prevention and border security.
Other responsibilities include logistic and support functions, peacekeeping, humanitarian assistance, crisis response, and international cooperation. Overall, the profession of a soldier in South Africa involves multiple responsibilities, all aimed at ensuring the security and well-being of South Africa and its people.
Factors That Influence ZA Army Salaries
There are myriad factors that influence the salaries of soldiers. These factors and components play a crucial role in determining the compensation recruits receive while undergoing training. Let me shed light on these factors:
Rank and Grade
The initial salary for recruits varies depending on their ranks and grades. As you progress through the levels, the wages of the soldiers also increase.
Advancement in rank often accompanies promotions. This promotion typically comes with an increase in base pay, reflecting the greater responsibilities and leadership roles associated with higher ranks.
Length of Service
The duration of training can vary depending on the specific branch and training program. As trainees progress through their training, they may receive incremental increases in their earnings, reflecting their increased experience and skills.
Economic Conditions
The country's economic conditions and inflation rate also contribute to the changes in the soldiers' salaries. Adjustments are made to compensate for changes in the cost of living. The economic conditions and inflation rate significantly affect the purchasing power of military personnel and the overall financial stability of the armed forces.
Furthermore, economic factors, such as changes in government budget and policies, impact military salaries. During times of financial crisis, the government may limit salary increases or make adjustments to military compensation to manage overall expenditures. In addition, economic factors can also influence the availability of funds beyond basic pay, such as health care, housing allowances, retirement plans, and educational assistance programs.
Government Policy
Government policies and budgeting plans can also influence military salaries. Changes in national defense priorities or budget allocation can lead to adjustments in military pay rates. Changes in labor laws, military regulations, etc., can also lead to modifications in military compensation, including recruits' salaries during training.
Moreover, besides the basic salary, recruits may receive additional benefits, such as housing allowances, meal allowances, and medical benefits. However, it is essential to note that the salary structure for military personnel, including recruits, can change over time based on these and other factors. Therefore, it is necessary to keep yourself updated regarding any news related to adjustments in compensation packages.
How much do trainees get paid in the South African military?
The junior soldiers during training earn approximately R R 2,643 (Rand) per month; on the other hand, soldiers who have completed their first year of training make R5,343 per month. In addition, private-rank soldiers who have completed training receive about R5,286 (Rand) per month.
Do recruits receive any additional benefits during training?
Yes, they do. The recruits often receive additional benefits during their training, including meal allowances, accommodation, uniforms, and access to medical care. These additional benefits help them reduce living expenses during the training period.
Are there opportunities for salary increases or bonuses during training?
Yes, salary increases during the training programs may occur as trainees progress through training and gain experience.
What factors influence salary changes during the training in the ZA Army?
Several factors and components can influence salary during training; these include economic factors, length of service, rank, inflation, government policies, and the cost of living in training locations.
In conclusion, joining the South African Army (ZA Army) is a commendable act that requires passion and commitment to serving your country. However, before embarking on this journey, it is necessary to understand the financial aspect of Army life. The trainees who have just started the training program receive approximately R 2,643 (Rand) per month, whereas those in the second year of their training earn R5,343 per month.
So, as a trainee progresses through the training and gains experience, his salary and rank increase. However, the changes in compensation also depend on other factors, including changes in government policies, soldier's qualifications, grade, length of service, and the country's economic conditions. In addition, these figures are subject to change, so if you are considering a career in the ZA Army, you should consult recruitment offices or refer to official military websites for new information on salaries and compensation packages.