Motivational Letter For Bursary | Example & Tips to Write
It's not possible for everyone to chase dreams and pursue tertiary education because of financial issues. In this way, getting a bursary is the only possible way to get a high education degree from a reputable institute.
Well, to compete for a scholarship, you need to learn how to write the best motivation letter for bursary.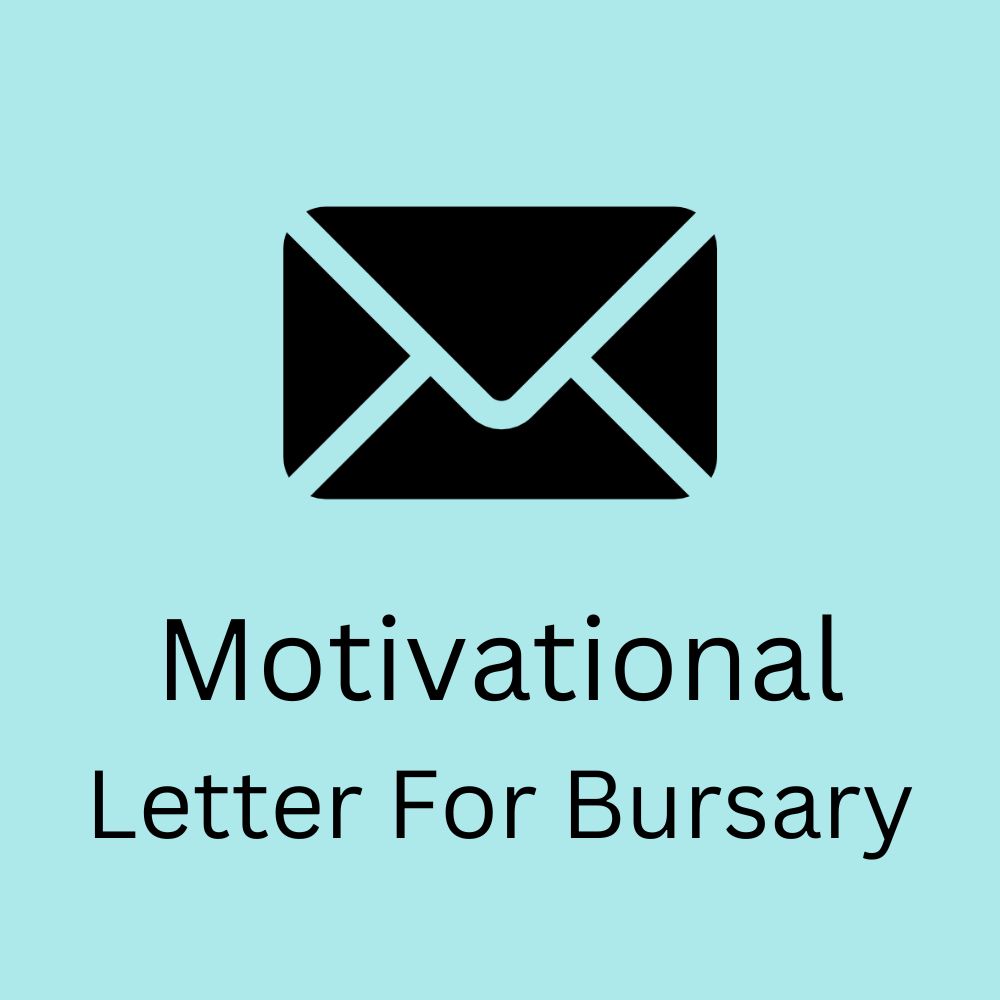 Everyone expects to get the bursary and do their best when applying for a scholarship, but still, many of us make silly mistakes in writing motivational letters for bursaries which is why we miss the chance. As a selected bursary student, I consider myself in a position to share tips on how to write a motivational letter for bursary.
I'll also share a motivation letter that I wrote when I got selected for your assistance. Please read the guide carefully and all instructions that I am quoting below to avoid any mistakes and increase your selection chance. Let's start this fruitful discussion now!
Perfect Structure for the Letter
Now that you know how to write a motivational letter, what to include in it and whatnot, it's time to discuss the structure of a motivational letter.
I am sharing the structure I followed when I got selected for the bursary with the intention that it will help you.
At the left top, write the complete address of the bursary provider. I got the address from their official website; you can do the same too. Then write the date on which you are applying for the bursary, your full name that is written on your identity card, and contact details. Please make sure to write each detail that is officially right.
To Start, do it with Dear, Dear Madam, Dear Sir, To whom it may concern, Dear (NAME), etc., to address the person to who you are writing the motivation letter. After this, start the first paragraph of your motivational letter.
In the first paragraph, write one or more reasons why you're writing this motivational letter. Please don't extend three sentences and include a clear purpose and statement for why you're applying. For example, you can start like I'm applying for a bursary (add the name of the program) to help fund my education (add the name of the course or degree you're pursuing), for 20XX (write the year).
In the second paragraph, please write details about your educational background, like from where did you complete your education, etc. You can also add the current degree in which you are enrolled and your future vision. I also added achievements that I accomplished during my studies. Please make sure to not exceed three or four sentences. Keep the details to the point and accurate.
In the third paragraph, please mention your future career plans. Please don't be too concise like a one-line statement; elaborate your plans, write a strong and practicable vision, and cover the need for a bursary too. You can extend this paragraph by giving details on how the bursary will help you to achieve your future goals.
In the last paragraph, write about how thankful you are for this opportunity. State your gratitude in kind yet formal words to close the motivational letter. After that, sign the motivational letter and write Sincerely in the next line, followed by your name.
Tips to Make it Worth Reading
The motivational letter should be personal, relevant, and engaging; you must add accurate data in a genuine, formal, and sincere tone. Please try to keep the motivational letter interesting. Talk about yourself, your educational background, and your achievements.
Transparency: Please be as honest as you can about your educational background, achievements, as well as your financial status. There is no need to add false things about your finances and more. Avoid writing maximum about the financial issues; you're applying for educational funding, not aid or something. Talk about the goals, what inspires you, future plans, aspirations, and more.
Tone: Tone matters the most to a reader, so make sure to be genuine, kind, and truthful. After writing the motivational letter, proofread the letter at least thrice. You'll see by yourself that every time you proofread the letter, you'll find some mistake or something not up to a point. Replace words like very, really, only, just, etc., with modifiers to make your application better.
Keep it Concise: Please avoid too long or too short sentences, overlapping of words, grammar mistakes, typing errors, and more as there is no room for such silly mistakes. Make sure that the information you add to the application is right; there is no need to enter false facts about yourself; otherwise, your application will get rejected in the first place.
Proofread: I know it sounds weird that someone can write his or her name wrong, but sometimes students make such mistakes. Therefore, when I add personal information like name, contact number, identity number, academic results, and more, I tally it with all my documents to make sure that I have not written anything wrong.
Add Experience: If you have encountered any experience previously for example an internship, a job, or anything, make sure to add it to the application as it will give a good impression to the concerned person. Well, that doesn't mean you are all set to add irrelevant stuff to the article.
Apply Early: To be honest, there is no rule of thumb like you will do this thing or that thing and you'll get selected for the bursary. But there are various ways that can increase the chance of your selection for a bursary one of which is apply early. For example, applying early is one the quickest and easiest way to increase your selection chance; some people can't believe it, but based on my experience this is a true fact. Please do not postpone your application and submit it as soon as you can.
Motivational Letter For Bursary – Example 1
Abeba Omari

17 Alikreukel Street
7201 Hermanus, South Africa
(Postal code)
Phone Number XXXXXXX
[email protected]

Annexures X-XX
21st April, 2023
Dr Kimberly McIntyre
Varsity College
Sandton
2196

Dear Dr McIntyre

Application for Varsity College Bursary

I'm currently enrolled in Varsity College as a second-year student. I've found the course utterly interesting and absorbing. I'm committed to completing this degree in two years, but my financial situation is not allowing me to do so. That's why I wish to apply for a Varsity College bursary.

I'm writing the first-year results of my current degree in Geology below:

Applied Geology (A)
Geochemistry (A)
Mining Geology (B+)
Sedimentology (A)

This year, I chose the following subjects: Mining Geology Part 2, Hydrogeology, applied geology part 2, and Metamorphic Petrology, and hoping to continue Mining Geology Part 2 and Hydrogeology next year too. I have always been intrusive in mineralogy, rocks, sedimentation, and geological processes. I love to explore and pursue research on rock strata, minerals, and related prospects.

Last year, in July, I worked in the Graskop field office (please see Annexure 2), and found it insightful, productive, and fascinating at the same time. Though it was challenging to understand the work in depth, I wish to do an internship at your institute soon.

In the past, I have been funded by an educational grant from a local business to complete my studies. Due to some finance-related setbacks, the business terminated the grant. I received an official email that my grant will no longer continue after March. Without financial support, I will not be able to complete my tertiary education as it was planned.

On consideration of this application, I'll assure you that I'll work day and night to meet study requirements and commitments and will perform incredibly great. I will make sure to not let you down.

I am grateful for this bright opportunity to apply for a bursary.

Sincerely

Abeba Omari
Avoid These Mistakes
As I said earlier, most people make silly mistakes while writing motivational letters, which should be avoided. Therefore, I thought to add a few common mistakes shortly for your assistance.
The first and most frequent mistake is skipping the reason why you chose a specific university or program. Never do that; please write at least three sentences to explain why you went for a particular educational program, what was the motivation behind it, what your interests were, and more.
Never address the wrong person! Please do your homework and see who is the concerned authority, who will approve your application, etc., and write an application to that only. Addressing the wrong concerned member will give a bad impression.
Please always explain why are you the best fit for the particular bursary. As I stated before, the competition is pretty high for scholarships, so please prove yourself as a good fit for the scholarship.
Never underestimate yourself; try to be confident when writing the application. Well, that doesn't mean you're all set to overstate yourself; just be honest and be yourself. In the end, I must say that you should consider the official guidelines before you start writing a motivational letter for a bursary.
How long should a motivation letter be?
Ideally, the motivation letter is no less than five hundred words and no more than seven hundred words, but the length may vary depending on the requirement of officials. In my opinion, the length of the motivation letter is not the major thing that matters, but the point to ponder is the details and your writing. It would be great if you create a draft first, and then trim it down to the actual letter.
How do I write a convincing motivation letter for the bursary?
To write a strong motivational letter for a bursary, you need to provide the right information; otherwise, you'll get rejected in the first place if you provide any wrong data about yourself. You should be confident in every sentence you write and every stat you mention in the motivational letter. You need to explain or mention everything to prove yourself eligible but don't overdo it.
What is the difference between a personal letter and a motivation letter?
A personal letter gives readers information about your personal data, and why you're suitable for a particular bursary. In contrast, the motivational letter gives the reader an insight into your skills, educational background, experience, interests, financial condition, and how you'll drive the journey in the future successfully
The Bottom Line
That's all for the bursary motivational letter! In this blog, I have discussed in detail how to write a motivation letter, what to add, and what to avoid.
Please make sure to add relevant stuff only, be precise and concise when writing the article, add the right data which you are 100% confident in, and never forget to read the guidelines provided by the officials.