SABT Bursary – South African Bulk Terminals
South African Bulk Terminals (SABT) is the core commercial unit within Bidvest Freight. It's the shipping management wing of the registered Bidvest Group. It's a company that offers bursaries to students in South Africa. It is devoted to the educational development of youth in the country.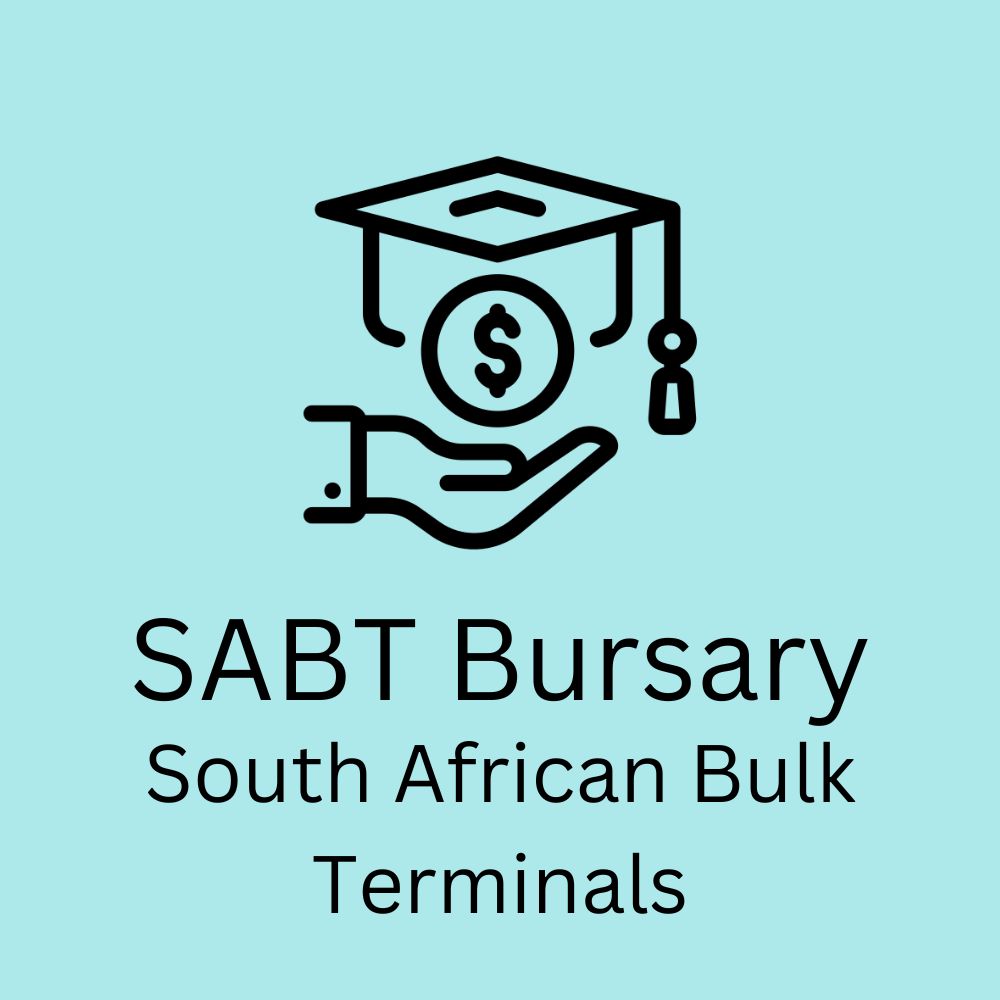 South African Bulk Terminals (SABT) offers students the opportunity to complete their studies by providing them with bursary programs. They invite qualified students to apply for the bursary program (2023) academic year.
South African Bulk Terminals (SABT) Application Guide (2023)
South African Bulk Terminals (SABT) are now welcoming applications from less privileged students for the bursary program (2023).
Required Field of Study
The bursary will be offered to present and prospective students for all fields of study. Hence you can apply for it without worrying about your discipline.
Who Are Qualified Applicants?
The following students can apply for the bursary program (2023) academic year.
Grade 12 students/ Metriculants ( planning to register in their first year of Tertiary studies in 2023).
Full-time enrollees currently registered at Tertiary institutions and are in need of financial assistance for the 2023 academic year.
Expenses Covered By The SABT Bursary
Following are the student expenses that the SABT will cover. Hence you can be worry-free regarding your fees and focus on your studies.
Your tuition fees
Enrollment charges
Examination fees
And any other education-related expenditure can be covered as long as it gains the approval of SABT management.
Applicants' Requirements for SABT Bursary Program
The students must fulfill the following eligibility criteria before applying for the bursary program. Your application will be denied if you don't meet the minimum requirements. Hence make sure you fulfill the following requirements.
Applicant must be a legal citizen of South Africa with an authentic South African Identity document.
At the time of registration for your studies, your age must be under 35.
Applicants must not be employed at the time of applying for the bursary.
Candidates must not be receiving funds from any other sources in order to be considered for the bursary.
You intend to study as a full-time student in 2023
You must plan to study in an authentic tertiary institution in South Africa that is recognized by the Department of Higher Education and Training (DHET).
If required, the beneficiaries must be reachable for on-site work experience.
Priority will be given to candidates living and pursuing their education in Durban and in compliance with the SABT's Employment Equity and Business Operational criteria.
Learners with any form of disability can also apply for the bursary.
Application Instructions
First of all, download the application form in PDF format and fill in all the required information. You will be required to enter your personal details, school qualifications, and your course details. Hence provide authentic and valid information, or your application might get rejected.
Required Documents
Let me inform you about the documents you must attach to your application form.
Applicant's certified and valid copy of ID document.
Your certified copy of the Matric certificate.
Your certified copy of up-to-date 11 and Matric result.
A verified copy of your latest academic records from a tertiary institution.
In case of any form of disability, you are required to provide medical records.
You must provide an acceptance letter from the academy and a registration confirmation.
You must provide a detailed analysis of your tuition fees from a tertiary institution.
Affidavit validating your guardian/parent's profession.
Your CV (no more than two pages) in either PDF or Word format, along with a motivation letter.
If you are residing in Durban, then provide proof of living address.
How Can I Submit My Application?
After you have filled out the form and signed the application. You can email your form along with the attached documents to [email protected]. Furthermore, ensure that you enter the code "BURSARY2023" in the "subject" portion. Moreover, the application must be in either PDF or Word format.
Additional Instructions
Remember the following instructions in mind while submitting your application.
You are permitted to use electronic signatures to sign your documents. It is an efficient way to sign your electronic documents quickly.
The company will not accept any external or shared links to documents.
You must submit your application in soft copy via email. Any application that is personally delivered will not be accepted by the company. Hence submit your application electronically.
You need to send only one application since only one application will be accepted per student.
The company will not approve an incomplete application. Hence remember to provide all necessary details along with the required documents.
Only candidates who were shorted listed will be contacted.
If you do not receive any response from SABT by 31 March 2023, then consider your application rejected.
Deadline for The Application
The closing date to apply for the South African Bulk Terminals (SABT) Bursary program is 31 January 2023. Hence any application submitted after the last date will not be entertained. Therefore try to apply for the program before the closing date.
Contact Details
If you have any further queries related to the South African Bulk Terminals (SABT) bursary program, you can reach out to the company through the following platforms.
Conclusion
I have provided all the necessary details to help you understand the South African Bulk Terminals (SABT) bursary program and the application process.
You can submit your application via email, as the company will reject personally handed ones. Moreover, before applying, remember the program's eligibility criteria and see if you fall within the category. Otherwise, your application will be rejected.
In conclusion, the SABT bursary program allows less privileged students to pursue their studies by covering their examinations, registration, and tuition fees. Moreover, the funds will be offered to students for all fields of study.
The program also provides an opportunity for learners to gain work experience and also aids in preparing them for successful careers in their selected discipline.