DPSA Salary Increase 2021/22/23 (Levels 1-12) Update
DPSA announced an increase in government employees' wages that was supposed to be active from April 2022. This is applicable to civil servants and public sector employees. Want to know more about the DPSA salary increase 2021/22/23, keep on reading this guide.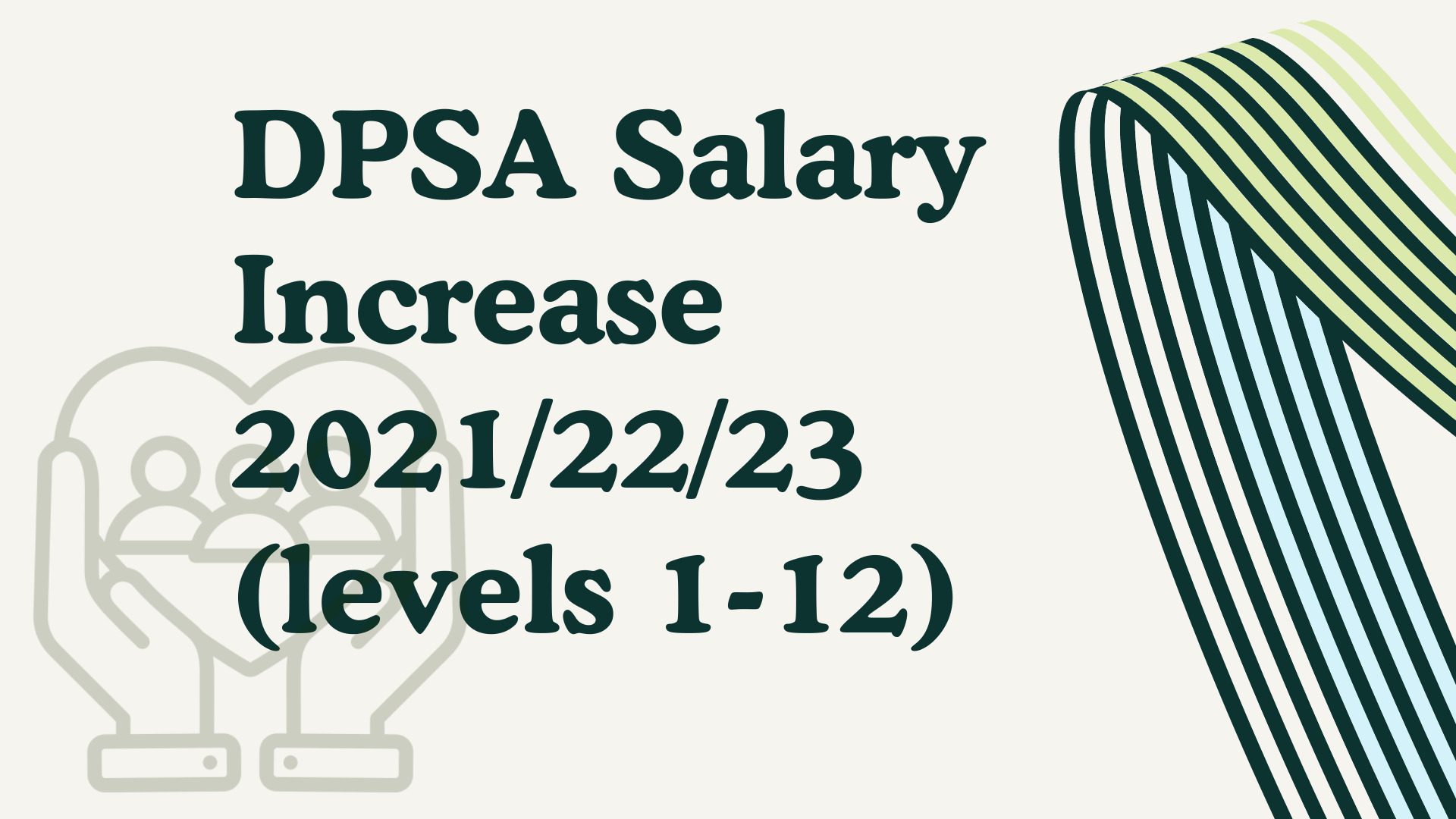 DPSA Salary Increase 2021/22/23
Here is a breakdown of the Department of Public Service and Administration DPSA salary increase from the year 2021 to 2023. So, keep on reading to know more.
2021/ 2022
Trade unions across South Africa proposed an increase in wages back in 2021, which resulted in the exchange of several agreements between them and the Department of Public Service and Administration. Hence, after a lengthy exchange, it was settled that DPSA would increase 1.5% of the pensionable salary from Level 1 to 12, which will be effective in April 2021.
According to the new agreement, it was established that there will be a 5.8% increase including the potential gains in the cost-to-living adjustment, medical subsidies, and housing allowances. Here are the non-pensionable salaries settled after the proposal came into the implementation stage.
Salary for Level 1 to 5 Employees: R1220
Salary for Level 6 and 7 Employees: R1352
Salary for Level 8 and 9 Employees: R1450
Salary for Level 10 and 11 Employees: R1640
Salary for Level 10 Employees: R1695
Similarly, the following are some conditions kept in mind at that time.
There will be a single-term agreement for two years with a 5.8% increase in payment, including rent, housing allowance, and medical subsidy.
Extending the family responsibility leave, so workers can apply for legal guardianship for extended members of their family.
2022/2023
In 2022, the trade union again demanded an increase against the last proposal, as it was supposed to be renewed in April 2022. This time, the DPSA suggested an increase of 7.5% in non-pensionable salaries from levels 1 to 12. Here are some conditions set up by the department for the wage increase.
There will be a two-year agreement for the next two fiscal years 2023/24/25.
The pensionable salaries of employees between levels 1 and 12 will have a 7.5% increase.
There will be a 4.5% increase in the transfer of the non-pensionable salary from the baseline.
The employees will receive an R1000 cash allowance, including rent, house allowance, and medical subsidies, making it a total of 11.7%.
Unions and DPSA will hold the authority to revise the terms and conditions of the agreement at any point.
According to the new settled agreement, the following will be the new salary per year for employees. And this will be active from April 1, 2022.
| Posting Level | Salary (Per Month before Deductions) | Salary (Per Year) |
| --- | --- | --- |
| Level 1 | R12 007 | R103 562 |
| Level 2 | R12 576 | R171 278 |
| Level 3 | R14 127 | R206 957 |
| Level 4 | R15 882 | R247 296 |
| Level 5 | R18 080 | R283 227 |
| Level 6 | R20 778 | R332 985 |
| Level 7 | R24 562 | R411 227 |
| Level 8 | R29 379 | R479 868 |
| Level 9 | R34 048 | R567 956 |
| Level 10 | R41 344 | R710 273 |
| Level 11 | R47 633 | R851 022 |
| Level 12 | R56 452 | R1 222 246 |
Applicability of the Circular 5 Public Service Act
When Ms Makhasi, the Minister of DPSA gave a statement on the increase in wages, he stated that the proposal will only apply to employees hired from Level 1 to 12. This will come into action on the basis of the Public Service Act 1994. Hence, anyone from senior management (Level 13 to 16) won't be able to enjoy the perks of this proposal.
Salary Increase for Casual Workers
In terms of the Public Service Act 1994, the hourly and daily rates for casual workers will be revised using a new formula. This would be the notch (inclusive of 37%) or the prescribed hours per week multiplied by 52 weeks. However, if the hours and daily rate come higher than what is the base stipulated, the DPSA will retain the existing rates.
How many salary levels are there in the government of South Africa?
There are a total of 16 government salary levels in South Africa, and all of them are based on seniority level and qualification.
Who will benefit from the DPSA 7.5% increase in salary?
The DPSA announced a 7.5% increase in government salaries from level 1 to 12.
How much salary will be for levels 11 and 12?
The average salary for the government employees at levels 11 and 12 is R47 633 and R56 452 respectively.
What is the teacher's government salary in South Africa?
The average salary of public sector teachers in South Africa is approx R264 000 per year and R135 per hour. However, entry-level educators may receive a starting salary of R210 000 per year.
What is the legal expert salary in South Africa?
The legal expert salary recruited by the government earns around R699 000 per year.
Government salary increase has been active for quite some time between the Level 1 and 12 postings. DPSA Minister Ms. Makahsi suggested this increase to maintain a balance between earnings and inflation. Finally, I hope, after reading this guide, you are clear about who is going to benefit.