Foster Care Grant Application Guide | How Much is it?
Are you looking for a complete article on SASSA's Foster Care Grant that will provide you with a complete overview of who can apply for it and how?
If yes, then congratulations you have landed on a perfect article because you are about to get all your doubts and questions cleared off. In fact, I did very thorough research on this specific grant and summed up all my findings down below for your ease.
So, all you have to do is take a few minutes of your time and give a thorough read to the article down below. I will explain, in simple terms, what this grant promises you and what makes you eligible to apply for it. I will also list down all the documents you will need for this process, so keep on reading and enjoying.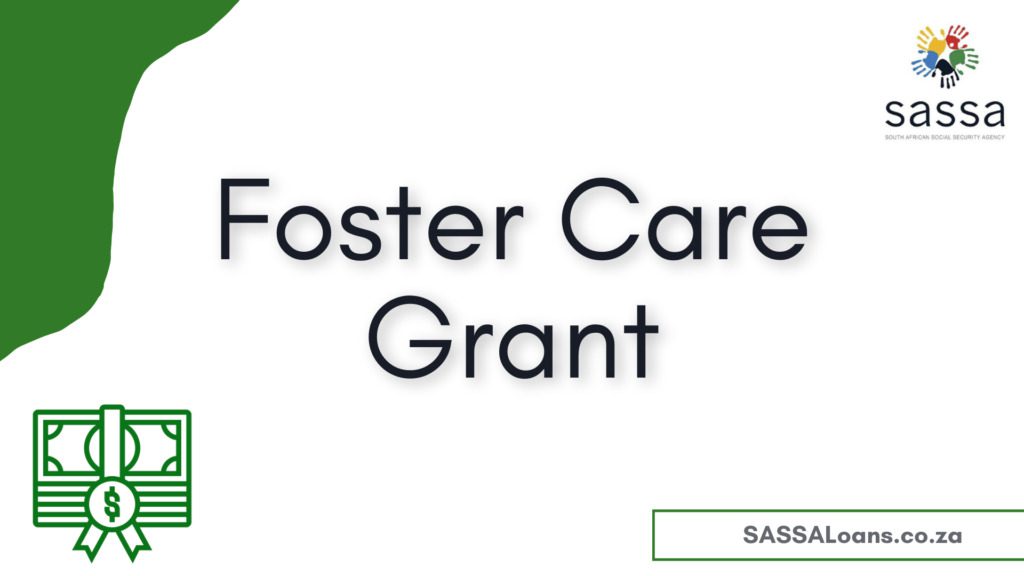 Foster Care Grant
By a valid court order, Foster Care Grant is provided by the government of South Africa to the foster parents in charge of foster kids. This amount is specifically designed to appease the problems faced by the foster parents when raising the children under their care. Furthermore, it is provided to foster parents in hopes of encouraging the foster parents to fulfill their duties and take proper care of the kids entrusted to them by the government.
This grant is paid per child to the foster parents per month which means that the more children you are entrusted with, the more money you will get in the form of this grant.
Foster Grant Amount: As of this date, the amount of foster child grant paid by SASSA is R1130 per child but this amount is subject to change every six months. And the good news is that it always increases after six months in consideration of growing inflation.
Requirements for the SASSA Foster Child Grant
There are certain requirements and a set of criteria that you must fit in order to be counted as eligible for applying to the SASSA Foster Child Grant.
Make sure that you read out all the requirements to see if you meet them before applying. Otherwise, it will be a total waste of time if you apply for the grant only to find out that you are ineligible.
So, the first and foremost requirement is for you to be a South African citizen and a permanent resident. However, you will also be deemed eligible if you are a refugee.
Secondly, you must have at least one child in your foster care currently when you are applying for the grant.
In case you don't have a child in your care and only intend to take a child in after the grant has been given to you then your application will be rejected. Apart from that, you must be entrusted with a foster child to care for in South Africa.
In simple words, you both must be living in South Africa presently and in the future to come for as long as you intend to take the grant from SASSA.
However, the most important and crucial requirement for applying for the foster care grant is that the child must have been placed in your custody by a court. You can not pick a child of your choice and ask to be given the grant.
Besides that, the reasons for foster care should also be very prominently written in the court order; it could be the case of orphanage, child neglect, child abuse, etc.
And finally, the foster child must be under the age of eighteen years old. If you meet all of the above criteria then feel free to apply for the SASSA Foster Care Grant any time suitable for you.
Applying for the SASSA Foster Child Grant
Going directly to the SASSA office in order to apply for the SASSA foster care grant would do you no good at all because you will need a court order confirming that you are the legal foster parent of the child. So, in order to obtain that, you will have to go to the Department of Social Development. Make sure that you make an appointment to see the social worker there before you pay the visit.
Now, there are two ways in which you can apply for the SASSA Foster Care grant.
You may either visit their office physically or
apply for the grant online whichever suits you best.
If you opt to apply physically for the SASSA Foster Care Grant, then you must visit their nearest branch office during office timings. When you get there, you must ask for the application form and fill it out in the presence of a SASSA officer. In fact, that officer will assist you in filling out the form properly in case you get stuck.
Once you have completed the form, you will be given a dated receipt of your application. This receipt will also be stamped by the valid officer and have the name of the officer who assisted you in applying for the grant. You must keep this receipt safely with yourself because it is the only proof that you applied for this grant.
Documents Required When Applying for the Foster Care Grant
If you are thinking about applying for the SASSA Foster Care Grant then you must remember to take your documents with you and attach them with your application form. Make sure that you have all the documents in place otherwise, they will mark it as a deficiency and needlessly delay your application.
These documents include the birth certificate of the foster child entrusted to your care. However, if you don't have this document, you may also provide a sworn statement or an affidavit in this regard.
Other than that, you will also need your South African Identity card but an affidavit or a sworn statement would also suffice in case you don't have the ID.
On the other hand, if you are a refugee, then you will also have to bring along your status permit and refugee ID.
Please note that an affidavit or a sworn statement will not be acceptable.
Besides that, you will also need to provide the South African Id of your spouse if you are married.
However, if your spouse does not have an Id card, you may also submit a sworn statement or an affidavit.
You will also need to prove your relationship status with your spouse through some documents.
For instance, if you are married, you will have to submit your marriage certificate. If you are divorced, then you will have to provide your divorce order.
If your spouse is dead, you will have to submit the death certificate of your spouse. However, if your relationship with your spouse does not fit in any of the categories stated previously then in that case, you may provide a sworn statement or an affidavit. One such example is that you are living with a partner who is not married to you yet.
And finally, you will have to bring in the court order that the child is entrusted to your foster care. Be sure to submit all of the above-mentioned documents otherwise your application for the grant will not be timely submitted.
FAQs
How do I know if I am eligible for the SASSA foster care grant?
If you want to know if you are eligible for the SASSA Foster Care grant then you must read out the eligibility criteria and guidelines provided by this organization. Some of the key points of these guidelines are that you and the child must both be South African residents and you must be legally entrusted the custody of that child. Plus, the child should be a minor of age below eighteen years old.
The Bottom Line
So, this was all from my side and I hope you all enjoyed reading through this highly informative article. I tried my best to provide you with the most comprehensive information on the Foster Care Grant provided by SASSA. In fact, I performed very thorough research on it and personally visited the SASSA office so that I could provide you with the most authentic information relating to this grant.
In any case, I would like to sum up this entire discussion by reminding you of the key points of the basis of the above article. For starters, you must have the foster child entrusted in your custody by the order of a court. Secondly, you and the child must be permanent citizens and residents of South Africa.