NSFAS Application Guide 2023 with Closing & Opening Dates
Are you planning on applying for NSFAS allowance 2023? Are you also not a fan of the vague and overwhelming amount of information available on the internet?
You do not need to worry anymore because I am here to give you all the details you need for your NSFAS application for 2023.
[ez-toc]
The National Student Financial Aid Scheme or NSFAS is a South African government financial aid for the working class and poor students of South Africa. This allowance promotes higher education in the country and eventually fights off the socioeconomic instability of the country.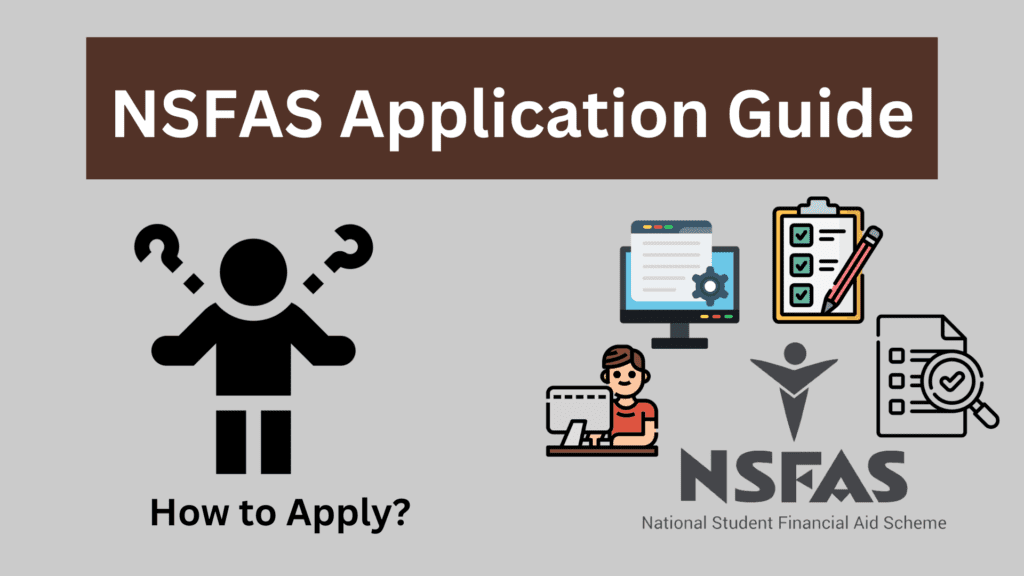 It is no secret that colonialism and apartheid have adversely affected the country's economy. In order to eradicate poverty, the Department of Higher Education and Training has funded a bursary scheme called NSFAS. Higher Education Minister Blade Nzimande has allocated R47.6 billion for the academic year 2023.
This money will be given to students in the form of allowance to cover their educational expenses like tuition and registration cost, accommodation and transport costs, and incidental or personal care expenses. So, students who are pursuing higher education from universities and TVET colleges can apply for this allowance.
The NSFAS applications for the academic year 2023-2024 are closed, but you can wait to apply for the academic year 2024-2025, which might start on 28th September 2023 and close on 31st January 2024.
Let us start with opening and closing dates of NSFAS Application
Opening Date
The National Student Financial Aid Scheme (NSFAS) Online Application 2023 opens on 28 September 2022.
Closing Date
The National Student Financial Aid Scheme (NSFAS) Online Application 2023 closes on 21st January 2023.
NSFAS 2023 Application Criteria: Who Qualifies for NSFAS?
In order to make sure that the allowance is given to deserving people, NSFAS has set a standard for the students that they must match to get the allowance. You will be selected if;
You are a South African citizen.
You have an undergraduate qualification or intend to complete it in 2023.
You are receiving the South African Social Security Agency or SASSA grant.
Your total and complete household income is less than R350000 per year.
You are living with a disability, and your total and complete household income is less than R600000 per year.
Your university education began before 2018, and your total and complete household income is less than R122000 per year.
Students who have completed their courses with the required academic criteria set by NSFAS will automatically be selected for the next courses within the same degree.
Who is not Eligible for the NSFAS 2023 Allowance?
You are already enrolled in one course and now applying for another one.
You are a fresh undergraduate, and your family's total and complete household income is more than R350000 per year.
Requirement Documents & Requirements for NSFAS Application
If you are preparing to apply for the National Student Financial Aid Scheme or NSFAS, you are asked for some documents for identification.
You must own a phone number or an email address. It is required so that NSFAS can contact you easily and you can also track your application.
You are required to have a copy of your ID card.
In case you do not have an ID card, you will need a copy of your birth certificate.
You must have a copy of your guardian spouse or parents' ID card.
You will be asked for your household income evidence. It can be evidence of your parent, spouse, or guardian's income.
You will be required to submit a copy of your parent's or legal guardian's death certificate if required.
You must bring evidence of your income or profit or your one year tax certificate IRP5 (if necessary)
If you are taking a South African Social Security Agency or SASSA grant, you do not have to submit evidence of your income as your information will already be verified digitally.
Disability Annexure A form will be given to disabled people, and they must fill it completely and sign it.
If the child is considered vulnerable, the guardian or an adult must sign a vulnerable child declaration and consent form.
If you are an orphan, you will have to fill out a NSFAS declaration form in pdf form and then give it back to the social services department and sign it by a social worker.
All the forms required to be filled out are available online with instructions. So, you just have to click any of the links below to access the forms.
How to Apply for NSFAS in 2023?
Now that you have collected all the required documents and forms, you will have to apply for the allowance. It is necessary that you have all the documents before applying. If you are eligible and meet the required criteria, you will have to apply by using the following step-by-step method.
Firstly, you will have to open the National Student Financial Aid Scheme or NSFAS website, which is www.nsfas.org.za/apply-2024
Now open the myNSFAS tab.
The third step is to create a myNSFAS account. (if you do not have one, keep on scrolling to find out how to make one)
An apply tab will appear; click it.
Now, you will have to check your personal information and update it.
Some questions will appear on the screen which you must answer.
After answering the questions, you should upload all of the necessary documents.
Finally, click on the submit tab.
How to Upload NSFAS Documents?
You must provide some documents if you are trying to apply for NSFAS through myNSFAS account. Learning about all the documents you will need before uploading them is necessary. So, the following are all the outstanding supporting documents that you must possess;
You must have;
Personal cellphone number and email address.
Identity document (ID) or birth certificate. This is to ensure that you are a South African citizen. However, if you have a temporary ID from the Department of Home Affairs, it will also be accepted.
Copies of the Identity Document of your parents, spouse, or guardians (if you are a non-SASSA applicant).
Front and back sides of your Smart ID card.
Fill out and sign a consent form by your parents or guardians.
Provide your or your guardians/parents' pay slips for the last three months as proof of the income. The alternate options to pay slips are UIF, appointment, or retrenchment letter.
Download the Disability Annexure A Form from above.
Death Certificate of your parent(s) if required.
Divorce Decree if you depend on your spouse but are not together anymore.
Court order (if applicable)
If the Department of Social Development recognizes you as a Vulnerable Child, you must complete and sign the Vulnerable Child Declaration and Consent Form. You can download the form by clicking here
How to Upload NSFAS Outstanding Supporting Documents
If you have all the supporting documents, you must upload them during your NSFAS Application. Allow me to guide you through the whole process.
First, visit my.nsfas.org.za/ on your phone, mobile, or PC.
Next, enter your ID number and password to log in to your myNSFAS account.
Then, you will see an option 'upload outstanding supporting documents' select it.
So, select all the supporting documents you must upload and press 'submit.'
Finally, wait for the prompt 'Outstanding Documents have been Successfully Uploaded.'
NSFAS 2023 Fund Amounts
For University Students
You will get a transport allowance of R750 per month or R7500 per year if you live 40km from the institution.
NSFAS will cover all of the accommodation fees. If your accommodation is private, it must not exceed the university residence cost.
Students will get a living allowance of R15 000 annually or R1 500 monthly.
R5 200 per year will be given for book allowance.
R2900 per year or R290 per month for personal care.
For TVET College students
Students of TVET colleges will get the following;
R24 000 per year or R2 400 per month for accommodation if they live in an urban area.
Accommodation allowance of R18 900 per year or R1 892 per month if they live in a peri-urban area and R15 750 yearly or R1 575 monthly in a rural area.
Transportation allowance is R7,350 per annum or R735 monthly if the student lives up to 40km from the institute.
R2 900 per year or R290 per month for personal care.
For UNISA Students
UNISA students will get the following;
R2900 per year as a small expense allowance if they are registered for more than ten modules,
Allowance of R600 per module for the first four modules for learning material.
How long does it take for NSFAS to verify documents?
Usually, it takes NSFAS up to 6 weeks to verify your documents.
How to Make myNSFAS Account?
All of the students who are applying for the National Student Financial Aid Scheme or NSFAS must own a myNSFAS. If you have an account, you must update the details that you have provided.
Here is how you can make a myNSFAS account
Firstly, you will have to visit the NSFAS website, which is www.nsfas.org.za
Secondly, in the top right corner, you will see a tab mNASAF; click on it.
Then you will have to enter your detailed personal information, fill it in according to your Identity Document (ID).
After your details, you will enter your valid contact details; fill in very carefully.
Terms and conditions will appear. You should read it thoroughly and tick the given box to accept it.
Finally, you will have to make a password for your account's protection. After confirming your password click on the create tab.
How to Track your Application Status?
If you have already applied for the NSFAS allowance and you have not heard back from them. Here is how you can track your application.
You can use above button to get to know if your NSFAS application was successful or not.
FAQs
Can students from other countries apply for NSFAS allowance?
No, the NSFAS allowance is only open for South African citizens, and only they will be selected for the funds. So, any foreigner (who is not from South Africa) is not allowed to apply for this bursary scheme.
For how many years can NSFAS pay for my qualification?
NSFAS can support you for a maximum of 5 years. If you meet the standard academic criteria, NSFAS will pay you for not more than five years. Therefore, if you are not following the guidelines and change the qualification after a short amount of time and taking more than five years, you will no longer get a scholarship from NSFAS.
What is the pass rate requirements for NSFAS?
Students who are applying for the first time must have a pass rate of 50% in their previous academic year, while students who are already getting the NSFAS allowance have to score not less than 55% in their previous academic year.
Do I have to apply every year for NSFAS?
No, you only have to apply once. After you get the allowance, there is no need to apply every year because NSFAS will support you for that academic year and the upcoming years of the same qualification. So, NSFAS takes responsibility for the whole period of your qualification at a university or TVET college.
Is NSFAS bursary or a loan?
National Student Financial Aid Scheme, or NSFAS, gives loans to students. The students will have to return the money back to NSFAS. Therefore, they will have to start paying back after completing their qualification after employment or starting a business and earning a total income of R30000 or more per year.
Conclusion
To sum it up, you should register yourself as quickly as possible. It is the best scheme to cover all your essential expenses during your qualification tenure.