How Much & How to Qualify for a Home Loan in South Africa?
Many people dream about owning a home of their own. However, for most people, this dream becomes a reality with the help of a loan. But not everyone is lucky enough to get a home loan so in this article we will be highlighting all the key factors and requirements that qualify individuals and families in South Africa for a home loan.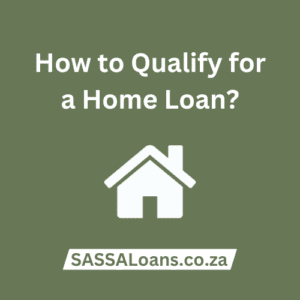 Just like many South African citizens, I had a dream of having my own home but due to some financial reasons, I had to apply for a home loan.
Tips to Qualify for Home Loan
Many are unaware of the fact that banks follow strict rules and applicants need to qualify for the set criteria to get a home loan. Gladly, I got the home loan so I am sharing all the details in this guide to help my fellow citizens to qualify for a home loan.
Assess Your Finances
Before you go to any bank to apply for a home loan it's crucial to assess your financial condition thoroughly. All lenders evaluate your income, employment stability, your expenditure, and ability to pay back the loan.
Therefore, it's better to analyze your finances beforehand and clear any outstanding debts to make a good impression on lenders and increase your chances of qualifying for a home loan.
Creditworthiness
Credit score plays a major role in determining your chances of qualifying for a home loan. According to my research and experience a credit score above 610 improves the chances of getting a home loan. Moreover, make sure you have no or minimum outstanding debts, and pay bills on time, as it reflects your financial behavior.
So having a financial history as clear as crystal smooths your chances of home loan qualification. So don't make any mistakes if you are planning to apply for a home loan in the future.
Save for Deposit
No one will lend you a huge amount of money as a loan if you are flat-broke. According to my personal experience, a smart way of securing a home loan is to save some amount for deposit while purchasing a home. If possible make a bigger deposit to potentially reduce the loan amount and make yourself a worthy candidate in the eyes of lenders.
Income and Expenses
If you want to increase your chances of getting a home loan then make sure you have a steady source of income and no additional debts to clear. As banks will analyze your income and expenses to decide whether you will be able to repay the loan or not.
Employment Stability
Having a stable source of income is key to qualifying for a home loan in South Africa. If you have recently started a job or business it's better to wait a little and then apply for a loan to minimize the chances of giving the benefit of the doubt to the lenders as they will reject your application straight away. So only apply for a home loan if you have a stable employment history as it will turn things in your favor.
Documents Requirements
To qualify for a home loan certain documents are as important as your credit score and income. These include your identity, pay slips, bank statement, and property papers you are purchasing.
All these requirements are needed to meet to qualify for a home loan. Many South African individuals apply for a home loan but not all of them get the loan and the reason lies in the above-mentioned requirements.
How Much Home Loan Do I Qualify for?
A home loan is a long-term financial assistance that can cover the whole or part of purchasing a home in South Africa. You will have to put down a deposit which is a certain percentage of your property or loan's value. However, there is more than just buying the property, so you must consider the additional expenses like initiation fees, attorney fees, conveyancing costs, etc.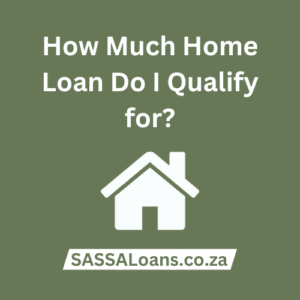 While it is complex to give an exact answer to this question, in simple terms it depends on your salary and credit score. So, if you have multiple stable income sources, you can get a higher home loan and vice versa. Moreover, let's look into all of the factors that affect the amount of home loan you can get.
Your Deposit Amount
Every loan-providing service requires a certain amount of money as a deposit. There is no limit to it, the deposit you put down will determine your loan money. Moreover, based on it some people even get a 100% bond.
Deposit Amount shows the provider that you have a lower risk profile. A larger deposit reduces the loan-to-value ratio and can help you get a larger amount of loan. Similarly, a lower risk and a reduced LTV can have an impact on the interest rate that you will qualify for.
Credit Health
Another factor that can have a huge impact on your home loan is your creditworthiness. For instance, a loan provider will evaluate your credit history, behavior, and record. To further simplify it, they will judge your ability to manage debt responsibly.
The lenders analyze your loan repayment to income ratio which means if the repayment of your loan (including new and existing loans) is exceeding a certain percentage of your total income. They will mainly check if this ratio is exceeding a total of around 31%. Furthermore, it will allow them to examine your ability to comfortably manage your debt obligation.
Additionally, the loan providers will also look into your other existing debt obligations like credit card debt, personal loans or car loans, etc. The amount of these debts and loans will determine your new home loan amount.
Income and Expenses
To ensure the safe repayment of their money, the lender specially looks into your income and expenses. Your net monthly income is compared with your monthly debt repayments. Similarly, a consistent and hefty monthly income can help them gauge your ability to easily repay them.
Credit Score
Having a decent credit score is as crucial for getting a home loan as finding a lender is. Furthermore, this will give the loan provider an indication of your past repayment behavior to assess the risk level linked to giving you a loan.
The minimum credit score for South African citizens is 640. So, if you want to have a better chance at getting a 100 percent bond then you should have a credit score way above 600. For instance, a 670 plus score is considered best for getting home loan approval.
Pre-approval
A pre-approval means working with a lender to find out an estimate of how much loan you can afford. Likewise, you can use this as proof to the lenders while applying for a home loan; to confirm that your finances are assessed and you have a good credit score.
What is the minimum income to qualify for a home loan in South Africa?
Considering the property prices the minimum monthly income requirement to qualify for a home loan in South Africa is R45 000.
Is it hard to get a home loan in South Africa?
It is not hard to get a home loan in South Africa but it has a few requirements that need to be fulfilled. A major factor in qualifying for a home loan is the applicant's credit score. An applicant with at least a credit score of 600+ has comparatively higher chances of home loan approval than others.
Can a non-resident get a mortgage in South Africa?
Yes, non-residents can also get a mortgage to buy property in South Africa legally. However, it depends on the bank you are applying for a home loan for as each bank has its own terms and requirements.
Do I need a source of finance in order to get a home loan?
Yes, having a source of finance not only helps you in getting the loan but also determines the amount of home loan you will get.
How much must I earn per month to qualify for a home loan in South Africa?
In order to qualify for a home loan, you must be earning at least R45000 per month because the average purchase price is R1482625 currently.
Qualifying for a home loan in South Africa requires careful planning. Maintaining a good financial history, credit score, saving deposit amount, and stable income greatly increases your chances of qualifying for a home loan that fulfills your needs and smoothens your way to owning a dream home in South Africa.