Which Bank has the Lowest Interest rate on Home Loans in ZA?
If you are thinking of applying for a home loan, understanding the current interest rates is crucial. In this article, we will explore the South African banking industry, look for a bank that offers home loans at the lowest interest rate and understand the ways to lower the interest rate on a loan. So stay with us and make an informed decision using the information gems shared in this article.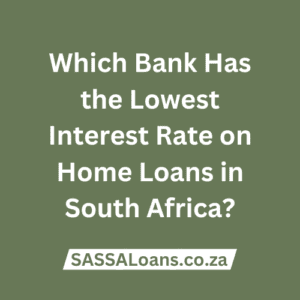 South African Banks with Lowest Interest Rate on Home Loans
Each bank has different interest and fixed deposit rates with a three, six, twelve, or more monthly period gap which changes over time. Currently, Standard Bank and Discovery Bank are offering the lowest interest rates on home loans in South Africa.
Where most banks have an 11% interest rate Standard Bank and Discovery Bank are taking around 9% as interest on loans.
Apply for Home Loan Strategically
Each bank has its own set of rules and criteria on which it accepts and rejects loan applications. So it's better to apply to multiple banks for home loans as it increases the chances of loan approval. While buying a new home in South Africa I considered numerous major banks in South Africa to secure favorable interest rates on home loans.
As my focus was choosing a bank with the lowest interest rate on home loans therefore it wasn't possible without comparing the interest rates of multiple banks. The banks I chose for home loans were First National Bank (FNB), Standard Bank, and Capitec Bank because they suited my needs the best.
How to Choose a Bank for Home Loan?
Choosing a bank with the lowest interest rate on a home loan in South Africa is not an easy task as various factors influence the interest rate and it fluctuates over time. So we can not say which bank will be offering the best home loan deals with the lowest interest rate in the future.
However, there are a few additional factors that you should consider while applying for a mortgage. These include:
Loan features include repayment terms, loan payment flexibility, redraw facilities, etc.
Carefully analyze the various charges associated with the loan like penalty fees or monthly service fees, etc.
Pay attention to the customer service of the bank you are applying for a loan. Bank reputation and customer service have a great impact on your overall loan experience.
Improve Your Chances of Getting Lowest Interest Rate on Home Loan
It's not always the bank that determines the interest rate on loans; the applicants can also turn everything in their favor and secure the lowest interest rate on home loans through their financial status. Improve your credit score as it increases your chances of enjoying a more favorable interest rate on home loans.
All banks analyze applicants' credit before lending them a loan. So it's better to pay off any outstanding debts to qualify for a home loan in a bank of your choice.
Steps to Get Lowest Interest Rates on Home Loans
Understanding the method through which banks determine interest rate is of utmost importance for any loan applicant. South African Reserve Bank (SARB) sets repurchase interest rates a.k.a REPO which directly influences the loan interest rates of banks.
Bank's interest rate for a loan depends on your credit score. They also look at your credit history to analyze your chances of repaying the loan. Therefore, a good credit score can lead you to a better interest rate on a home loan.
The best way to lower the interest rate on a loan is to pay as much deposit as possible. This will lower the outstanding amount on the loan which will then lower the interest rate you will be paying for the home loan.
Moreover, try to keep the loan repayment period as short as possible because if you keep the loan for a longer run the interest rate will increase with time.
Inflation plays a major role in determining interest rates. Banks ask for higher interest rates with an increase in inflation to protect themselves.
Clear any debts if there are any as it impacts your credit profile. As discussed earlier, a better credit profile increases the chances of securing a home loan with a lower interest rate.
Work with a bond originator as they know the market better and make the loan process hassle-free by offering you the best loan deals with the least possible interest rate.
Also, do your research and analyze the current interest rates of various banks when you need a home loan and choose a bank that suits your needs.
FAQs
What is the current home loan interest rate in South Africa?
According to recent reports, the current home loan interest rate in South Africa is 11.75%.
Which bank has the lowest interest rate in South Africa?
Discovery Bank has the lowest interest rate in South Africa which is only 9.50% while other banks are charging up to 11%.
What credit score is needed to buy a house in South Africa?
Anyone who has around 600+ credit scores has a fair chance of getting his home loan application approved. However, it may vary from bank to bank so to be safe you should have at least a 670+ credit score to increase the chances of home loan application approval.
Conclusion
The interest rates of South African banks change constantly, so it is suggested to stay up-to-date and research multiple banks' current interest rates to land hands on a bank that best suits your needs and financial status. Before making any decision also consider all the factors that influence home loan interest rates. I hope our content helps you in making an informed decision. Thank you.