What is a Student Loan? How to Apply? & How does It work?
What is a student loan and how can we benefit from it while living in South Africa? This is the kind of question that pops up in the young minds of all well-deserving but underprivileged students living in South Africa. I know this for a fact because I have been there and I know the taste of desperation that comes from your inability to pay for your own education!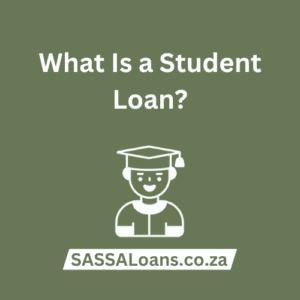 This is the reason why student loans were initially introduced. These are designed to accommodate those students who can not afford to pay for basic education. Before these student loans were introduced, brilliant talent would go to waste owing to poverty.
But not anymore! You can now apply for various student loans and get instant easy loans in a jiff. Read out the following article to find out more relating to this topic.
Explaining The Basics of What is Student Loan
A student loan is the best initiative that has helped millions of South African students to pay for their tuition fees and complete their studies. Students usually take out these loans to pay for their university fees but you can also take out these loans for college.
However, you must bear in mind that you can only apply for student loans through your university or college. You can not take out a student loan without the reference of the university or college you study at.
Apart from that, this loan covers full tuition fees for your entire academic course, boarding, textbooks, food, hostel, and other student expenses. Keep in mind that your expenses will be tracked which means that you can not spend this money on anything other than the items I listed.
How to Apply for Student Loan?
No matter which part of the world you reside in, getting a loan is always a tedious task. The same is the case with acquiring student loans in South Africa.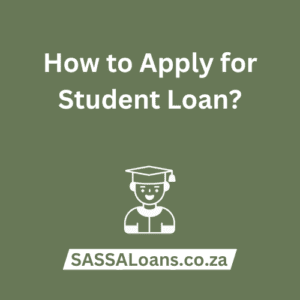 The task comes with too many hurdles that make it difficult for any citizen of the country. Moreover, not knowing anything about the procedure or which documentation is needed is another pain that makes it impossible to get a student loan.
If you are struggling to get your hands on a loan, then let me put you out of your misery. The article below tackles everything that can help you understand how to apply for student loan in South Africa. So, keep reading to find out more.
Before we dive right into the process, you first need to know about the requirements. Every country has a set of requisites that must be met in order for the person to be eligible for a loan, the same is the case with a student loan in South Africa.
Eligibility Criteria
The first requirement is that the person applying for the loan must be 18 years or older in age. The second requisite for qualifying for a student loan is that the person must be registered as a student in a South African institute.
In addition to that, the person who will be in debt and in charge of returning the loan, such as a guardian or parent, needs to meet a minimum wage requirement. If the minimum monthly income requirement is not met, then the student will not be eligible for a loan.
Required Documentation For Applying for Student Loan
The first thing that a person needs is their own identity card of the country. They also need the identity card of their guardian or parent who will sign the loan.
The student also needs a copy of the proof of income of their guardian. It can be their latest payslip copy or any other source of income. They also need to submit the address of their guardian or parent, this proof of address can be submitted in the form of any utility bill that is registered on that address under that person's name.
The last thing they need to submit is the documentation of the institute they are currently enrolled in. This can be the admission form or a valid student card issued by the institute.
Process of Applying for Student Loan
The first step of applying for a loan is making sure you meet the eligibility criteria. Then you need to gather all of your required documentation.
Once that has been done, then you need to determine which bank you want to apply to, for a student loan. Every bank covers the basic expenses, but their interest rate is different. Currently, there are four banks in South Africa that are offering student loans.
Standard Bank
Nedbank
Absa
First National Bank
After picking the bank, you need to visit that bank and get a form for a student loan. Make sure to fill out the entire form very carefully, as well as accurately.
In case of any error or omission of information, the process will get delayed, or the application will get rejected. Therefore, you need to make sure this step is done with careful consideration. Then attach all of your required documentation with the form and submit them at the bank.
You also need to make sure to submit it before the deadline for the loan. The loan provider will then review your application. After the application gets accepted, then the bank will give you a loan offer.
This loan offer will state the amount of loan you will receive, as well as the interest rate on the loan, return date, and any extra charges or fees. Make sure that you review all of the information stated on the offer. If it suits your needs, then you can accept the offer.
The bank will provide you with all the information and steps you need to do to finalize the agreement. Once you go through all of these steps, the bank will review your form again and the loan will be issued to you.
Challenges That Arise During the Process
The first challenge that arises during the process of applying for a student loan is not knowing which bank to select. Each one has their own interest rate, so you need to pick the one that fits your requirements.
This takes us to the second problem. The second challenge that has people confused about how to get a student loan in South Africa is the lack of financial knowledge. People often do not understand the interest rates and cannot calculate the amount they will have to return, which turns this into a highly difficult task for them.
Meeting eligibility criteria is also a difficulty that hinders the entire procedure for applicants. In addition to that, the credit history of the borrower is another difficulty that arises during the procedure. The bank offering the loan checks the applicant's credit history to make sure whether they are capable of repaying or not.
Another problem that slows down the process is not attaching all the required documentation. Every single piece of information that the loan provider asks for, needs to be submitted with the form. Otherwise, the application will get rejected immediately by the loan provider.
Getting advice from a professional can help speed up the process. Moreover, visiting the branch of the bank you need to take a loan from, and taking their guidance can also help in making sure you secure the student loan.
Applying for a student loan is a blessing, but it comes with its own challenges that make it difficult for many people. Every South African student struggling to obtain a student loan needs to read the article above.
It provides a comprehensive guide on how to apply for student loan, as well as explains all the requirements. Moreover, the additional information shared above will help you avoid any hurdles during the process.
How Do Student Loans Work?
There are two main types of student loans. First of all, there are the Federal loans given out by the Federal government which are called government loans. Then comes the private student loans given out by banks and other credit unions.
1. Private Loans
These loans are way more expensive than federal loans because the idea behind these loans is to make as much profit as possible. Banks and loans do business by lending money and fetching it back with handsome interest rates. Hence, they tend to charge a very high interest rate and usually have stringent restrictions on the loans.
Moreover, they also call for huge collateral while giving out a loan. This is to ensure that they get back the money they give out and that too with large interests. This is the reason why people usually prefer federal loans to private loans.
Furthermore, you will also need a consignor to guarantee your loan repayments in a timely manner. If you are unable to arrange a consigner, you won't be able to secure a loan from private agencies. In fact, they will flat out refuse to accommodate your request!
Apart from that, these private loans not only have a higher interest rate and are mostly variable. It means that your lender may increase or decrease your interest rate during the tenure of your loan depending upon the economic conditions of South Africa.
Besides that, these loans are not subsidized at all. Your interest will start accruing from the date you take out the loan amount. And it will keep accumulating until the date you repay the full and final settlement.
2. Federal Loans
When the federal government gives out student loans, the main objective is to provide relief to students rather than make profits. This is the reason why federal loans are way less expensive than private loans. Federal government charges only a fraction of the interest rate and that too to make up for the time value of money.
Apart from that, these loans have rather loose restrictions so that more students can benefit from these loans and complete their studies. However, the one stipulation remains the same and that is both these types of loans can only be used for educational purposes.
Apart from the fixed and lower interest rates, there are many other benefits of federal student loans as well. For instance, you can borrow money from the federal government without a cosigner. So, if you are worried that there is nobody to give your guarantees, then rest assured the federal government won't ask for one!
Furthermore, federal loans have flexible repayment plans. In fact, they won't ask for their money back during the course of your studies. Rather, they will wait until you secure a job after your studies or your repayment schedule will start automatically six months after you complete your course.
And the best part is that some part of your loan may get forgiven if you opt for certain professions after completing your education. It means that if you offer your services in government-chosen fields, they might reduce your loan repayments or forgive part or all of your loan amount.
FAQs
What happens to student loan debt if you die?
The answer to this question depends upon which student loan you have. For instance, the federal government forgives the full settlement money in case of the death of the student or his parents who took out the loan in the first place. However, private institutions stipulate the circumstances and their alternate routes.
In simple words, you will have to refer to the original contract to see what will happen to the loan amount after the death of its beneficiary. They may forgive your loan as per the contract or transfer its repayments to the guarantee.
How long does it take to pay off student loans on average?
On average, it takes about thirty years to pay off student loans. However, it is just an average figure and the loan period could be more or less than that. It all depends upon your agreement contract and what time period has been stipulated in it.
Do student loans destroy credit?
No, student loans do not destroy your credit without a cause. For instance, if you are regular in your repayments, this will add to your credibility and do wonders for your credit. However, if you have a lousy repayment history and have defaulted in one or more repayments then it will have disastrous implications on your credit.
Can I get a student loan without my parents' help?
Yes, you can definitely get a student loan without the help of your parents. However, this will have a far lengthier process. Besides, you can only take federal loans without your parents' support because private institutes do not hand out large sums of money to mere students.
So, this was all from my side and I hope with all my heart that you found this information helpful. I tried my best to provide you with all the details that you may have needed relating to student loans in South Africa. So, feel free to share this article with your friends and family as well so that more people can get awareness relating to these matters.
In any case, I would like to conclude this entire discussion by summarizing the crux of what I was trying to say. Federal loans are the best option when it comes to taking out student loans.
Private loans should only be preferred when federal loans are not available and you are in urgent need of financial assistance. Otherwise, private loans are the worst thing that could happen to you in your academic life!