APS Score Calculator & Guide to Calculate it Yourself
If you are in a dilemma regarding which field or university to pursue, you can let your APS score guide you. It determines whether you are eligible for a certain institution or program.
APS Score Calculator
To Calculate APS Score, simply input your course name, your percentage in each course and click on "Calculate Score" Button.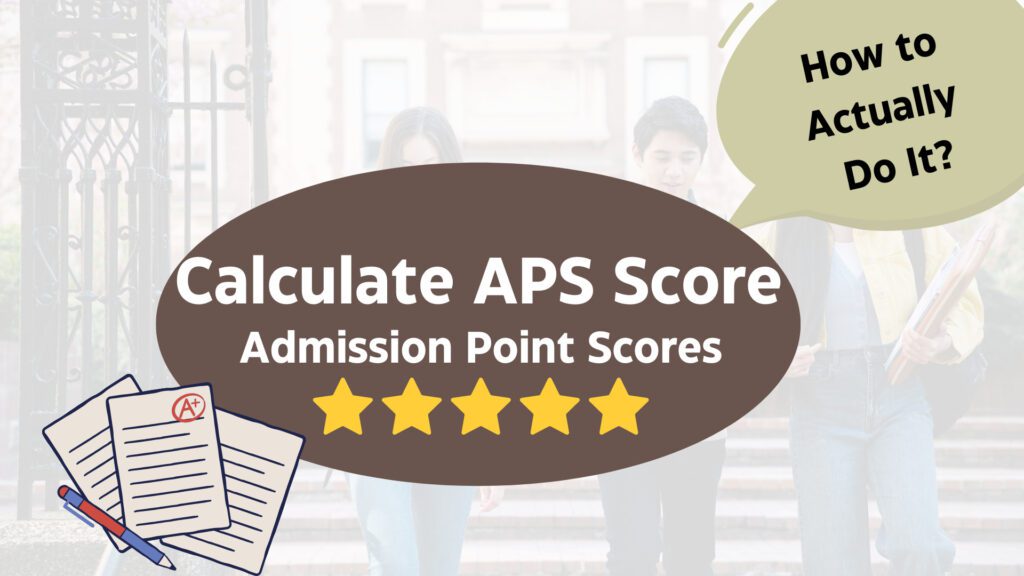 Now let us understand what APS score is, how to calculate it yourself, its importance, and the required subject for APS calculation. Hence keep on reading to discover more.
What is an APS Score?
APS stands for Admission Points Score, and it is used as a tool by universities to determine the eligibility criteria of the students. If you want to enter your choice of university, you need to meet the standard APS requirement for the university.
Moreover, every university has its own APS requirements for certain courses. Hence before applying to any university, check its requirements.
The Admission Points Score refers to the average marks calculated from your Matric results. The percentage of each Matric subject is converted to a score out of seven.
How to Calculate an APS Score Yourself?
Here is the step-by-step guide on how you can calculate your APS score.
Determine The Course You Would Like To Study
Select the specific course you want to study at a certain university. Check its APS requirement. Moreover, each course has its own APS requirement criteria.
Universities have their own standard APS demand that they deem acceptable for courses. Your APS will determine whether you are qualified for certain programs.
Get Hold of Your Examination Certificate
After you have selected your preferred course, now let's check whether you qualify for it or not. This can be determined by calculating your APS. The calculation of the admission score rest on the applicant's achievement in six recognized high school subjects.
Moreover, keep in mind to remove the Life Orientation subject during calculation as most universities do not count this subject.
Convert Your Final Matric Marks Into Points
Next, convert all of your subject's marks into points, and then add these points together to get your APS. Your subject marks should be in percentages, as points are allocated on the basis of percentages.
Most universities use the National Senior Certificate (NSC) level of achievement from 1 to 7. Seven symbolizes the highest level, whereas 1 represents the lowest level. Some universities have different scales of achievement.
Following are the points assigned to percentages.
| | |
| --- | --- |
| Percentage | Points Assigned |
| 80% – 100% | 7 |
| 70% – 79% | 6 |
| 60% – 69% | 5 |
| 50% – 59% | 4 |
| 40% – 49% | 3 |
| 30% – 39% | 2 |
| 0% – 29% | 1 |
Now allocate points to your subject's percentage according to the table. After you have done this, add all the points together, and you will have your APS score. If you don't understand it, then let me give you an example.
Example To Help You In Calculating Your Score
I hope you will be able to calculate your APS score by following the provided example.
| | |
| --- | --- |
| Matric Subjects Percentages % | Points Assigned |
| English (58%) | 4 |
| Home Language (55%) | 4 |
| Mathematics (48%) | 3 |
| Accounting ( 70%) | 6 |
| Geography (79%) | 6 |
| Physics (40%) | 3 |
Your final APS score in the will be = 26.
I excluded the Life Orientation subject in this example because most universities don't count it. Even if some universities do it, they only add half points to the subject. Moreover, only calculate the APS of the subjects required for admission to certain programs or fields. The highest APS score you can achieve is 42.
Ask For APS Criteria for Your Selected Course
Lastly, after calculating your APS score, contact the faculty members of your selected university to ask about the minimum APS requirement for the program. Check whether your APS score falls within the required category; if it doesn't, then check for courses that meet your APS score criteria.
Difference Between WRS score and APS Score
Weighting: The WRS system assigns different weightings to subjects depending on their importance for specific fields of study, while the APS system assigns equal weight to all subjects. This means that the WRS system is more tailored to assessing a student's aptitude for a particular program, while the APS system provides a more generalized assessment of a student's overall academic performance.
Calculation Method: The WRS score is calculated by multiplying a student's subject grades by the respective weightings assigned to those subjects and summing the results, while the APS score is calculated by simply adding up the point values assigned to a student's subject grades.
Use by Institutions: The WRS system is used by some universities in South Africa, while the APS system is more widely used and recognised by many institutions in the country. This means that students applying to universities or colleges that use the APS system may have an easier time understanding the admission requirements and comparing their scores with those of other applicants.
Purpose: The WRS system is designed to help universities select the most suitable candidates for specific programs by emphasising the importance of relevant subjects, while the APS system serves as a more general measure of a student's academic performance and suitability for higher education.
APS Requirement For Matric Pass Levels
Following are the pass levels and their basic APS requirements.
Bachelor's Degree Pass: To achieve the minimum criteria for Bachelor's pass:
Obtain a minimum of 40% in your Home Language.
50% for other subjects (High credited ones).
30% for two NSC-recognized subjects.
And 30% for one other subject for Senior Certificate.
So minimum APS required is 23.
Diploma Pass
Achieve 40% for Home Language and 40% for another four high credited courses.
And 30% in another two subjects for NSC.
So Total APS is about 19.
Higher Certificate Pass: This certificate allows you to enroll in college.
40% in two subjects and also in your Home Language subject.
In three other subjects, achieve at least 30% for NSC.
Moreover, your Home Language must be either English or Afrikaans to qualify for this level.
Basic APS requirement = 15.
National Senior Certificate Pass
40% in three subjects, including your Home Language subject.
30% in at least two subjects.
For one subject, you can get at least 20%.
APS requirement = 14.
Which Subjects Are Considered In The Calculation of APS?
First of all, the Life Orientation subject is not counted by many universities when calculating APS scores. Hence don't add it to your calculation. There are seven subjects that each student has to finish for their Matric.
Four out of these seven subjects are compulsory, which include Mathematics, First Additional Language, Home Language, and Life Orientation. The APS scores are calculated from the first three compulsory subjects, and the rest three are selected from the list of elective subjects. The list includes the following subjects.
Civil Technology
Business Studies
Accounting
Agricultural Sciences
Agricultural Technology
Economics
Dramatic Arts
Dance Studies
Consumer Studies
Physical Sciences
History
Geography
Tourism
Visual Arts
Information Technology
Hospitality Studies
Music
Religion Studies
And more
Why Is Calculating Your APS Score Important?
Calculating the APS score is necessary because of the following reasons.
Eligibility Criteria: Your APS scores determine whether you are eligible for a certain program or course. It is also one of the requirements for admission to any university. This means that students must achieve that standard APS score to be considered eligible for admission to their required program and field.
Evaluate Students Academic Qualification: It is a criterion through which universities and colleges evaluate prospective students. This ensures that each student is assessed objectively and justly on the basis of their academic qualification. Hence each student gets a fair chance to try at their desired university.
Provide Guidance To Students: If you are unsure about which path to choose or which program to select, your APS score can tell you about courses you qualify for, and you can opt for it. Hence saving you from stressing over what to choose.
Screening The Deserving Students: It's a screening method that most universities adopt to guarantee that competent and deserving student are admitted into the university. Moreover, this can also boost the reputation and image of the university.
Also, check out the list of Universities funded by NSFAS.
Additional Notes
APS is only one of the requirements for admission. It doesn't guarantee entrance to the university. There are many other factors universities have to take into account for admission. Hence don't be overly dependent on your APS scores.
APS scores vary for certain courses and universities.
APS is only a screening tool used by many universities; hence also invest your time and energy into the remaining details you submit to the university.
The article provides you with easy steps through which you can calculate your APS score along with an APS calculator at the top. It's easy as long as you have your Matric result and the points allocated to percentages.
The universities use the APS as a screening tool to determine whether you are eligible for certain programs or not.
Every university has its own APS requirements for different courses and programs. Hence before applying for admission, check the necessary APS criteria. Moreover, it's necessary to remember that APS does not warrant admission to any university or college. There are other criteria that need to be considered before you are accepted to any university.