List of Courses, Colleges & Universities Funded by NSFAS in 2023
If you are willing to apply for NSFAS, you might need to know the colleges, universities and courses that are funded by NSFAS and here is the complete list of them.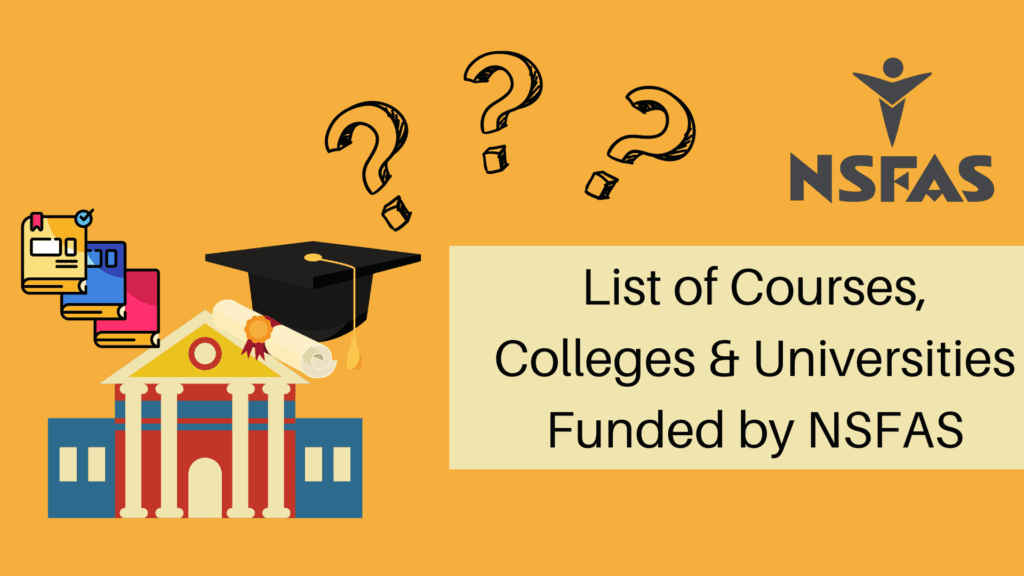 There are a vast number of colleges and universities affiliated with NSFAS funding. If you apply for the NSFAS allowance, you will get the scholarship only if you are studying in any of these TVET colleges and universities. So, the list of all of the institutions that NSFAS accepts is given below.
Colleges
Boland College
Nkangala College
Northern Cape Rural College
Northern Cape Urban College
Northlink College
Orbit College
Buffalo City College
Vhembe College
Vuselela College
Port Elizabeth College
Sekhukhune College
South Cape College
South West Gauteng College
Tshwane North College
Waterberg College
West Coast College
Capricorn College
Central Johannesburg College
Ekurhuleni East College
Elangemi College
Esayidi College
Coastal KZN College
College of Cape Town
Eastcape Midlands College
Ehlanzeni College
Ethekwini College
False Bay College
Gert Sibande College
Ikhala College
Ingwe College
King Hintsa College
King Sabata Dalindyebo College
Letaba College
Liphalale College
Lovedale College
Majuba College
Mnambithi College
Tshwane South College
Umfolozi College
Umgungundlovu College
Universities
University of South Africa
University of the Free State
University of the Western Cape
University of the Witwatersrand
University of Zululand
University of Cape Town
University of Fort Hare
University of Johannesburg
University of KwaZulu-Natal
Nelson Mandela Metropolitan University
North West University
Rhodes University
Stellenbosch University
Tshwane University of Technology
University of Limpopo
University of Pretoria
Vaal University of Technology
Walter Sisulu University
Cape Peninsula University of Technology
Central University of Technology
Durban University of Technology
Monash University
List of Courses Funded by NSFAS
Apart from teaching, NSFAS is also covering a wide range of courses. These courses and programs prepare the students for the practical world and teach them skills that can become a source of income. Here is the list of all the courses covered by NSFAS.
Hospitality, Tourism, Travel, Gaming, and Leisure
Human Resources
Industrial & Organizational Governance and HR Development
Information Studies
Information Technology and Computer Sciences
Justice in Society
Language
Life Sciences
Literature
Manufacturing and Assembly
Marketing
Mathematical Sciences
Mechatronics
Media Studies
Music
Nature Conservation
Occupationally Directed ETD Practice
Office Administration
People/Human-Centred Development
Performing Arts
Personal Care
Physical Planning, Design, and Management
Physical Sciences
Preventive Health
Process Instrumentation
Primary Agriculture
Process Plant Operations
Procurement
Project Management
Promotive Health and Developmental Services
Psychology
Public Administration
Public Policy, Politics, and Democratic Citizenship
Public Relations
Rehabilitative Health/Services
Religious and Ethical Foundations of Society
Rural and Agrarian Studies
Safety in Society
Schooling
Secondary Agriculture
The sovereignty of the State
Sport
Traditions, History, and Legacies
Transport, Operations, and Logistics
Urban and Regional Studies
Visual Arts
Wholesale and Retail
Adult Learning
Building Construction
Building Construction
Cleaning, Domestic, Hiring, Property, and Rescue Services
Communication Studies
Consumer Services
Cultural Studies
Curative Health
Design Studies
Drawing Office Practice
Early Childhood Development
Earth and Space Sciences
Electrical Infrastructure Construction
Engineering and Related Design
Environmental Relations
Environmental Sciences
Fabrication and Extraction
Film, Television, and Video
Finance, Economics, and Accounting
Forestry and Wood Technology
General Social Science
Generic
Generic Management
Higher Education and Training
Horticulture
These were all the colleges, universities and courses funded by NSFAS. If any university isn't listed, you can contact them directly or you can contact NSFAS for guidance.