How do I check my Maternity UIF status for 2023?
Are you a new mother waiting to hear from maternity UIF? Well, you are at the right place.
The process of UIF application can take a while, but you can check the status of your application anytime. Employed women in South Africa can contribute to the Unemployment Insurance Fund (UIF) and later claim maternity benefits.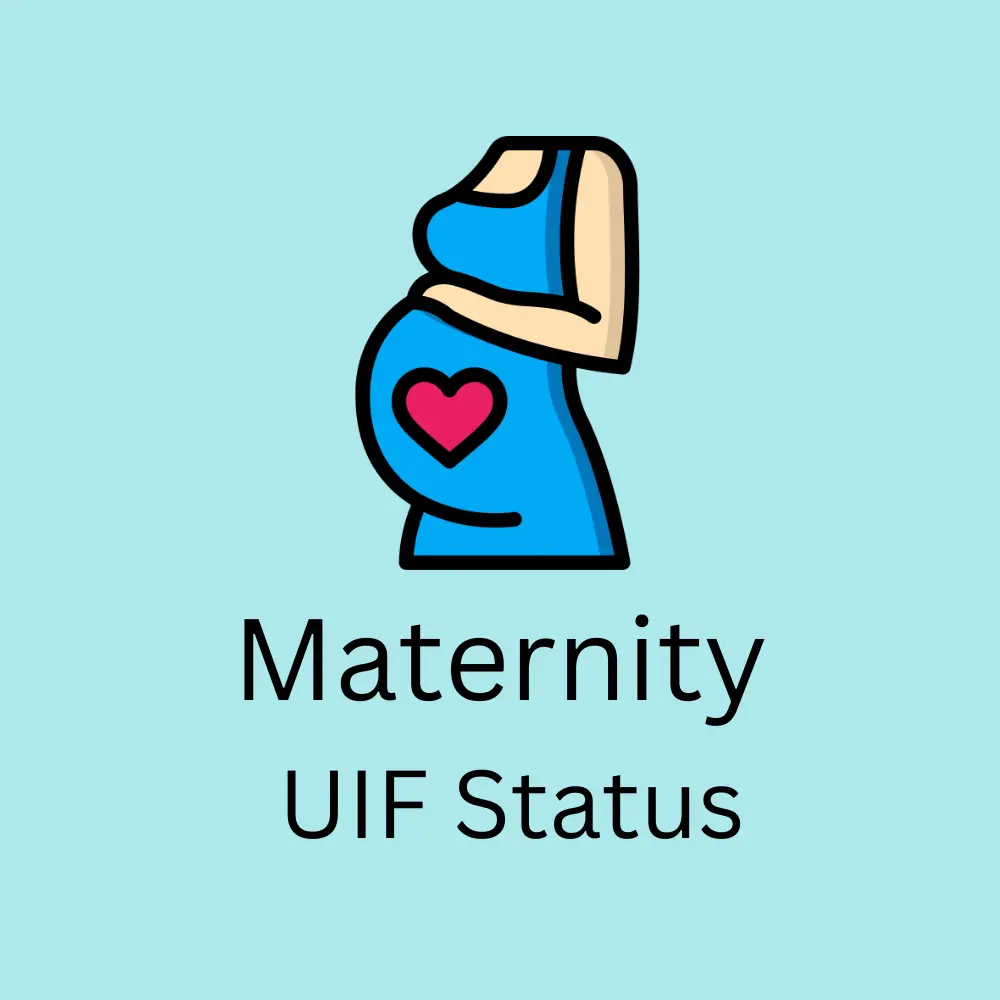 Becoming parents bring a lot of stress and responsibilities. So, financial stress should not be a threat to new parents. Therefore, UIF has maternity benefits to help people financially when they are on maternity leave. Those people who are getting less than their normal salary during their maternity leaves can apply for maternity UIF.
Do not that if you are UIF Registered, you won't be eligible for SASSA SRD grant and upon checking SASSA Status you will get UIF Registered Sassa Declined.
How Much Maternity Pay will you Get?
If you are a regular contributor to UIF for the past four years, you will receive about 38% to 58% of your salary when you are on maternity leave. You will get maternity UIF to pay for four months or 121 days. UFI can pay you a maximum of R12478. UIF will divide this amount and give it to you as a salary for four months. Moreover, if you are receiving full salary from your employer then you cannot apply for this fund.
If you are earning R3000 per month, you can get around R1428 per month or R47.62 per day from UIF. Additionally, those people who experience stillbirth or miscarriage will get paid up to six weeks by UIF. Moreover, it will be equal to or more than a normal salary.
How to Check Maternity UIF Claim Status?
There are many ways to check your maternity UIF claim status. The application process takes some time. So, it is better to keep a check on your application and check the status. Allow me to explain every way to check your maternity UIF status.
How to Check Maternity UIF Claim Status online?
The easiest way to check your maternity UIF status is to check it online through their official website. This option is convenient as you can check it anywhere and anytime. You will not have to visit their office or talk to them physically. However, you will need a device like a mobile phone, tablet, or laptop and a stable internet connection. Follow the steps given below to check your maternity UIF.
First, visit the UIF official website by clicking ufiling.labour.gov.za/uif/.
Next, you will have to log into your ufiling account.
Then, check for the 'check my balance option' and click on it.
Then, follow the prompt as it appears to proceed further.
Now, you will see a captcha number on your screen, type it in the given box and press enter.
Then, it will ask you for your eight digits unemployment insurance funds (UIF) reference number.
Finally, after entering your UIF number you will be able to check your maternity UIF claim status.
Also, you can check online statuses of similar grants, here are links for guides on check SASSA Status and MyNSFAS Status
How to Check Maternity UIF Claim Status through Email?
If you find it hard to check your UIF status through their official website, you can check it through email. You can send an email to [email protected] asking them about the progress of your claim. However, please include the following information in your email.
Your name and identification.
UIF registration number.
Identity document number.
How to Check Maternity UIF Claim Status by Visiting Labor Offices?
If you do not have access to the internet or you prefer the offline way generally, you can visit the UIF labor offices. The labor office officials will give you all the details that you need. They will ask you to sign the register and the following information for security reasons.
Identity document number.
UIF reference number.
They can tell you about the status of your claim, its activation, and when to expect your first payment. However, you will have to check their timing because they are not open 24/7. So, this is one of the drawbacks of the offline traditional way.
How to Check Maternity UIF Claim Status through USSD Code?
If the labor offices are not open, you can check it by using your phone. You do not need an internet connection, but must have an active cellular network. So, you can call the UIF office on 012 337 1997 and ask for the information from them.
On August 2019, the South African Department of Employment and Labor gave a new option to maternity UIF applicants. Initially, this option was given to stop people from queuing up at the offices for checking their UIF status. So, you can now dial 134843# on your phone and follow the prompts as they appear, asking you for your information. Finally, you will be able to see your UIF status on your phone.
You should keep in mind that your call will only be entertained on weekdays, and you can call them between 0730 hours and 1600 hours. Additionally, you must have your identity document number and UFI registration number near you as they will ask for your information for safety reasons.
How Long does Maternity UIF Take to Pay Applicants?
It takes about three to six weeks for UIF to accept your application and make your first payment. You will only get UIF benefits if you are proven to be on maternity leave. So, applicants should not waste time and apply as early as possible as it might take more time for UIF to start paying them.
If you want your funds to start quickly, you must submit all of your employment records. Furthermore, missing and incorrect records will lead to delays in the payment and you will have to correct your records eventually. So, it is better to provide them with your complete documents and records.
If you do not hear anything from UIF within eight weeks of your application, you can call their offices to inquire about the status of your application. Initially, UIF will make a small payment into your account. You will have to submit a U-14 form of that payment for the continuation of further benefits. Moreover, they will decide whether to give you the full balance at once or pay it in four increments.
UIF Claim Approval Notification
Once your application is approved, you will get a message through SMS or an email from UIF. You will have to choose the medium of communication during your application process. Moreover, after the application approval, you will be able to receive your first payment within four days.
You can go to the labor offices to inquire about your application status, the officials will give you an update. If your application approval is successful you will get a slip as a piece of evidence.
UIF Maternity Benefits
If you are an Unemployment Insurance Fund (UIF) contributor, you can get UIF maternity benefits for a maximum of four months or 121 consecutive days. They will pay you for your normal maternity leave. The department of labor will check your working days. Usually, they give the benefit if you have been working for the past four years.
So if you do not have credit days of four months, you will not get benefits for up to four months. Additionally, for every six months, you will receive one month's benefit. However, it will not exceed four months. If you extend your maternity leave you will not get extra benefits.
Maternity UIF Benefits for Foreigners
Previously, foreigners could not claim UIF maternity benefits. However, since 2010, South Africans and foreigners can also claim maternity UIF benefits. The conditions remain the same; you must be a regular Unemployment Insurance Funds (UIF) contributor and possess a valid work permit. Moreover, your application might take longer than others if you are not a South African.
How will you receive the Maternity UIF payments?
When you apply for maternity UIF benefits, they will ask you for your banking details. The department will then register these details in their system, and you can receive the funding directly into your bank account.
FAQs
Can I claim maternity UIF if I am getting 100% of my salary?
No, only those who are not getting 100% of their salary can claim maternity UIF. If you are getting a % of your salary while on maternity leave, you can claim the rest from UIF.
When should I submit my application to maternity UIF?
You can apply once your maternity leave starts or when you do not receive your full salary. The UIF policy says to submit it eight weeks before maternity leave. However, the departments are not able to apply at this point.
Can I use someone else's bank account to receive maternity UIF payments?
No, you must provide them with a bank account in your name. UIF will not pay you if you are using someone else's account for payments.
Can I get UIF maternity benefits even if I have claimed it in the last four years?
If UIF has given you maternity benefits in the last four years, you can still claim another one. However, if you have received sick or unemployment benefits within the last four years then you might not be able to qualify for maternity benefits.
Conclusion
In short, maternity UIF benefits can greatly help new parents who are also regular contributors to the Unemployment Insurance Fund (UIF). They can claim maternity UIF if they contribute for the past four years.
Applicants will receive benefits throughout their maternity leave for a maximum of four months. You can check your UIF status online through their official website, through the USSD code, or by visiting the labor offices.