My NSFAS Status Check Online, Whatsapp & Through USSD
Are you waiting to hear back from NSFAS? You can check the status of your NSFAS application very easily. If you find it hard to track your NSFAS status, keep reading this article until the end.
In South Africa, tertiary education is quite expensive, and about a third of the population lives in poverty. So it is very hard for students to support their education. South African government provides a bursary scheme that allows undergrad students to apply for an allowance to support their higher education.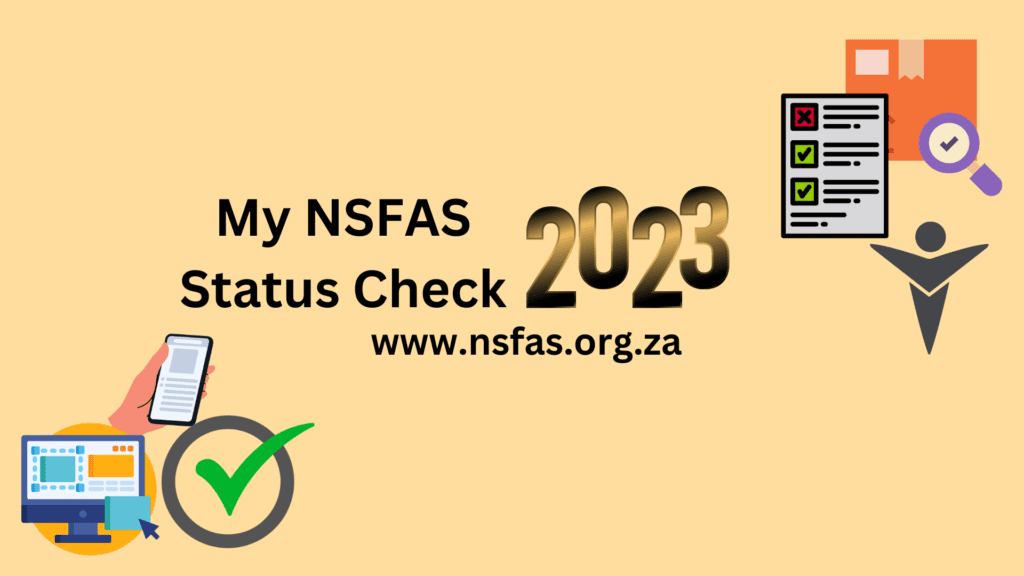 The National Student Financial Aid Scheme, or NSFAS, allows South African students to fund their tertiary education. This fund covers the costs of their tuition, registration, transport, accommodation, and personal care. The students have to return the money because it is lent to them. But they can return it after getting a stable income flow.
myNSFAS Status Check Online
After applying for the scholarship, the most anxious time is to wait to hear back from them. NSFAS makes it easy and quick to check your status. Here is how you can check your NSFAS status by following a few steps.
First of all, go to myNSFAS Student Portal by clicking on this link my.nsfas.org.za.
Next, log in to your account by entering your username and password.
In the end, click on 'track funding progress.'
On WhatsApp
You can check your NSFAS status by contacting them on Whatsapp. Their WhatsApp number is +27 78 519 8006. You can start a conversation with one of their employees and then ask for your status. They will help you with all the information that you need.
Using USSD Code
There is yet another way to discover your NSFAS status: using your mobile phone without the internet. All you need is an active network and dial 12067327#. Then press 'send' and wait for any prompt. Follow the prompt, and you will be directed toward your results.
What does your NSFAS Status Mean?
When you check your NSFAS status, there is a list of results that you can get. You can also get another result besides 'successful' or 'unsuccessful.' It is very important to educate yourself on what each result means. Allow me to explain it in detail.
Application Submitted
If you receive an 'application submitted' result, they have received your application, and it is uploaded on the website successfully. You might have to be patient to wait for further notice.
Filtering
Once you get 'filtering,' your application submission is successful. Now they are doing the next step, filtering your application and checking if you are a returning student or have any previous qualifications.
Validation
The validation process means that NSFAS contacts third parties, like if you have SASSA grants or any other grant. They check it from the Department of Home Affairs.
Evaluation
In case your result has 'evaluation' written on it, then it means that NSFAS is checking all of your documents. They check if the documents are complete and authentic.
Funding Eligibility
In this step, NSFAS does a background check on your finances. They check if your household income is meeting the set limit. They check all of your income sources.
Awaiting Academic Results/Admissions
Most students stay on this step longer because NSFAS checks your academic results or admission status with the institute to check if you are eligible for the funding.
Awaiting Registration
During this step, NSFAS contacts your institute and waits for them to send you data. This step also takes more time than others because your institute must send all your data to NSFAS to determine your eligibility.
Signing of Agreement
When you reach this stage, you meet all the requirements, which is good news. But you still have to sign the bursary scheme as you will have to return this money in the future.
Payments
This is the last step. Congratulations if you get this result; your NSFAS allowance is successful. Now, NSFAS is sending your allowance money to your NSFAS wallet or your institution.
Difference between SASSA R350 Grant and NSFAS Status?
During covid-19 South African government introduced the SASSA Social Relief of Distress Grant (SRD 350). This grant gives R350 per month to those people who are jobless at the moment.
R350 grant is for those who do not have any source of income available and includes refugees and asylum seeker permit holders.
The National Student Financial Aid Scheme or NSFAS is like a scholarship for students to pursue higher education, while the R350 grant is for unemployed people to help them with their daily expenses to survive poverty.
NSFAS money is lent to students to help them stand on their feet and return it, while the R350 grant is not borrowed money.
NSFAS allowance continues till your degree completion. It sponsors your whole higher education tenure. On the contrary, SASSA R359 continues until you earn enough money to support yourself. This grant can also end if the government decides to stop it.
The SASSA R350 grant has an age limit. You must be above 18 or below 60 to get this grant. At the same time, NSFAS has no such age limit. If you opt for higher education, your age doesn't matter to NSFAS.
You can also check your SASSA Status by clicking below button
Does SASSA R350 affect NSFAS?
Most people wonder if they can still get NSFAS while getting a SASSA R350 grant. The answer is yes, they can. Both are very different and therefore have no such link which can stop you from getting it.
SASSA grant of R350 per month adds up to only R4,200 per year, much less than the income limit set by NSFAS. So if you receive a SASSA grant, you can still apply for the NSFAS grant. But after receiving the NSFAS grant, you will not get the SASSA grant as NSFAS provides a monthly allowance.
FAQs
What does conditionally or provisionally approved by NSFAS mean?

Your application is submitted and approved, but you must be admitted to a university or a TVET college to acquire funds.

Do NSFAS students qualify for R350?

No, as they are already receiving funds from NSFAS, they are not qualified for the R350 grant.

Is calling NSFAS free?

Yes, calling on NSFAS toll-free number, 08000 67327, is free or you can use other contact details.
Conclusion
The National Student Financial Aid Scheme, or NSFAS, does all the necessary background checks to ensure that only deserving students get the allowance. So the process may take a little time. SASSA grant holders will automatically qualify for NSFAS financial requirements as their records are already in the system.