How to Check Capfin Loan Statement or Balance?
You have landed at the right place if you want to know how to check Capfin loan statements online very easily and conveniently. In fact, it will only take a few minutes of your time and an active internet connection. Plus, you also need to know the series of steps that you need to follow in order to do that.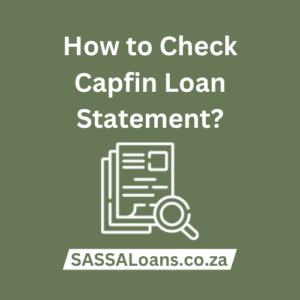 Lucky for you, I have decided to jot down my own personal experience with this facility's online balance checking option. And I am sure you will find it as easy to follow through as I did. Just make sure that you follow all these steps in the correct order.
However, if you are not careful with following the steps in proper order, you might not succeed in doing so. So, I suggest that you pay extra attention to the details of what I am about to tell you. With that being said, let's get started!
About Capfin Loan
Capfin Loan is one of the best and registered loan providers in all of South Africa. In fact, they also provide other financial and credit facilities to a wide range of users.
The best thing about Capfin loans is that they provide various kinds of loan facilities including long-term personal loans as well as short-term financial services. Furthermore, you don't even have to wait for the official loan registration to open. You can apply for your desired loan facility at any time of the year.
This is the reason why most South African residents prefer to seek out the help of Capfin loans whenever they need financial assistance. In fact, Capfin has helped hundreds in their desperate time and in doing so, has gotten into the good books of them all.
Checking the Capfin Loan Balance Online
Once you secure a loan with Capfin Loans, you will need to keep a keen track of your loan amount. The best and easiest way to do it is online. This is because you won't have to visit their office or spend any money to check out your balance.
However, you will have to follow a series of steps in order to check out your balance correctly. Keep reading to find out what these steps are and make sure to follow them all in a sequence.
First of all, you need to visit the official website of Capfin Loans. Use this link to land on their website directly: https://www.capfin.co.za.
Once you land on their official website, you will see an option saying "Login" at the top right corner of the screen. Click on this option to log into your account.
In the login field, give your South African Id number and passcode.
When you press enter, an OTP code will be sent automatically to your personal cell phone number. Enter this code in the required field on the screen and hit enter again.
You will successfully log into your portal if you perform the previous step very carefully. On the screen, you will be displayed the available balance of your loan amount with other details.
FAQs
Is Capfin's loan facility as good as they claim to be?
Yes, the Capfin loan facility is with every praise they have ever received or claimed to be. That has made a rather spectacular reputation based on the smooth services they provide to their customers. You are guaranteed to be highly satisfied with this facility.
Final Thoughts
To sum it all up it is safe to conclude that the Capfin loan is hands down the best loan facility you will find in all of South Africa. It is a super safe and highly convenient way to obtain loans whenever you need and without any collateral too. Besides, you can easily keep track of your loan balance online by following a few simple steps.
I am sure you will love this facility just as much as I do. In any case, if you found all this information helpful then don't forget to share it with the people who you know and who can benefit from this loan facility. After all, it is better to make use of this facility rather than getting stuck in face schemes that con you out of your money.