5 Loans like Unifi | Similar Loan Lenders
Are facing a cash emergency that needs to be solved immediately? If yes, you need to explore loan options with same-day cash policy and easy instalment plans. Unifi must be the first company that crosses your mind if you need money.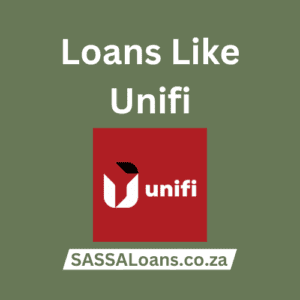 Many companies also grant short-term loans like Unifi and have easy reapayment policies. You just have to fill out the application form and fulfill the requirements. Scroll down to go through my article on loans like Unifi for exploring more options.
Top 5 Loans like Unifi are
Unifi offers short-term loans that are easy to repay within a few months. They claim to use easy and fast methods that save you from the hassle. The repayment of the loan depends upon the amount you've applied for.
They claim to provide loans to 1 million customers till 2025. Unifi follows four core values that make them different from their competitors. The process is transparent and straightforward and all the customers are treated with respect and dignity.
If you are a South African citizen, you can explore options other than Unifi. I have suggested five loans other than Unifi along with their contact details below. Scroll down if you're interested to know about them.
Also read our review of Unifi Loans.
1. Wonga Loans
If you're short on cash, you can apply for Wonga loans. They are quite similar to the Unifi loans and give you control. These are short-term loans that are easy and help you manage all your cash.
Wonga claims that the application process is simple and highly flexible. You can count on them if things go wrong. The interest and the repayment period are less to avoid overburdening the customers.
There are no hidden charges other than the one-time application fee. You can apply for R4000 as a new customer by following a simple process. The repayment time is 3 months for this amount.
If you are an existing customer of Wonga, you can apply for R8000 and repay it within the next 6 months. You just have to fulfill 4 requirements before applying for the loan. Get yourself a cell phone number, and provide your SA ID and bank details along with your recent income statement.
All these things are enough if you want to apply for a short-term loan on Wonga.
Contact Details
You can contact Wonga on their social media platforms. A phone number along with email addresses are present on the official website that can also be used to get in touch. You can call from Monday to Friday between 8:30 to 16:30 on 0861 966 421.
Two different emails are present for customer application and repayment queries. You can also report fraud by keeping your identity anonymous. Hence Wonga is a good option if you need help with cash flow.
2. Capfin Loans
Capfin is another great option like Unifi which offers affordable loans with an easy repayment policy. You can apply for R50,000 at maximum. The longer the repayment time, the greater the interest rate will be.
You won't have to pay any charges other than the application fee. The process is pretty simple and manageable so you won't have to worry even if it's your first time. You can access Capfin 24/7 if facing any issues during the process.
One of the reasons I suggest Capfin is that they focus on affordability so you can manage your loans easily. As a customer, you can access your loan account at any time during the day. Hence the overall process is straightforward and less time-consuming.
Contact Details
You can contact Capfin by using different means of communication. All the details are present on their official website along with their address. You can visit their office in Cape Town in case of any queries.
An email can be sent to [email protected] in case you face any difficulty during the application process. Moreover, you can call on 087 354 0000 or visit social media handles to contact them. Hence any platform can be used to clarify your doubts or report fraud.
3. Lime24 Loans
Lime24 is a lending platform that aims to provide customers with all the financial help they need. You just need to provide 5 things to get your first loan. Provide your SA ID along with your phone number, email, bank, and employment details. You will only proceed with the process after fulfilling the requirements.
They have the same-day loan policy but that's only possible if you have applied for the loan before 2 pm. You will get all your cash by 7 pm on the same day. Please ensure that the information provided should be authentic because multiple sources check it.
Contact Details
You can contact Lime24 by calling on 010 442 6722 to answer all your queries. An email ID [email protected] is available for the customer's convenience. You can also follow the Facebook page to update yourself regarding any loans.
4. Boodle Loans
Boodle is one of my favorite companies that aims to make small changes in your life. They ensure all their customers are happy and should not be worried about problems thrown at them by life. The loans provided by Boodle are secure, manageable, and quick.
The Boodle team tries its best to keep you on track by bridging the gap. You can apply for a loan by following 5 easy steps that hardly take 15 minutes to complete. All your information, data, and bank statements are secured.
Boodle loans are fuss-free and affordable. The credit being offered by the company is much more than other companies offering in the market. You can open the website and enter the amount to check the interest on the SmileDial lever.
You can slide the lever until you're satisfied regarding the interest rate. Hence the process is pretty simple and you can get your cash within a few hours.
Contact Details
You can WhatsApp the Boodle team on 0861 266 353 if you have any queries regarding the short-term loans offered. Moreover, you can also drop an email at [email protected] asking any questions. All the social media handles are also available so you can stay updated.
5. Cobol Loans
Cobol makes the lengthy and daunting borrowing tasks easy and affordable. You can get your cash easily by applying online within a few minutes. The monthly installments are kept affordable and you will get done within the next six months.
The same-day cash policy and approval within minutes is what people like Cobol for. You must fulfill the loan requirement by providing your SA ID and recent income statement. The quick loan policy of up to R5000 can solve all your cash emergencies.
Cobol is a registered lender that claims to provide quality services. You won't have to deposit anything for small loans. All the customers are dealt with with equal respect, professionalism, and efficiency.
Contact Details
All the contact details including the phone number and email are present on the website. You can call on 086 668 7572 or drop an email at [email protected] for clarifying doubts or asking questions. The postal address is also available on the official website of the agency.
FAQs
Do I need to pay a deposit for Unifi?
You have to pay a deposit of R300 to apply for a Unifi loan. This amount is refundable once you're done with paying all installments.
How much can you loan from Capfin?
You can apply for a maximum of R50,000 from Capfin in case of any cash emergency.
How long does Wonga take to approve?
The response time for Wonga is less than 4 hours which is amazing. All your documents and information are verified before approval.
A detailed article with suggestions on loans like Unifi is written so you can explore more options before making a decision. These loan agencies will help you during your cash emergencies.
Visit the websites and go through the terms and conditions before applying for the loan. I hope the article helped find you options other than Unifi. You can get cash on the same day to fulfill all your needs.