How do I Get a Loan from Easypay? & Its Requirements
When you search for money lending platforms in South Africa, a ton of choices pop up in the Google result. However, not all of them are as trustworthy and efficient as EasyPay.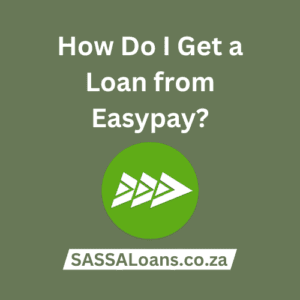 But many people do not know how to use it which restricts them from taking advantage of this platform. If you are one of those who keep wondering how do I get a loan from EasyPay, then you are in the perfect place.
I have devoted the entire article to discussing the benefits of EasyPay, and how to get a loan from it. So, without any further delay, let's dive right into it.
What Is EasyPay?
EasyPay is a money lending platform available to the people of South Africa. This application allows citizens of the country to take small amounts of loans starting from R100 to R2000. They can take loans without getting stuck under heavy interest rates or complicated application procedures.
Eligibility Criteria for EasyPay
Similar to other finance applications available in South Africa, EasyPay has its own eligibility criteria that people need to meet. If a person fails to meet even a single requirement, they do not qualify for the loan.
The first requirement of this application is that the person must be older than 18 years. The second requisite is that the applicant must be a citizen of South Africa. The third requirement to qualify for the loan is that the person must have an EasyPay Everywhere account for longer than 3 months.
As this application is used on mobile phones, people need to make an account online. However, a newly made account will not be able to take a loan, no matter how small. They need to cross the 3-month benchmark to qualify for a loan.
The last requirement is that the applicant must make an account under their own name, and do biometric verification from the nearest bank. No other family members can open an account under someone's name. Each of these requirements must be met for a citizen of South Africa to take a loan from EasyPay.
Documentations Reqiured
The first item required for taking a loan is proof of identity. This can be in the form of the identity card of the person that is allotted to him by the government of South Africa. The second thing they need is a 3-month-old bank statement.
The last document required for taking a loan via EasyPay is a copy of the recent payslip. This gives proof to the lenders that the person is capable of repaying the amount of the loan with interest.
How To Get a Loan from EasyPay?
Through Mobile Phones
Getting a loan through EasyPay is a very simple task, there is no need to visit any banks or stand in queues. All you are going to need is your mobile phone. From your mobile, you need to dial 1203737#.
Once the USSD code runs through, it will ask for your ID number. You need to add the number present on your identity card here and then press send. More instructions will appear on your screen, and you need to follow them and then press 1 to access your credit check.
After this, you need to enter your ATM pin and add your expenses. Then you will see a prompt appear on the screen that will ask for the amount and type of loan you require. Select the amount you need and your application will go under scrutiny.
Once the application gets approved, the amount will be transferred to your bank account. In case the application gets rejected, you will not receive the loan.
If that happens, you will need to apply again and make sure that you add all your accurate information. You can call them at 0801-111880 from your phone for getting any information or help.
Through Visiting Bank
In case you are unable to get a loan through your mobile phone, then you will need to go to any branch of EasyPay. They will ask for your documentation such as your identity card, and payslip, and do biometric verification in the bank.
After the application is submitted, it will be reviewed. If accepted, the applicant will receive their amount of loan. The process in banks is not as complicated as in other credit lending companies.
Benefits of Taking a Loan from EasyPay
Easy Access To Funds
The first major benefit of using EasyPay is that it allows users to have easy access to funds. Therefore, when there is an immediate need for money, the applicant does not need to go through tedious procedures. They can get the money through a few taps on their phone screens.
Flexible Repayment Terms
The repayment terms of EasyPay are also not as harsh as many other financing and money lending companies in South Africa. The people do not need to return the money with a heavy interest rate.
Moreover, the longest repayment duration of EasyPay is up to 6 months. Therefore, people who take loans get some relief and are not burdened with immediate repayment threats.
Easy Application Process
The major advantage of EasyPay for any citizen of South Africa has to be the fact that it has a very simple application process. Other money lending programs ask for a long list of documents. Meanwhile, for EasyPay, you only need your payslip and proof of identity.
In addition to that, the platform does not make people wait around for weeks. They can get their money in only a few minutes if the application gets accepted.
Conclusion
There is no doubt that there are many money-lending services in South Africa. However, when it comes to ease, no one can beat EasyPay.
But the problem is many people are not aware of its process. So, if you are stuck on how do I get a loan from EasyPay, then the article above is a blessing for you.