How do I know If my Finchoice Loan is Approved?
Finchoice is a well-known digital financial institution that offers short-term and long-term loans to the citizens of South Africa. Securing Finchoice loans can assist you in relieving financial burdens, but the application and approval process can be anxiety-inducing. Therefore, if you are considering applying for a Finchoice loan, it's necessary to know about the application process and how to determine if your loan is approved.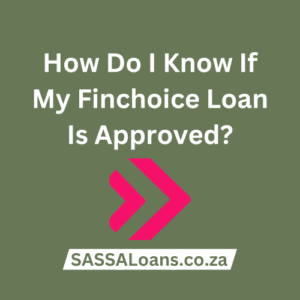 This article will guide you on how to carry out the application process and how to know if your loan is approved. Hence, keep reading to solve your dilemma.
How to Apply for a Finchoice Loan? (Detailed Guide)
The application procedure is straightforward and can be done online without any unnecessary steps. However, before applying for a Finchoice loan, you must fulfill all the required criteria to easily qualify for the loans. You must ensure that you have an authentic South African ID, are a HomeChoice customer, and possess a pay slip and bank account.
The documents you must need before applying are; your valid ID number, monthly salary, bank account details, expenditure, and employment details. In addition, remember, before applying for a loan, ensure you can afford to repay the amount within the appropriate time. Now, let me walk you through the application process step-by-step.
Step 1: Open the Website
Open any browser on your device and search for the Finchoice official website or click the link finchoice.co.za/. The website is easy to navigate through, making the application procedure convenient.
Step 2: Sign in to Your Account
If you are new to the website, you must create an account. To register yourself, you must provide your ID number, email address, and cell phone number and create a strong password. However, if you already have an account, just simply enter your login credentials to sign in to your account.
Step 3: Complete Application Form
Next, every potential borrower must complete the application form provided on the website. They will ask for your personal information, such as full name, phone number, email address, ID number, employment status, and monthly income. Additionally, you must also include the amount you wish to borrow.
Step 4: Submit Required Documents
Lastly, upload the documents required from you and attach them with your application. There is an "Upload documents" option when you log in to your account. Use this option to submit as many documents as required from you.
Additionally, you can also email your documents to [email protected] along with your ID number. Or you can also fax it to Finchoice on 021 680 8257.
How Do I Know If My Finchoice Loan Is Approved?
Now that you have applied for the loan, you must be wondering if your loan is approved? Waiting for loan approval can be an anxiety-inducing process, but do not worry. I will guide you on how you can know whether you are accepted for the loan or not.
Check Your Email or Messages
The best thing about Finchoice is that they are really swift in action and only take 10 minutes to transfer your amount if your application is approved. Furthermore, if you submit all of your documents on time, Finchoice will only take a few hours to transfer the borrowed amount. Therefore, submit your documents on time and before 3 pm.
Once your application is analyzed and accepted, the money will be transferred to your account within a few hours. Furthermore, you will also receive notification or SMS from Finchoice; thus, you must keep an eye out on your mobile phone or email-inbox, so as to not miss any news from them.
Contact Finchoice Directly
If there is any delay in response from Finchoice, you can directly contact them to ask about your application. Their consultant has up-to-date information regarding your loan approval, as they have access to your application status. Therefore, consult them if you have any queries.
You can call them at 0861 346 246 or email them at [email protected]. In addition, you can also visit their official website for further details or any queries.
Concluding Lines
Applying for a Finchoice loan is effortless and can be done in four simple steps without going through any complex process. You only need to complete the application form available on their website and upload the required documents. Moreover, to know whether you are approved for the loan or not, Finchoice will send you a message and notification to inform you about the availability of the fund in your account.
However, if there is any delay in response from Finchoice's side, you can directly contact them and ask for your application status.