Why does FNB Temporary Loan not Available? Guide to Apply
First National Bank (FNB) offers diverse loans to the citizen of South Africa, including temporary loans. These serve as a means of quick financial assistance for individuals who find themselves in dire need of cash. However, if you have already applied for the "temporary loan" the previous month but encounter an issue when applying again, you are at the right place.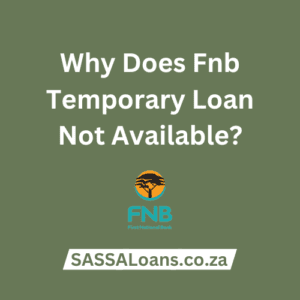 In this article, I will discuss how you can effortlessly apply for a temporary loan and how you can fix the issue related to the unavailability of the "temporary loan" option. Therefore, keep reading and take notes.
How to Apply for FNB Temporary Loan on FNB App?
You can utilize multiple channels to apply for the First National Bank (FNB) temporary loan. One option is to apply for the loan through the FNB app. So if you want to borrow using this platform, follow my instructions.
The app is a convenient way to get access to funds without any complicated procedures from the comfort of your home. Let me walk you through the steps on how you can complete the loan application process and submit it electronically. The following are the instructions:
Step 1: Navigate to the FNB app
First, if you do not have the First National Bank (FNB) app on your mobile, download it from the google play store or any other source. Furthermore, ensure that you are installing the official app from FNB. However, If the app is already on your mobile, simply navigate and open it.
Step 2: Register or Provide Login Credentials
If you are new to the app, create an account and register yourself on the app. Adhere to the instructions provided to create an account successfully. To register, they will ask for your cell phone number and card number (you can also provide an account number if you do not have a card).
If you already have an account, you do not need to register; just simply enter your username and password in the required input box.
Step 3: Click "My bank account" Option
Next, open the account section and search for the "my bank account" option. This section allows you to see and manage your different accounts, such as a cheque or an easy account. Choose an appropriate account in which the loan will be deposited or from which you will request the temporary loan.
Moreover, remember you can only request a temporary loan on an available cheque or transmission account if you do not have an active overdraft facility. Additionally, if you have applied for a temporary loan before but have not repaid the amount, you cannot apply again unless you have returned the borrowed amount.
Step 4: Temporary Loan
Press the "temporary loan" option on the action bar and click "yes" to move to the next process. A message will pop up containing the loan's terms and conditions. After carefully reading the conditions, press 'agree.'
The total amount you will receive will be presented on the screen along with some other details. After confirming the amount, click the "Continue with the application" tab.
Step 5: Change the Amount and Compete Loan Application
You also have the option to choose your desired borrowed amount on the basis of your eligibility requirements or qualifications. After you have made changes, the system will recalculate the amount you must repay. Next, your loan details will be displayed again; carefully read them to check for errors.
Then press "Finish" to complete the application procedure. The requested amount will be deposited into your account instantly.
Why Does FNB Temporary Loan Not Available?
Sometimes it happens that the "temporary Loan" option is not available on your bank or app account when you want to apply again for the loan. It may be due to the following reasons:
Loan Criteria
If the pre-approved temporary loan cash option is not available to you anymore, it can be because FNB has determined that you are not allowed to take any more debts due to alteration or changes in your credit risk profile. Moreover, there are certain loan requirements for FNB. If an individual does not meet the requirements, they cannot borrow money from the bank.
Therefore, you cannot apply for a pre-approved temporary loan if you fall short of any requirements. Hence, ensure that you fulfill the eligibility criteria.
Short-term Suspension
The unavailability of pre-approved temporary loan options can be because FNB has decided to temporarily suspend this option because of a system error, an update in policy, or any other reason. You can directly contact the FNB for assistance when this issue arises.
Pre-approved temporary loan means you do not have to apply for the loan and can be considered eligible by the FNB. However, if you can not see the pre-available temporary option, you can directly apply for it rather than wait for it to be offered to you.
Ending Lines
Applying for a temporary loan from FNB is the best option if you are in need of emergency cash. You can effortlessly apply for a loan from the comfort of your home by using the FNB app. Furthermore, the app is free to download.