How Does a Bursary Differ from a Student Loan?
Many students dream about pursuing their higher education but the cost of attending college or university does not allow them to live this dream. In such times bursaries and student loans are no less than a blessing for students in need. Both bursaries and student loans eliminate the financial strain of education from the shoulders of students but they differ significantly from each other.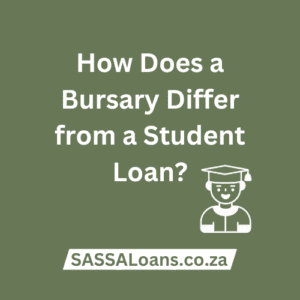 In this article, we will be shedding light on the unique characteristics of each and how they differ. So don't go anywhere and learn how a bursary differs from a student loan with us.
While taking admission in high school I and my friends looked for opportunities to lessen the financial burden of higher education. As not every one of us has good academic performance so we considered both bursaries and student loans. Here's what I learned from my research.
What Is a Bursary?
Bursary is a financial award given to students who perform well academically. The main purpose of a bursary is to encourage qualifying students for higher studies and alleviate their financial burden.
What Is a Student Loan?
A Student loan is a loan provided to students to cover their educational expenses and pursue higher studies. Any student can apply for a student loan irrespective of his/her academic performance.
Difference Between a Bursary and a Student Loan
The main difference between bursaries and student loans is the repayment. A bursary is free money with no repayment condition and is usually awarded to underprivileged students who perform well in their studies.
Whereas a student loan is given to students with a condition of repayment once he/she gets employed. Most working students avail this opportunity to manage their living and educational expenses.
Are Bursaries a Loan?
No bursaries are not a loan. Rather it's a financial award provided by institutions and companies to high achievers to aid their educational expenses.
Does Every Student Qualify for a Bursary?
No, not every student is awarded a bursary as it has qualifying criteria. It is only given to students who excel academically, or are good at particular sports or take cultural activities to revolutionary heights.
Bursary or a Student Loan: Which is Paid Back?
Bursary and student loans both are provided to tackle educational expenses which confuse many new high schoolers about the repayment method. Read ahead if you are still confused about the repayments of bursaries and student loans. As discussed earlier bursaries are not repaid by the students and are used by the students for their educational expenses.
On the other hand, a student loan has to be repaid by the student after a certain period. It is only given to students to temporarily support their studies if they are not financially well.
Key Differences Between a Bursary and Student Loan
A student loan is approved only if the individual has a stable income and can afford the repayment. Whereas bursaries are awarded to students who perform well in academics and need financial aid to pursue higher studies.
Student loans are provided on a repayment condition along with interest payments. While bursaries are not repaid. However, some companies may oblige the students who avail the bursary funds from their company to serve in their company after graduation.
The bursary amount is non-negotiable and qualifying students keep receiving the amount for their studies till they are fulfilling the eligibility criteria. Whereas you can negotiate the amount of the student loan, the repayment period, and the interest rate with your lender. It is only approved if both parties agree on these terms and conditions.
Bursary providers restrict the students from entering into any other additional bursary program while students loan has no such restriction. Students can opt for multiple funding options depending on their needs and ease.
FAQs
What do bursaries mean?
Bursaries are monetary grants awarded to needy students.
What is the difference between an award and a bursary?
A scholarship is awarded to students based on their academic performance while bursaries mainly focus on needy students and high achievers.
What is the definition of a student loan?
A student loan is taken by students to manage educational expenses. Students can borrow money from a government or private organization for their college and repay the loan amount with interest later.
Both bursaries and student loans ease the financial difficulties of the students. However, bursaries offer a more valuable opportunity to students based on merit and financial needs as it is a non-repayable grant. I hope our article has made the difference between a bursary and a student loan clear to you.