11 Other Bursaries like NSFAS for 2023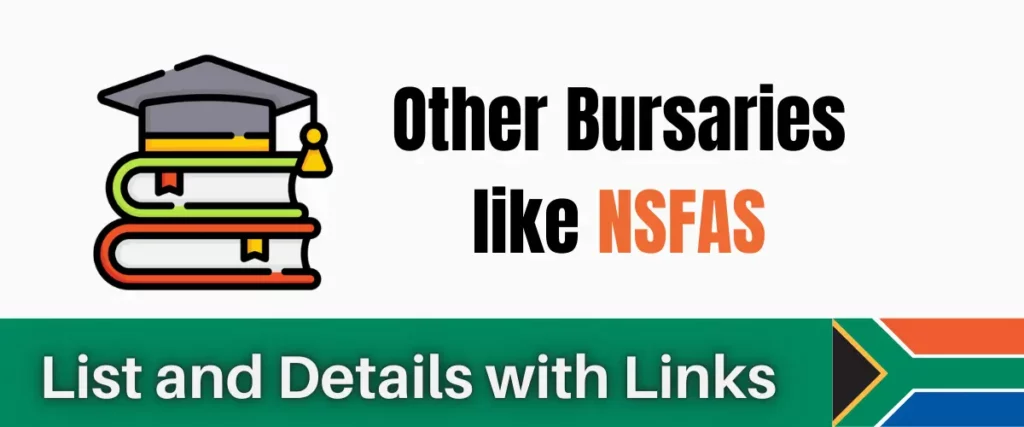 Did NSFAS reject your application? Do you still want to opt for higher education? Well, I will be telling you about all the NSFAS alternative bursaries.
South Africa has a large system of bursaries, as higher education can be quite expensive. The biggest hurdle for most students is money because every university and college requires some funding.
South Africa has a wide variety of bursaries available for students. So, if you did not get an NSFAS allowance to complete your tertiary education, you still have a chance to apply for any other bursary. Moreover, every bursary has some requirements, so you must put effort into your studies after getting the allowance.
There is no doubt that NSFAS is the biggest bursary system in South Africa. However, it has some requirements, and if students do not match them, they will not get the allowance. NSFAS is a bursary system for poor and working-class students who cannot afford tertiary education alone. To get this allowance, you must;
Be a South African citizen.
Meet the income criteria and have proof of registration at a university or TVET college.
This allowance pays for every expense that a student has. Getting the NSFAS allowance will cover your whole tenure of higher education. You will get allowances for the following areas.
Accommodation
Transport
Learning materials
Meals
Tuition and registration
Personal care
Funza Lushaka is a four years program for a Bachelor of Education (B.Ed.). This bursary is for those students who are studying and intending to become teachers. It is to promote teaching as a profession. This bursary has different majors to which you can apply.
Foundation Phase: Grade R to Grade 3
Intermediate Phase: Grade 4 to Grade 6
Senior and Further Education and Training Teaching: Grade 7 to Grade 12
The bursary covers tuition, accommodation, learning material, meals, registration, and living expense allowance. To get this allowance, the applicant must have a grade 12 certificate, be under 30 and maintain good grades.
The State Information Technology Agency, or SITA, is a bursary for students pursuing ICT studies. This bursary aims to fill the gap between Information and Communication Fraternity. The SITA bursary covers various fields like Information technology, Applied Sciences, Social Studies, and Agriculture. The bursary will cover the following;
Accommodation
Transport
Learning materials
Meals
Tuition
You must be a South African citizen studying ICT-related at a recognized tertiary education institution in South Africa. Moreover, you must have a matric certificate to be eligible for the SITA bursary.
The Sector Education and Training Authorities or SETA is a bursary system for initiating student skills development. The government gives these bursaries to those students who are good at studies to increase the number of students in the disciplines with limited skills.
The students have to sign a contract to work in South Africa, sometimes in a specific sector. However, there is no specific employment contract. It covers tuition, textbooks, accommodation, meals, and research expenses.
Sasol bursary is for individuals with the necessary talent and wanting to study full-time. This is an all-inclusive bursary system that includes many fields but will prioritize the sectors the country needs most for the future. To name a few, Engineering & Technology, Data Science, Agricultural Science, Environmental & Medical Sciences, Construction & and manufacturing Financial Sciences, etc.
It includes undergraduate university fields like Chemical Engineering (BEng / BSc), Electronic Engineering (BEng / BSc), and Mining Engineering (BEng / BSc) and postgraduate studies like Cyber Security (MEng / MSc / Ph.D.), etc.
The main purpose of this foundation is to give a better life to the poverty-stricken unemployed people of the country. Over 2000 students are receiving this fund. It covers tuition, accommodation, living expenses, and books. This foundation award bursary in the following fields;
Engineering
Entrepreneurship
Mathematics
Technology
Business Studies
Law
Arts
Medical Studies
Sciences
Agriculture
To be eligible for this bursary, you must be a South African citizen, have more than 70% marks in matric, be studying or intending to study in any of the above fields at a recognized tertiary education institute, match the financial income level criteria and maintain excellent grades.
The National Research Foundation or NRF bursaries are for those postgraduate South African students who intend to study full-time. NRF bursaries support students with their honors, master and doctoral degrees.
The bursary aims to promote all science, Engineering, Technology, Social Sciences, and humanities fields, including Indigenous Knowledge Systems, among South African students. The age requirements for honors, master, and doctoral studies are 28, 30, and 32, respectively. The academic requirement for postgraduate studies is at least 65%.
The South African Civil Aviation Authority (SACAA) is a bursary for those students who want to pursue engineering in the academic year 2023. This bursary supports the following fields;
Aeronautical Engineering
Aircraft Maintenance Engineering
Pilot Training
Like any other bursary, this one also has some requirements you must meet to get the bursary. To be eligible for the South African Civil Aviation Authority (SACAA) Bursary, you must be;
South African citizen.
Between the age of 18 and 35 years old.
Have a matric degree or currently studying in matric.
Intend to get admission in any of their selected field.
If you are an undergrad student and want to continue your education but lack the finances, you can now apply for this bursary. It covers tuition fees, books, accommodation, meals, a laptop, and an allowance. This bursary covers a diverse variety of fields. Following are all the fields covered by the IDC bursary.
Engineering
Chemical Engineering
Civil Engineering
Electrical Engineering
Electronic Engineering
Industrial Engineering (BSc)
Mechanical Engineering
Metallurgy Engineering
Mine Survey
Mining Engineering
Science
Actuarial Science
Analytical Chemistry
Agriculture
Environmental Science
Geology
Commerce and IT
Accounting (CA Bcom)
Computer Science
Information Systems (BCom)
Investment Management
Information Technology
Law
Commercial Law (BCom)
Law (Postgraduate Diploma)
LLB (Bachelor of Law)
Cyril Ramaphosa Education Trust is a bursary for poor and needy students seeking higher education. This bursary gives a CRETB grant for a maximum of five years. This bursary is specific for every person and keeps the student's holistic needs. They make a tailor-made allowance for each student.
Unlike traditional bursaries, this does not give tuition, accommodation, books, stationery, or a personal allowance. It believes in 'paying it forward,' and students do not have to sign any work contract with the bursary provider. Rather, they are trained to realize their social responsibility and help others in need.
Thuthuka bursary began in 2005 by the South African Institute of Chartered Accountants (SAICA) for financially unstable students. This bursary will support those students who intend to become chartered accountants.
The bursary includes a variety of support for students. They will not only get the tuition, accommodation, learning material, and personal care allowance but also 'wrap-around' support. It includes;
Academic support
Social support
Emotional support
Work-readiness and life skills training
Mentoring and counseling
Access to experienced CA and business leaders as mentors
To be eligible for the Thuthuka bursary, you must be;
South African citizen.
Have a grade 12 degree or matric (not out from school for more than two years) or are university students of a CA-related field.
Have 60% or more marks in grade 11 in mathematics.
Intend to get into a university that Thuthuka bursary supports for BCom Accounting (CA-stream) degree.
Have a total and complete income of R350000 or less per year.
Appear for National Benchmark Test (NBT).
This bursary is for those students who want to pursue postgraduate degree studies like honors, master's, and a doctorate in the seed industry. This bursary aims to promote seed trade by encouraging the youth to conduct high-quality research in the seed industry.
Students will get an allowance based on their academic results. It will be for only one year initially. However, if the student shows satisfactory results, they might get it for over a year. The bursary provides not only financial support but also provides various workshops to students to develop their employment skills. Students who can do high-quality research in the following area will get this bursary.
Agronomy
Biotechnology
Entomology
Genetics
Horticulture
Molecular Plant Biology
Pasture Science
Plant Breeding
Plant Pathology
Plant Physiology
FAQs
How many bursaries are there in South Africa?
Practically, there is no limit on the number of bursaries available. You can apply for unlimited bursaries.
Can a foreigner get a bursary in South Africa?
Yes, a foreigner can get a bursary in South Africa. The most common bursary for foreigners is Mukuru Bursary.
To sum it up, the South African government has more than enough bursaries for students of all fields. Tertiary education is very important, especially for people living in poverty and wanting to change their state. It is better to apply for a bursary to secure your future and study without worrying about the fees and expenses.
Even if one bursary rejects you, apply for another and continue your education. Hunt for universities and colleges that give scholarships and get premium quality higher education in a field of your choice.