How to Get a Loan Without a Job in South Africa?
The mere task of getting a loan by itself is difficult to do in South Africa. So, when you add the absence of a payslip and a job to the mix, it becomes nearly impossible for an ordinary citizen.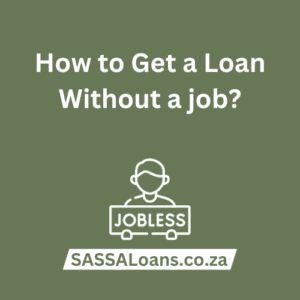 As out of the question as it seems, there are ways for the citizens of South Africa to acquire a loan without a job. So, if you are having trouble with the task, then you are looking in the right place.
For your ease, I have shared the entire process of how to get a loan without a job in the article below. The multiple means of getting a loan have also been shared in detail so that you can try your hand at all possibilities.
Requirements
If you are living in South Africa and need a loan without having a job of your own, then here are a few requirements that you need to meet in order to acquire the loan. The first thing that you need for most loans is proof of assets. Whether it is a property, or vehicle ownership documentation, any proof of asset is needed for getting a loan.
Another major requirement is having a good credit history. It shows the lender that you pay all your bills on time. It also shows responsibility when the lenders see that the previous loans were also cleared on time.
A bank statement is also required, as it shows the flow of money coming into your bank account. The source of money can be anything from investments to stocks, to freelance work. The lenders merely need proof that the person is capable of returning the total amount of the loan.
Process of Getting Loans Without a Job
Getting a loan without a job may seem impossible. However, in South Africa, there are a couple of ways for an average citizen to get their required amount of loan without a traditional source of income.
RCS Loan
RCS is an abbreviation for Retail Credit Solution. It is a credit-providing company established in South Africa that also provides citizens with loans. RCS allows their customers to get a minimum loan of R1000 without a payslip.
They can even get a maximum of R150,000. If you are a new customer of RCS, then the maximum limit of loan for you will be R4000. The perk of getting a loan from this credit company is that they have a lenient return policy regarding the repayment period.
A new customer needs to repay the company in 3 months. However, their old customers get a maximum of 60 months period for repayment. Lastly, their interest rate is 15%.
FNB Loan
First National Bank or FNB also provides loans to the citizens of South Africa even if they do not have a job. They offer the citizens a maximum amount of R125,000 as a loan. The great perk of getting a loan from FNB is that their return duration is quite flexible.
They give 12 to 60 months to the debtors. The duration depends upon the amount of loan taken. However, a drawback of taking a loan from FNB is that their interest rate is a bit high. They give loans with an annual interest rate of 28%, exclusive of their fee and extra charges.
Binixo
Binixo is a third way for the people of South Africa to get a loan without having a job. It is an online money lending service that allows citizens to urgently get some money in case of an emergency.
Binixo offers a minimum of R300 and a maximum of R9000 of loans to the citizens of South Africa. Their repayment duration depends upon the amount of loan the person has taken. For R9000, they give 65 days repayment period and for R300, the return duration is 4 days.
They do not ask for bank statements or any extra information. Getting an immediate loan from Binixo is a simple task that can be done online and will only take a couple of minutes. So it is an ideal method for those who need money in emergencies.
Peer-to-Peer Loan
Peer-to-peer lending is another method of acquiring loans that is quite famous in South Africa. This is an ideal way for those individuals who do not have any payslips. There are different peer-to-peer sites available in the country that do not ask for bank statements or payslips of a traditional job.
Some of those sites include Gumtree, RainFin, PeerFin, FundMe, Yiba, Lendico, etc. These websites allow individuals to make their own accounts on the platform, and other citizens can send them money. Each of these platforms has many lenders on them that offer money to those who need a loan.
None of these websites ask for any payslips or proof of income. However, if the loan amount is quite large, then the lender can ask for a bank statement to ensure that the debtor is capable of repaying or not. Citizens can get as much as R100,000 in loans from peer-to-peer sites.
Challenges During The Process
A major challenge that arises while getting a loan in South Africa is finding a trustworthy source without a high-interest rate. If you need a small amount of loan such as R7000 and do not want to be burdened with a heavy interest rate, then instead of going to FNB or RCS, you need to get the loan from Binixo.
Another difficulty that comes during this process is a limited amount of loans. Without a traditional job or a payslip, many banks do not offer a larger amount of loans to individuals.
There is no doubt to the fact that getting a loan without a job in South Africa is a difficult task. However, it is not improbable. There are some ways for citizens to get a loan even if they do not have a job.
The entire process of how to get a loan without a job along with a few places that offer loans have been shared in the article above. So, if you need an immediate loan, then you need to read the article above.