How to Get a Startup Business Loan with No Money?
Starting a new business from scratch requires capital, but what if you have little to no money? Then you have no other option but to search for alternative funding sources and loan options to obtain the necessary capital for your business. However, getting a start-up business loan without any money or investment can be troublesome and frustrating. But do not worry, I will guide you.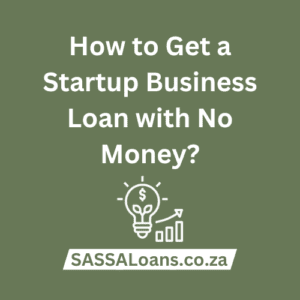 In this article, I will explore how you can get the initial capital for your business with no money and where you can go to secure funding for your start-up. Therefore, keep reading and take notes.
Steps to Apply a Startup Business Loan With No Money
Acquiring capital for your business with no money can be daunting but not impossible. Multiple agencies, organizations, and platforms operating in South Africa offer you safe and secure loans for your start-up. Therefore, you have plenty of options to choose from.
I will discuss the platforms later, but first, the main question is how you can get these loans for your business. Before applying for any loans, you must take care of the following points or steps to increase your chances of securing the capital for your business.
Step 1: Collateral for Loans
One of the simple ways to get a loan with no money is by using your existing possessions as collateral. This concept refers to using your possessions as security for the loan, which gives the lender a sense of security, assuring them that if you fail to repay, they can seize the possession to recover their funds. In addition, you can use physical assets, such as vehicles or equipment, as collateral.
However, before leveraging your assets as collateral, you must take certain risks into consideration and carefully analyze the importance of your possessions.
Step 2: Research and Create Business Plan
It is the most important step when searching for a start-up business loan with no money. Thoroughly researching and creating a business plan will increase your chance of securing the fund you desperately need. Your business plan gives the lender a rough map of what is your business about, how will your business succeed, expected expenses and costs, what are your target audience, etc.
Furthermore, your business idea must cover marketing, financial and operation plans, and lastly, the core idea of your business. Your plan must be solid proof without any loopholes in order to present a persuasive case to the potential lenders.
Step 3: Determine the Amount
Before applying for any loan, determine how much money you need to borrow to start your business. You must borrow the amount you are able to repay back. Check your finances to determine the cost associated with inventory, equipment, starting working capital, and other expenses.
Moreover, you should also consider the amount you borrow aligns with your business capacity to generate income. This strategic approach will not only save you from acquiring excessive debts but also ensure that you repay the amount within the appropriate time. Therefore, it is necessary to calculate how much money you need to borrow.
Step 4: Building Personal Credit
Many lenders assess the creditworthiness of the business based on the credit history. The lenders consider whether the business has a history of bankruptcy, etc. However, in the case of start-ups, since they do not have any business credit score, the lenders will assess your personal credit history.
Therefore, you must possess positive and clean credit history and present your creditworthiness to your lenders.
Step 5: Fulfill The Lender's Requirements
Multiple organizations and agencies have their own sets of conditions and requirements you must fulfill to get the loans you need. Before applying for the loan, you must research the requirements of the lenders that you selected to increase your chances of approval. Visit the lender's website and read their terms and conditions to understand what they need from the borrower.
Step 6: Carry Out The Application Process
To get a start-up business loan with no money, you must complete the application form. The potential lender will assess your eligibility for the loan based on the information you provided. Most organizations and agencies follow the same application procedure.
Before you apply for a start-up business loan, you must search for a reputable and trusted organization that offers safe and secure loans. After finding one, you must research their eligibility criteria and document requirements. After fulfilling all these, you can apply for a loan.
Let me tell you how to apply for a start-up business loan. The following are the instructions that you should follow :
To qualify for the business loan, you must have your personal, financial, and business documents.
You must offer proof of the values of the asset you used as a security for a loan (if required).
Complete the application form. The lenders will only ask some basic questions related to your business, tax records, etc.
Best Start-up Business Loans in South Africa
You must be wondering where to get start-up business loans? Let me inform you about the different platforms, organizations, and agencies that offer funds for start-up business. Let's look at them one by one:
South Africa Government Loan Program
The government of South Africa has introduced multiple loan programs for those looking to start a business without any investment or money.
Small Enterprise Finance Agency (SEFA)
SEFA is a government agency that offers direct loans to Survivalist businesses and Small, Medium, and Micro-Enterprises (SMMEs). Furthermore, they also provide support programs to assist start-ups.
Small Enterprise Development Agency (SEDA)
SEDA offers help to those planning to start a business or expand their business. SEDA provides different training programs, technical support, business monitoring, and so much more. In addition, you can visit their website for further assistance http://www.seda.org.za/.
Many other agencies are operating under the South African government. They are as follows:
Industrial Development Corporation (IDC)
Technology Innovation Agency (TIA)
National Empowerment Fund (NEF)
National Youth Development Agency (NYDA)
Department of Trade and Industry
Angel Investors
Angel investors refer to well-off investors or individual who offers capital and financial support to start-ups in exchange for equity. Moreover, unlike traditional financial institutions and organizations, they invest their own funds rather than institutional funds. If you are planning to start your own business but have no money, you can seek investment.
Furthermore, your business plan must be excellent and detailed because these angel investors look for business ideas that have high potential and is unique. To seek potential angel investors, you can use platforms like
Jozi Angels
South African Business Angel Network (SABAN)
Niveus
AngelHub Ventures, and more.
Venture Investment
A start-up business that has the potential to succeed and expand requires funds and investment. Venture capital firm offers capital or loan to such start-up businesses with high-potential in exchange for ownership shares. Venture investment is another source of funding for those seeking loans to start their business.
However, remember that the competition for a loan can be intense; therefore, you must have a compelling business plan. Furthermore, venture capital firms have their own specific criteria that you must fulfill in order to be considered eligible by them. Many venture investment firms operate in South Africa. Some of the best are as follows:
Knife capital ( offer loans to start-ups that use technology as their main component).
4Di Capital (provide funds to early-stage businesses and companies).
HAVAIC (offer loans to tech and energy companies)
Kalon venture partners
Newtown partners
South African Venture Capital Association (SAVCA)
Crowdfunding Platforms
To get investment for your start-up, you can take help from a platform like crowdfunding. This platform allows start-ups to raise capital for their business from the audience. Entrepreneurs use crowdfunding websites to raise thousands of money from a large number of people.
However, in order to get the money, you must persuade the audience and create an appealing campaign to deliver your business idea and lure in investors. In South Africa, the Angel Investment network is a well-known crowdfunding platform. Crowdfunding is an excellent choice for those that are starting their business with no money or investments.
Online Platforms
Another way you can get a loan for your business is by using the online method which is the most convenient method and does not require any tedious procedures. If you are searching for quick and affordable loans, you can visit these platforms:
Lulalend ( they offer affordable loans to Small and Medium Entrepreneurs (SMEs) looking for funds to start their company).
Fundrr ( an online lending platform that provides financial assistance to small businesses)
You can also seek financial assistance from non-profit organizations and microfinance institutions for your business. In South Africa, there are multiple microfinance institutions, such as Small Enterprise Foundation (SEF), the South African Women Entrepreneurs Network (SAWEN), and more. Lastly, if you do not have any option left, you can seek help from your family members.
Ending Lines
Starting a business with no money can be challenging and tough. However, with thorough research, a comprehensive business idea, and strategic planning, you can overcome the challenges and obtain the start-up business loan you need. Furthermore, multiple organizations and agencies are operating in South Africa that offer loans to start-ups making it much more convenient to secure funding even without any money.
In addition, you can also seek financial assistance from platforms like crowdfunding or online websites like Lulalend. The choice rests on you. However, remember, before applying for start-up business loans, you must fulfill their requirements criteria, and terms and conditions in order to be considered eligible for the loans.