How to Loan Airtime from MTN?
The frustration of making a call in case of an emergency and finding out you have no mobile credit is unparalleled. This is where airtime comes to the rescue of the citizens of South Africa.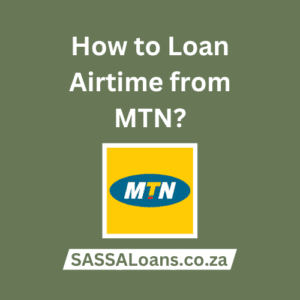 But another issue is that many people are not aware of how to use it or rather, how to loan airtime from MTN. Knowing this small detail can save you from a lot of frustration in the future.
The article below will explain to you the entire process of taking an airtime loan from MTN in detail. Moreover, you will also find out other important details that will help you. So, keep reading to find out!
What Is MTN?
MTN is an abbreviation that stands for Mobile Telephone Networks. Being one of the major South African telecommunications companies, MTN provides its users with the advantage of loaning airtime along with many other benefits.
Criteria for Loaning Airtime from MTN
Not every individual residing in South Africa can loan airtime from MTN. The company has eligibility criteria that the person must meet. Otherwise, they do not qualify for loaning airtime.
The first requirement is that the person must an active MTN prepaid customer. If you are not an active customer, then you will not be eligible to take an airtime loan from MPN. Moreover, the person must also have a registered sim card.
This leads us to another requirement, which is that the person needs to have the sim card registered under their own name. If the sim card is registered under someone else's name, they will not be able to loan airtime.
In addition to that, the applicant also needs to have a good recharge history with regular recharges. In case they do not recharge their sim card regularly, the company will most probably not allow them to loan airtime.
Furthermore, the company will also check the person's repayment history of previous loans. Therefore, if you have taken an airtime loan from MTN, you need to repay it soon after or you will not have access to any loans in the future. Failure to meet even a single of these requirements will result in the person not being able to loan airtime from MTN.
Process of Loaning Airtime from MTN
Through the Application
The first method of loaning airtime from MTN is through the mobile application of the company. It goes by the name of MyMPN and can be downloaded from Play Store or Apple Store. Once you have made your account at the application, you can see your current airtime balance.
To loan airtime, you need to open the application, and then locate the 'Recharge' option. It is present at the bottom of the Main Menu. Once you click on this, another menu will open.
From there, you need to select the 'borrow' option. A list of XtraTime and Xtrabyte will open on your mobile screen. You can go through all of these options and then pick one that fits your current needs the best.
Once you click on your preferred choice, a prompt will appear on your phone screen asking for confirmation. You need to click on the 'confirm' button to make the transaction. That is all, you have successfully taken an airtime loan from MPN.
Through USSD Code
The maximum amount of airtime loan through USSD is R50 in South Africa. The person needs to dial *1362# from their mobile phone. Then select XtraTime and then you will see the different amount of airtime that you can loan.
Select your required amount. After this, it will take a few seconds for your request to process and then you will receive a prompt stating your required amount along with the service fees. Once you confirm, the transaction will take place immediately. The steps are very simple and straightforward.
FAQs
Why is MTN not giving me a loan?
If you are an active customer with a registered sim card under your own name and still can not get a loan from MTN, then you probably are not meeting one of their requirements. Most commonly, the company needs the customer to be registered for a certain period of time before granting them a loan.
How to loan airtime using MTN?
There are two methods of loaning airtime using MPN. You can either use the USSD code offered by the company and select the required loan, or you can visit the application of the company. The procedures are very simple without any complicated steps.
Taking an airtime loan through MPN is an advantage that South Africans can enjoy in case of dire need. However, not knowing how to loan airtime from MTN properly can lead to problems.
In case you are unaware of the process, or cannot successfully take a loan, you need to resort to the article above. It shares all the information that will guide you through the process.