Unifi Loan is one of the reliable money lending platforms. It provides short-term loans for deserving individuals living in Kenya, South Africa, Zambia, and Uganda. This platform provides loans for a total of 6 months ranging between R 1000 to R 8000. It has to be paid back within 6 months.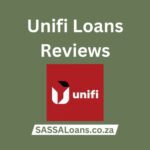 If you have heard of Unifi Loans and are looking for Unifi Loans reviews, here I am with this guide to tell you everything about the loans, including the benefits you can take, what is the requirement for getting the loans, and how to apply for it.
I will also discuss the reviews so you know whether you should opt for Unifi Loans or should consider some other money lending agency. Let's start with the guide.
There are mixed reviews from customers who have taken the service from Unifi Loans. The guide here tells you about the reviews of the customers, the benefits of the Unifi Loan you can get, and the relevant information.
Benefits of Unifi Loan
Following is the list of some of the main benefits of Unifi Loans and what you will get if you apply for a loan from this platform. The loan offered by the agency ranges between R 1000 to R 8000.
Easy And Quick Application Method
Applying for the Unifi Loan is easy and quick. It is fast and hassle-free, making it easier for you to receive a loan as quickly as possible.
6 Months Time For Repayment Of The Loan
You get the time to repay the money within 6 months. It is another factor that makes it reliable. Moreover, the company also offers a variable repayment schedule from which you can select your own payment method and payment time according to what works best for you.
No Additional Charges
There are no additional fees that can cause stress for you at later times. All the charges and fees linked with Unifi Loans are included in VAT.
Eligibility Criteria For Getting Loans
Following are the requirements that you must meet before applying for Unifi Loan.
Having A Personal Bank Account
Make sure you have a bank account in your name where you will receive the loan. And make sure your bank account is in the bank that is compatible with Unifi Loans and the one that Unifi Loans supports. The list of the banks that Unifi Loans accepted includes Standard Bank, ABSA, Capitec, FNB Bank, African Bank, and Nedbank.
Having A Cell Phone
Before applying for the Unifi Loan, make sure you have a cell phone that you always use and that is always near to you. This is important because the team Unifi Loans needs to verify your application, and in order to do that, the team will call you. For that, you must have a cell phone that is always near to you and that you use regularly.
You Should Be A Working Person
In order to get qualified for the loan, you have to ensure that you are an employee and you receive a monthly salary. This will be a security that you will return the money within time. Another thing that you have to keep in mind is that for students, it is not a compulsion.
If you want to get verified for the loan, you have to provide proof of your income. You can do it by uploading a document or the bank statement you receive of your income with other documents and applications.
Reviews
There is a mixture of reviews by the customers who have received the Unify Loan service. Following are the details of some of the positive and negative reviews. It will help you in knowing what the customers liked and disliked after getting the service from unify loans.
Positive Reviews
Great Customer Service
Most of the reviewers have reviewed that the customer service provided by Unifi Loans is one of the most helpful and responsive services. The customer service is quick, and the staff dealing with customer service deals with friendly behavior and courteous gestures. Most of the customers were happy and appreciated the customer service of the Unifi Loans.
Easy And Hassle-free Application Process
Most of the users of Unifi Loans have also appreciated the quick and easy application process. They have praised the platform for being easy to access. They loved how easy it was to apply for the loan, and just within a few hours, you got to know about your approval.
Flexible Repayment Schedule
Most customers have also liked the flexibility options in repaying the loan. They liked how flexible the repayment options are and have also positively reviewed the customization choice in the repayment schedule. It helps them in selecting the payment method of their own choice.
Negative Reviews
High-Interest Rates
Most customers have not liked how high the interest charges were. It can be as high as 212%, which is really a big amount. The customer says that it makes it difficult for them to pay the loan back.
Limited Loan Amount
Other customers who reviewed the Unifi Loan negatively complained about the limited loan amounts. The loan amount you can get is only up to R 8000, which is not really enough for most customers. This makes it challenging for those who want to take bigger loans.
What are the requirements for applying for Unifi Loans?
You should have your own bank account, and you should have a cell phone that you use regularly and that is always near to you. You should be employed and should provide the Unifi Loan's team with proof that you receive a monthly salary. Keep in mind; this is not a compulsion for students.
How to apply for Unifi Loans?
You have to visit the official website of Unifi Loans. Look at the bar that says "Apply now." Click on that button and fill in the application form. Make sure to put the right information in it. You also have to enter your bank details and have to provide the Unifi Loans team with proof of your income.
How much money can you take from Unifi Loan?
The range of Unifi Loans lies between R 1000 to R 8000. You can take a minimum loan of R 1000 or a maximum of R 8000 from the platform. Keep in mind that you have to pay back the loan within 6 months.
Final Thoughts
If you are looking for a reliable platform to give you short-term loans and if you live in Zambia, Uganda, Kenya, and South Africa, selecting the Unifi Loan platform is one of the right choices you can make. The platform is known for its friendly customer service and flexible repayment options that make it easier for customers to repay the loan. You can take a loan ranging between R 1000 to R 8000 and can repay it within 6 months.
You can also choose the repayment option according to what suits you the most. Moreover, one thing that you have to keep in mind is that Unifi Loans have high-interest rates.