How do I Qualify for a Finbond Loan?
Finbond is a trustworthy financial institution that offers safe and secure loans to individuals needing financial assistance or emergency cash. You can effortlessly borrow money from Finbond without going through any tedious process. In order to qualify for the Finbond loan, you must meet certain eligibility criteria and fill out an application form.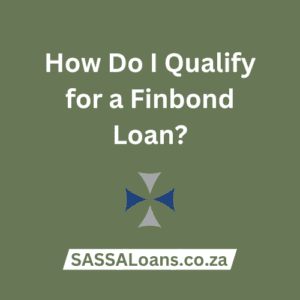 In this article, I will guide you on how to successfully apply for a loan and what documents you require to complete this process. Hence, stay with me to gain insight.
To be considered eligible for the Finbond loans, you must fulfill the necessary requirements, provide relevant documents, and complete the application procedure. Let me tell you step-by-step what you need to do to qualify for the Finbond loan.
Eligibility Criteria
Each financial institution puts forward some conditions that the borrower must follow before making an attempt to apply for a loan. These conditions ensure that the potential borrower meets the necessary criteria to be considered eligible for a loan. Finbond also has its own requirements, which are as follows:
The borrower must be a South African citizen
The applicant must be above 21
Use your own bank account; if you do not have one, create one
The borrower must have a consistent income
The applicant must have an authentic and valid phone number and email address
Lastly, the credit history of the applicant must be clean and excellent
Furthermore, remember that you can not use someone else account, nor can you borrow money on behalf of another person. Therefore, be careful to avoid any future problems.
Documents Required for Application Process
You must possess the following documents to complete the application form successfully. These documents are the necessary requirements. Therefore, you must have them.
ID document certified copy (not exceeding 3 month time)
The applicant's payslip (3 months)
Bank statement
Residential address proof (certified copy)
How to Apply for Finbond Loan? (Step-by-Step Guide)
The application process for a Finbond loan is simple and straightforward. Moreover, you can use different platforms to apply for the loan. Let me tell you what these platforms or methods are:
Online Method
The easiest and most convenient method is the online method through which you can apply for a loan from the comfort of your seat. Follow the following instructions if you wish to use the online method:
Step 1: Visit the Website
Open your browser and search for the Finbond website, or you can directly click on this link finbondmutualbank.co.za/#/home.
Step 2: Open Application Form
After opening the website, click on the tab "borrow." This will take you to a new page where you will see a box in the middle of the page with "Complete the Application Form" written on it. Select this box.
Step 3: Provide Required Details
After selecting the application option, you will see a form displayed in front of you. You must complete the form. The form will require you to enter your full name, ID number, phone number, email address, monthly salary, and average monthly expenditure.
Lastly, tick the box saying "I agree with the terms and conditions" and then click either the "Send message" option or the "Email us" button. Furthermore, remember to provide authentic and correct details to not lose any chance of receiving the loan.
Phone Method
You can also apply for a Finbond loan using your cell phone. You do not need any internet connection and only need to send a message to Finbond Bank. Let me tell you how:
Take out your cell phone and click on the message icon.
Type in "Credit" and send it to 30635
Simple, isn't it? After you have sent the message, Finbond will get in touch with you and ask some questions from you. Then lastly, you have to submit the required documents to the Finbond.
Moreover, you can also use the traditional method, which involves visiting the nearest Finbond bank office and consulting the adviser there. You must take the necessary documents mentioned above along with you.
Final Verdict
Finbond Bank offers secure and quick loans to the citizens of South Africa. You can easily apply for a loan by using different platforms. So, you can either choose the online method or select the phone method.
You can choose whichever suit your preference. However, before applying for the loan, you must ensure that you are eligible and fulfill all the necessary requirements and conditions set by Finbond Bank. In addition, while filling out the application form, provide authentic and valid details to avoid any problems in the future.