SASSA Approved with Payday But No SMS? | Solution
SRD (Social Relief of Distress) Grant is one of the most common grants provided to the citizens of South Africa every month. Hence, you might be eagerly waiting for the day to receive your fund because your application has been approved. But sometimes it happens that though your grant is approved, you still do not receive any SMS notifications.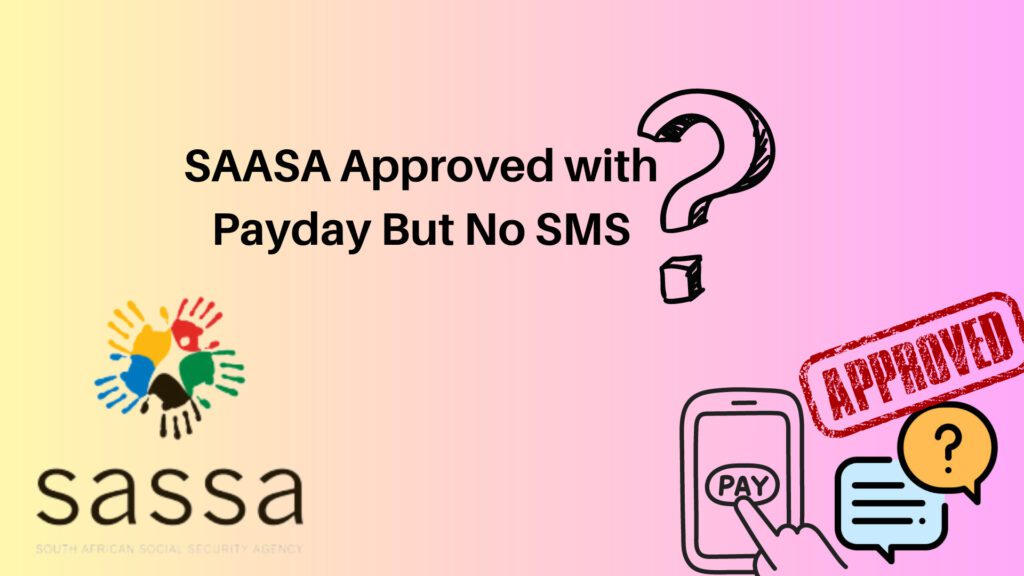 You do not need to fret as it's a problem many people face, so you are not the only one in this dilemma. Receiving SMS is important because it notifies you about when your grant is ready for collection. Therefore, this article will be a great assistance to you in showing you the reasons behind this issue and how you can get out of it. Keep on reading to find out.
Reasons why SASSA Approved With PayDay But No SMS
There can be a lot of factors behind why this problem occurs. The problem can either be from the agency side or from your side. Let's look at the factors.
Incorrect Personal Detail
Sometimes, it happens that you have mistakenly entered incorrect details about yourself. This means you did not provide the correct information, maybe you entered the wrong phone number, email address, bank account number, etc. Another mistake can be that you registered using someone else's name. So make sure to thoroughly read your information repeatedly and then submit your application.
There is an update option available in case you have made any mistake, or maybe there might be some information you need to update, hence solving your problem.
Delay In Processing Of Application
This error might be from the agency side. The problem might be due to high traffic because SASSA processes a tremendous amount of applications each month, hence the delay. It might be that your application is being renewed but due to heavy traffic, it might take some time.
Technical Error Cause Of The Delay
Sometimes it happens that your SMS notification is delayed due to a technical fault in the system. It's not unexpected that your SMS might have been lost due to a network issue. Hence you need to contact the SASSA directly regarding your problem.
Corruption at Play
This is one of the most common problems faced by many organizations and agencies. It might be possible that the reason you are not able to receive your SMS is due to the corruption and dishonesty occurring in the post office. Various accounts attribute to the fact that people need to pay certain charges to get SMS notifications and pay dates.
It's also reported that some other people receive the SMS describing the place and time of the entitled recipients all because the post office workers were bribed by people to carry out this act. Therefore the entitled recipient is unable to receive the funds because someone has already collected them. If dishonesty is observed, police must be alerted about it to ensure an honest transaction.
Update Banking Details
Applicants must update their banking details using the update form on the website. The SMS can also be delayed because SASSA might be trying to verify your banking information hence you should be careful in providing banking details.
Switching of Payment Methods
Constantly changing your payment methods, can lead to SMS notification delays. You only need to be loyal to only one method and only change when necessary.
You must receive your SMS because you will not be allocated funds without it. Hence solve this problem as quickly as possible to not get deprived of the benefits. If your SASSA is approved with payday but no SMS, you can follow the provided instructions to solve your dilemma.
What Should You Do When You Don't Recieve SMS
You can take the following actions.
First of all, it's reasonable to wait for a certain period of time. But even after waiting if you still did not receive SMS notifications, then you can take further steps.
Check your status update on the SASSA website. You just need to log in and check if you still have an approved status.
If your status declares "approved," but you still did not receive the SMS, then you need to call the SASSA helpline. The number is 0800601011 or; you can also send them mail at

[email protected]

.
You must provide correct personal information.
In case of corruption happening in the Post Office, you can alert the police about them.
You can also visit the nearest SASSA office.
To Conclude
The article has listed the factors behind why you don't receive SMS notifications despite your approval of the application. SMS notification is a requisite for you to receive the grant. Therefore it's important to know what you must do when you don't receive SMS notifications.