Motsepe Foundation Bursary 2023 | Application Guide
If you are a student and want to study at a prestigious university but are worried about its finances, then this article has something that will make you very happy. Today's article concerns a charitable organization benefiting many hard-working students to study at their dream university. So let's get into this.
About the Foundation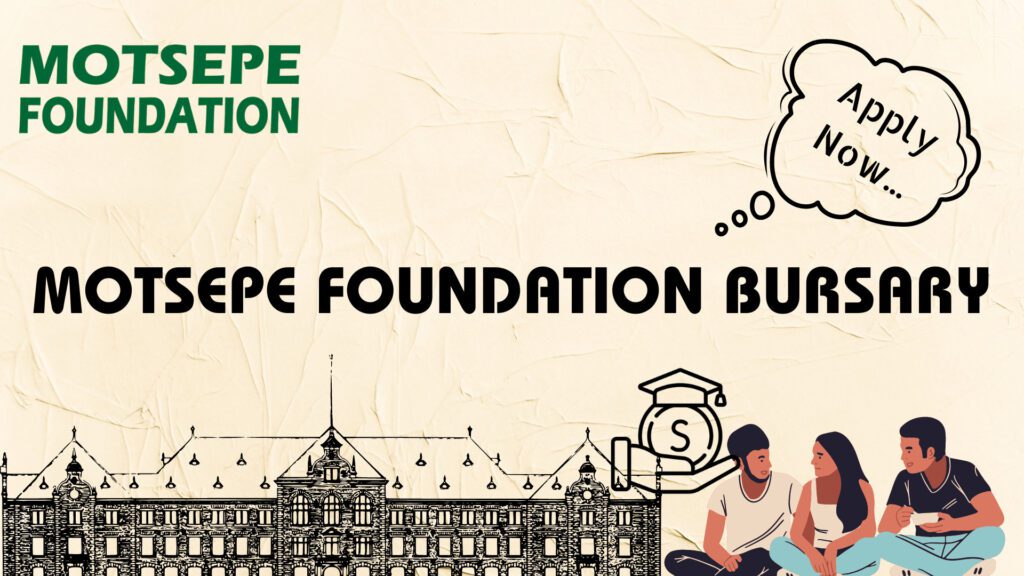 This organization is owned by an African billionaire couple Mr. and Mrs. Patrice Motsepe. This foundation works on other health and social issues, but its main focus is educating brilliant students who can't manage their educational finances.
What Can I Study?
The most common question that comes from the students about this foundation is what field of studies is financed by the Motsepe Foundation Bursary? Here's the answer if the same question is boggling your mind. Students from the following fields can apply.
Arts
Business Studies
Agriculture
IT
Science
Engineering
Mathematics
Medical Studies
Where Can I Study?
While applying for Motsepe Foundation Bursary, I got excited to see some of my favorite universities on the list. Read ahead. You might find your dream university on the list too. However, all the universities listed here are the best in South Africa, so getting admission to any of them will be a golden chance for a bright future.
University of Cape Town
University of Pretoria
University of KwaZulu Natal
University of Witwatersrand
Tshwane University of Technology
University of Johannesburg
Cape Peninsula University of Technology
What Finances Does Motsepe Foundation Bursary Cover?
Many students wonder what expenses are covered in the Motsepe Foundation Bursary. So here is the good news, all your tuition fees, accommodation, food, textbooks, and other educational expenses will be covered by Motsepe Foundation. Motsepe Foundation Bursary frees many students from financial stress and lets them fully focus on their studies.
Eligibility Criteria
Do you want to know what is the eligibility criteria for this scholarship? If yes, here is the list of the criteria for selecting the right candidate for their yearly bursary program.
Applicant must be a citizen of South Africa.
Either a current matric student or must have scored 70% in matric.
The gross income of the house must be less than 1.5 million per year.
Students who want to pursue higher studies in any field of Science, Technology, Engineering, Mathematics, Business, and Arts.
Must have an excellent academic record.
How to Apply
Getting Motsepe Foundation Bursary is a dream of many hard-working students. If you are eligible for this scholarship, here are the steps to apply.
Download the form from their official website.
Fill it and attach the certified copies of your ID, your parent/guardian ID, your latest academic results, an acceptance letter from any university mentioned in this article, and the Payslips of your breadwinner.
SASSA letter if any family member is receiving the grant.
Death certificate if any parent is deceased.
Copy of divorce certificate if parents are divorced.
A copy of the affidavit with reason if your parents are not living with you.
A signed affidavit if any family member is a trader.
After completing your application, you can send it to

[email protected]

. via email and hope for the best.
FAQs
What is the Motsepe Fund bursary?
The Motsepe Fund bursary is the financial aid from the Motsepe Foundation for the needy students who perform exceptionally well academically. This foundation is helping millions of needy students to build a better future.
What does Motsepe Foundation offer?
Motsepe Foundation is helping needy people of South Africa in many ways like health, education, sports, etc.
What does the Motsepe Foundation sponsor?
The main focus of the Motsepe Foundation is to provide the same living and educational standards to poor people that any financially stable person enjoys. They sponsor education, sports, arts, etc.
Who owns Motsepe Foundation?
Mr. Patrice Motsepe and Dr. Precious Moloi-Motsepe own the Motsepe Foundation.
If you lose hope of studying at your dream university because you can not afford its fee and other expenses, then Motsepe Foundation Bursary can be your staircase to a better future. So to all the needy students doing exceptionally well in their studies, this is your chance to shine and enjoy the feeling of hard work paying off.