Can I Collect my R350 at Boxer? | R350 Withdrawal
Post offices get loaded with R350 grant beneficiaries. You no longer have to bear the mismanagement and hours of wait as you can collect your amount from any closer boxer store.
There are over 10 million beneficiaries registered for SRD350 which makes it difficult for the registered individuals to collect the grant from post offices. The post office is not efficient enough to carry this additional burden.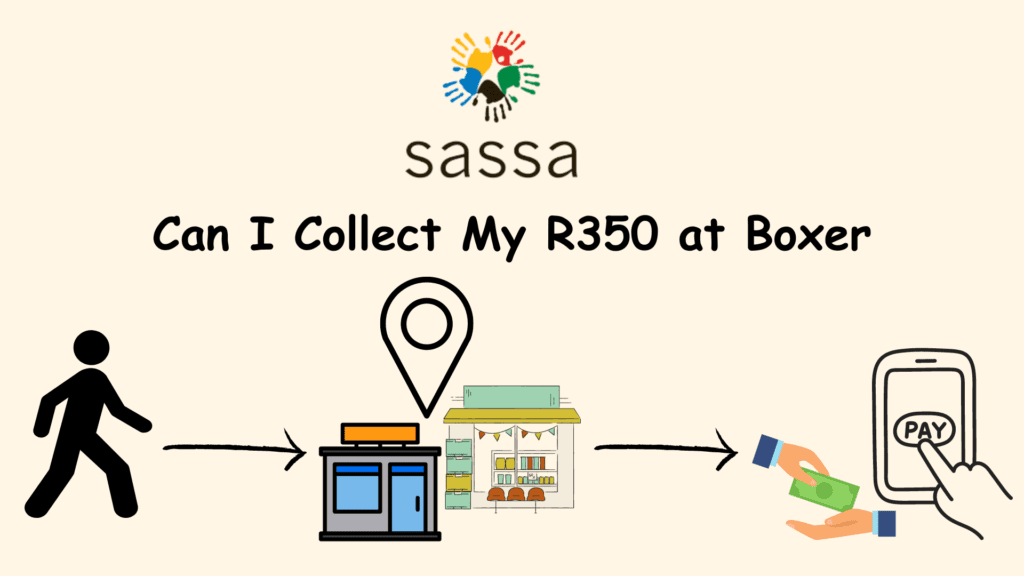 Now you can change your payment method to the boxer store to get your amount much more easily. This change in the payment collection or SRD grant by SASSA made the tiresome procedure quite easy.
I can now collect my R350 grant even on weekends by opting for boxer stores as my collection payment point. If you are too asking yourself, can I collect my R350 at Boxer store? Read ahead to know the answer.
Can I Collect My R350 At Boxer?
Yes, you can if you have been registered for the grant and have received the confirmation message of the approval date.
First go a perform a SASSA status check online to make your that your grant is approved. Then follow the next process.
SASSA has made it easier for the R350 beneficiaries to get their monthly grant as now you can not only go to Boxers stores but also to many others including Pick n Pay, Checkers, Unsave, and Shoprite. But before doing that you must have to change your payment method to any of the above-mentioned alternatives or else you cannot withdraw your money.
How To Change R350 Payment Method To Boxer?
If you don't want to stand in long lines at the post office and return home empty-handed or there is no post office in your locality like me, you can easily change your payment method to the Boxer Store.
You can collect your grant any time throughout the week during the timings of 6 am to 7 pm. If you have already been withdrawing the amount from the bank or post office then here are the steps that will help you change your payment collection point.
Go to the official website https://srd.sassa.gov.za/.
On the main page you will find two tabs, one is for South African nationals and then the second one is for foreigners. Click on any one of the tabs.
Now you will have to look for the title, How do I change my banking details? Under the title, there is a tab for your identity number.
You will have to insert your 13-digit South African ID number and mobile number which must be registered with your previous application and must be of your name
Select submit and wait for the message by SASSA on the given number.
You will definitely get a message by the official number including a link.
Now all you have to do is to click on the link and fill out the form. Choose Boxer store as your payment method. Make sure that you have not missed a single detail. Once you are done, you don't have to go to a post office to withdraw the grant.
How To Collect The R350 At Boxer Store?
The work timings of these stores are much longer than the post office, so the collection will not be an issue unless you don't know how to do it. It is not a sophisticated process as you can get your hands on your R350 grant if you have the required details and received the message from SASSA. Here are the steps that you should follow.
Once you have got the message of the withdrawal date, all you have to do is to grab your mobile phone, original South African ID card, the registered SIM, and get to any Boxer Store.
Go to the cash register or till point. Enter the details required which are your ID and Mobile number registered priorly with SASSA.
You will get a message to confirm your withdrawal. Click on the yes option and you are all set to collect your R350 amount. Make sure to collect your grant amount from the counter before stepping out.
Conclusion
Stop asking yourself the question of how can I collect my R350 at Boxer Store as thanks to SASSA you can do it quite easily. If you are already an approved R350 Beneficiary then you will first have to change your payment method to the Boxer store, wait for the date, and go to any Boxer store along with your ID and number to collect your pending amount. It was never this easy before. I found this method much easier and you can try it too to get your money in a few minutes.