How Do I Check my ABSA Home Loan Balance?
Wondering how to check your ABSA home loan balance? Then you are at the right place. Checking your loan balance allows you to manage your finances and assist you in planning your budget accordingly. ABSA has introduced different methods to make it easier for borrowers to check their balance anytime with convenience.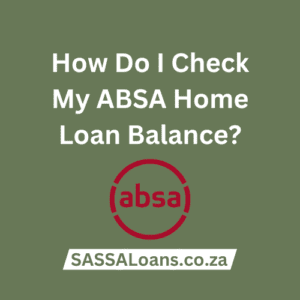 In this article, I will explore the different ways you can use to check your ABSA home loan balance from the comfort of your home without going through any tedious procedures. And I will also discuss the application procedure for the ABSA home loan. Therefore, read this article to enlighten yourself.
ABSA offers flexible home loan solutions to suit your different requirements. Whether you want to buy a new house, build or re-mortgage your home, ABSA home loan got you covered. Furthermore, it is simple and effortless to take loans from ABSA; however, to qualify for the loan you must fulfill the eligibility criteria.
To qualify for the ABSA home loan, you must have an excellent credit history and a consistent monthly income. In addition, there are different sets of documents for different applicants when applying. The specific documents required may vary because of the type of home loan you selected, your employment status, etc.
ABSA Home Loan Application Procedure
If you do not know how to apply for the ABSA home loan, then let me teach you how you can do it by following the simple steps outlined below:
Step 1: Visit ABSA Official Website
Open ABSA's official website absabank.co.ke/personal/borrow/home-loan/ on your browser. Through the website, you can easily apply for a home loan in 15 minutes.
Step 2: Open ABSA Home Loan Page
After opening the website, scroll down, and you will see a box with "Apply for a loan." Click on it, and you will be directed to a new page. On top of the page, you will see different loan options; click "home loan."
Step 3: Complete Application Form
Next, press "Apply for home loan" option. To start with the application process, you must answer some questions, such as what type of home loan you are applying for and how you will be applying. Answer these questions to get started.
Lastly, fill out the application form displayed on the screen. They will ask for property and personal details, finances, etc. You must enter correct and valid information to avoid any problems in the future.
Check ABSA Home Loan Balance Using The App
If you have successfully received your amount, let me tell you how to check your balance using different methods. The first method is the most convenient one that allows you to see your balance from the comfort of your home. Through the app, you can effortlessly check your transaction history, loan balance, and other details.
Let me tell you how you can use the app to view your home loan balance in a few simple steps. The instructions are as follows:
ABSA has its own official app, so download it from the google play store or other trusted source.
Log in to your account by entering the username and PIN code. However, if you do not have an account, register yourself.
After logging in, access your home loan account, and your balance will be displayed there.
Check ABSA Home Loan Using The Online Method
If you are unable to use the app, you can use ABSA's official website to check your home loan balance. ABSA online portal allows you to check your account balance, transfer cash, check home loan account details, and so much more. Follow the following instructions:
Search for ABSA online portal on your browser.
Enter your login credentials and login into your account. If you are not registered on the ABSA website, create an account.
After logging in, locate the home loan section to check your balance and other home loan-related details.
Lastly, if you do not have access to the internet, you can visit the ABSA office near your location. You can talk to their representative and ask for your home loan balance. They will provide you with the details you need.
To summarize, checking your ABSA home loan balance is an effortless process that does not require any complex procedure, and you can easily stay informed about your balance and monitor your finances. You can check your home loan balance by using ABSA online portal or by downloading their app. The choice rests on you.
However, if you are unable to use these two methods, you can personally visit the ABSA branch nearest to you. The consultant will assist you and provide details regarding your ABSA home loan balance.