Spot a Loan Reviews | Is it legit South African Lender?
Do you need financing or a loan for your new vehicle or business? If yes, you should find a reliable lender or creditor for yourself. Companies like Spot A Loan work as a communicator between you and the lender and charge their service fee.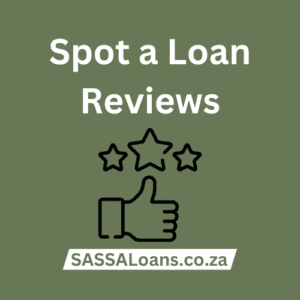 They claim to be extremely professional but it contradicts the service they provide. One of my friends had a very bad experience and lost all her money after applying for a loan through them. If you want any loans and plan on finding a lender through them, please read my article before making any decision that you may regret later.
Spot a Loan Introduction
Spot A Loan is an African company that claims to help citizens solve all their money problems. It was initiated back in July 2014 to help South Africans find a reliable money lender or credit provider for themselves. The company claims to take away all your worries but the reviews seem to be the opposite.
It seems as if they add a new money worry to your life. Although the process might be straightforward and quick, the money you pay as the application fee is never going to be returned. Moreover, they will get back to you after 2 to 3 weeks and will tell you that they were unable to find any lender or creditor.
They have a rating of 1.5 out of 5 which is extremely bad. If you ever try finding reviews related to this company, you won't find a single person happy with them. People are furious and do not recommend finding any creditor or lender through them.
Spot A Loan claims that they have a high success rate in finding creditors for all their customers. It's hilarious that the tagline on the website "If we can't find a loan, nobody can" is opposite to the service they provide. The reviews are extremely bad and people even call them scammers.
Reviews/Experiences
Review 1:
Recently, an unhappy customer posted about his experience and called them looters as they charged R650 as an application fee and did not find him a lender. He further mentioned that he does not even wants to give them one star. The Spot A Loan team responded with a justification that they do charge a fee so that the application is processed further.
Review 2:
One of the customers registered her complaint back in January 2023 that she requested a loan even after her family was against it. She paid the application fee of R650. Her request was not proceeded further and she had to wait for months.
After waiting for six months, the team of Spot A Loan made her visit 5 different institutions. She had to pay the fee again because six months were already over since she applied for the first time. The application fee this time was R750 as the company revises its service charges after every few months.
They left her in extreme distress because she was jobless and used all her savings to get a loan. You will be shocked to hear that the company blamed her for providing the wrong information. They responded in a very insensitive manner and blamed her for not mentioning that she was unemployed when she applied for a loan the very first time.
Moreover, the company said that it was impossible to get her a loan because she is unemployed and unable to repay the loan payment. That is extremely frustrating and sad at the same time. No professional company will ever scam or loot their citizens by pretending to help them in the first place.
These reviews or experiences are the most recent ones. Even if you go back to the days when Spot A Loan was started, it had the same kind of reviews. People were furious and extremely unhappy about the service and called them looters or scammers of all time.
Review 3:
Three years back, a customer named Lucille filed a complaint against Spot A Loan and she claimed that the team is good until they get the fee. When submitted, they promise you to get calls from the lenders/creditors and you keep on waiting for months. After some time, they will tell you that your application has been rejected without providing any valid reason.
Hence if you search the internet, you will get hundreds of reviews regarding the services provided by Spot A Loan and you'll hardly find a good one. People do not rate them with more than one star which is extremely shameful for a company that advertises itself with such big claims.
Is Spotloan and Spot a Loan same?
People often confuse Spotloan with Spot A Loan. These are two different companies and have a huge difference in the service being provided to their customers. Spotloan is an entity owned by BlueChip Financial.
They have headquarters in different cities and claim to provide the best loan experience you will ever have in your life. Spotloan makes an impact on the community and is considered an important part of development. They help people who are suffering and have provided over 1,385,000 loans to hundreds of individuals in need.
FAQs
Is Spot A Loan a legitimate loan company?
Spot A Loan is an African company but has extremely bad reviews. They charge a huge amount of application fees from people who are in need and take advantage of their situation. You won't find a single good review related to their service.
How much can you borrow from Spot A Loan?
It is mentioned on their official website that the customers of Spot A Loan can borrow a loan of R250,000 which has to be repaid in a specific period.
Does Spotloan accept everyone?
Spotloan does not accept everyone's application. You must have an annual income of at least $12,000 to qualify for the loan.
A brief article on Spot A Loan is written so people can have an idea before applying for any kind of loan. They do not have any good reviews and people have had extremely bad experiences with them. The company claims to be the only loan provider but the reviews contradict what they say.
I hope the article was helpful and will save you from wasting your money on such service providers. They are called to be opportunists who take advantage of the people's situation.