How Much do I owe NSFAS? & How to Pay it Back?
Before 2018, NSFAS provides loans to low-income South African citizens, which they need to pay back after a certain time. After 2018, NSFAS was converted into a financial bursary that supports needy Africans in the same way, but the difference is that recipients don't need to owe anything back.
Well, most people still ask how much do I owe NSFAS, do I need to pay it back, etc.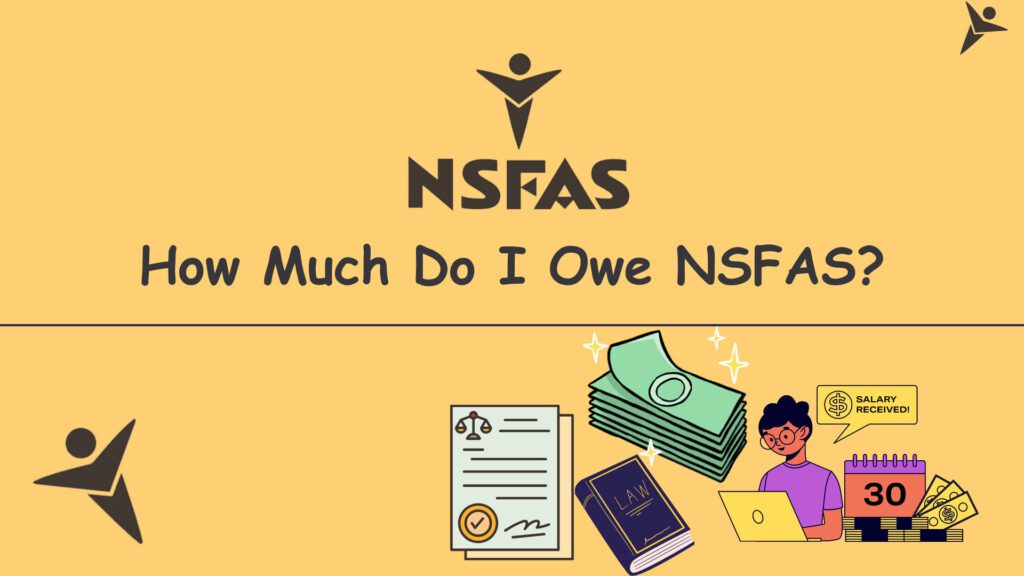 If you're finding the answer to similar queries, grab a seat and relax because in this blog I'll discuss them all for your assistance. I have been an NSFAS recipient before 2018 and am well aware of all the changes and upgrades in terms, policies, conditions, and everything. In this article, I will answer how much do you owe NSFAS, the time limit, the procedure, and more. Let's start this fruitful discussion!
How Do I Find Out How Much I Owe NSFAS?
To find out how much you have to owe NSFAS, you need to dial *134176# on your mobile. Don't worry, you can even do it on a phone other than a smartphone. Dial the reference code and enter your NSFAS password and click on the send button.
After sending the request, a menu will appear on the mobile screen. Click 2 to enter the query field, and then click on View transactions and cash balance to see how much you owe NSFAS. You see, the procedure is simple and straightforward, but there are some other queries too related to how much you owe NSFAS; therefore, I'm adding a comprehensive detail on it below.
Students who Applied Before 2018
NSFAS, before 2018, was a loan-based funding government organization aiming to help poor and low-income citizens of South Africa. At that time, we need to pay the NSFAS fund that we get after a certain time through any means. As I applied for an NSFAS loan in 2017 because I was unable to pay my university fees, but after six months I paid the load back to NSFAS.
Students who Applied After 2018
After 2018, the students who applied for the NSFAS fund didn't need to pay anything back. Isn't it incredible?
It would be right to say that NSFAS has been converted from a loan-providing organization to a funding bursary to facilitate Africans who're suffering from unemployment, hunger, and poverty.
However, it is important to understand that students who applied for NSFAS before 2018 need to owe back the loan they get. Well, you might be thinking that this is an injustice to students who applied before 2018, but that's not right.
This is because the repaying load policy still owes you many benefits like you don't need to pay the load back to NSFAS while you're studying. You can pay back when you get a secure job in any of the sectors or are able to run a startup or something. In other words, you can pay the loan back to NSFAS after completing your education and getting a good job.
In addition, there are many more advantages of an NSFAS loan even when you have to pay it back. For instance, 40% of the NSFAS loan is considered a grant that you can use as a study module. When you're in your final semester, the loan converts into a grant.
For TVET Students
TVET students who are recipients of NSFAS funds can receive the amount from the NSFAS bursary. The policy is different for TVET students as they don't need to owe anything back regardless of whether they applied for an NSFAS loan before 2018 or after 2018.
Do We Have To Pay NSFAS Back
This is among one the most asked questions about NSFAS, so I wanted to quote the answer to this separately. If you have been selected for the NSFAS fund before 2018 when it was a loan-providing body, you need to pay the full amount back to NSFAS.
We wrote an in-depth guide on this which you can read on following link
In contrast, if you receive the NSFAS funding after 2018 when it is converted to a government bursary, you don't need to pay anything back. I think I cannot be clearer than this.
What are the Payment Methods to Pay back?
Now that you know whether you need to pay back to NSFAS or not, it's time to understand how you will pay the money back.
There are multiple ways through which you can pay NSFAS loans back, for example by
debit orders
electronic debit transfers
and more.
Let's discuss them all one by one!
Debit Orders
If you cannot physically visit the NSFAS office to pay the money back every month, you can set a debit order for installments. Through a debit order, your money will be transferred to the NSFAS without any need for a physical visit.
Secondly, if you can't go for a debit order, you can also use the website of NSFAS to set electronic debit orders to pay your monthly installments. For this, you need to enter your details on NSFAS official website, choose the bank account, and set the order. The payment will automatically get deducted from the account every month.
Electronic Funds Transfer
Another way to transfer monthly payments to NSFAS is EFT. EFT refers to electronic fund transfer through which the student or recipient transfers the loan amount to the NSFAS account directly every month. You can get information about the banking details of NSFAS and more from the official website of NSFAS. Please don't forget to keep a check and balance of payment every month to avoid any inconvenience in the future.
From Salary through Instalments
Lastly, you can also pay the loan amount to NSFAS from your salary. After securing a job, you can choose the employer deduction option from the NSFAS website to pay the loan instalments every month. When you select this method, the amount of the loan will get deducted from your salary every month.
How Much Time Is Required to Pay Back NSFAS?
There is no duration limit for NSFAS repayments for ease of students. Once you complete your education and secure a good job, you can pay instalments when it is feasible for you like in a year, two years, or more. If you earn R 30,000 per annum, you need to repay the NSFAS loan.
Don't worry! NSFAS will not be a burden on you; however, that doesn't mean you can neglect it. If you have a secured and reputable job, you are expected to pay the NSFAS loan back. In contrast, if you are unemployed even after completing your education, NSFAS will not force you to pay the money back.
However, the NSFAS policies are a bit strict about employment status, repayments, and more. therefore, don't try to fool the organization, but update the employment status immediately and pay the loan back whenever it is feasible for you.
How do I find out how much I owe to NSFAS?
Dial *134176#, enter the reference code and your NSFAS password and click on the send button. Click 2 to enter the query field, and then click on View transactions and cash balance to see how much you owe NSFAS.
The Bottom Line
After 2018 NSFAS changed its policy and converted from a loan giving organization to the funding bursary. Before 2018, the recipients needed to pay back the loan but now that NSFAS is a funding organization, you don't need to pay anything back. In this article, I have added enough details related to repayment, but if you still have any queries dial 134176# or visit NSFAS official website.