Advantages and Disadvantages of NSFAS in 2023
National Student Financial Aid Scheme or NSFAS is a financial aid scheme by the government of South Africa that bears the financial burden of undergraduate students and helps them in completing their tertiary education. After finishing high school, citizens of South Africa can apply for NSFAS aid to pay their tuition fees and fulfil their dream education.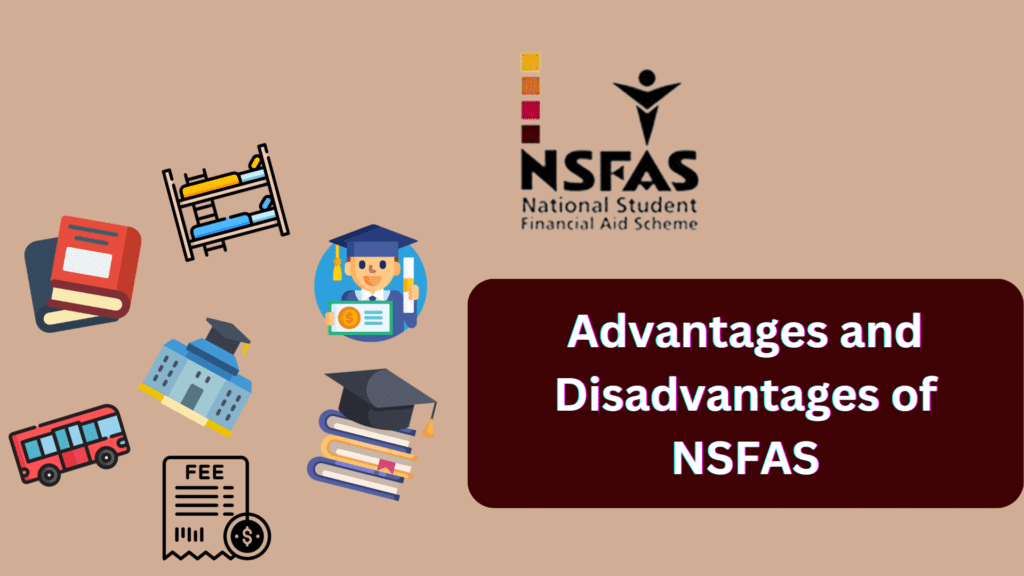 The side by side comparison of Advantages and Disadvantages of NSFAS
| Advantages | Disadvantages |
| --- | --- |
| All Public Universities are Accepted | No Private University is Accepted |
| Huge Number of Courses | Student Must Perform Well |
| Transport Allowance | Student should be in 40km Radius of Educational Institute |
| Living allowance | Only a select few post-graduate degrees are sponsored by NSFAS |
| Book allowance | Limit of R5000 |
NSFAS Advantages
The biggest advantage of the NSFAS student loan is that it is open to South African citizens regardless of their age. However, the income and other limitations are there.
Students enrolled in TVET colleges and public sector South African universities are eligible for NSFAS and its bursaries. They can even directly apply for NSFAS from the student care centers located in their institutes.
NSFAS not only covers the fees for tertiary education, but also provides an allowance for transportation, study materials, living, and more. You can read more about this on the website of NSFAS.
As I shared earlier when I applied for NSFAS, it was limited to undergraduate students only, but that's not the case now. The NSFAS financial aid is now sponsoring post-graduation students also.
Students who live in hostels at TVET colleges or universities can apply for funds for their accommodation as well from NSFAS. This is because NSFAS is responsible for holding the living expenses of students too, isn't it incredible? Also, the NSFAS bursary provides special benefits to people with disabilities.
NSFAS financial aid is accepted by twenty-five public sector universities and fifty TVET colleges in South Africa. I was enrolled in the Central University of Technology for higher education.
There are many other popular universities that accept NSFAS. Some of them are Cape Peninsula the University of Technology, Durban University of Technology, Northwest University, Monash University, Rhodes University, and Nelson Mandela Metropolitan University.
NSFAS prioritizes women's education which is why most of the NSFAS recipients are females. According to the data, 60% of the NSFAS recipients are females, which is good news for women.
Easy NSFAS Eligibility Criteria
In general, anyone who is pursuing a degree in a tertiary education institute in South Africa is eligible to apply for Student Education and Training Loan—NSFAS. In South Africa, universities, TVETs, and colleges offer courses for tertiary education, so the students registered in these institutions are eligible for an NSFAS loan.
However, that's not it! There are some other requirements too that must be met for the successful processing of financial aid by NSFAS, for example, the income requirement, education standard, and more. When I applied for NSFAS, I was enrolled in the undergraduate program, and at that time the NSFAS aid was restricted to undergrads only.
But, in April 2022, the NSFAS signed a partnership with the National Research Foundation or NRF to initiate generating funds to support postgraduate students as well. Now, the NSFAS financial aid eligibility criteria have expanded and it covers the postgrads too. Well, the postgraduate loan eligibility is quite limited as it is for applicants with disabilities, women, or disadvantaged individuals.
Last but not the least, I must mention that NSFAS financial aid program is limited to South Africans only. As I applied for NSFAS for my friend, but her application got refused at the initial stages because she wasn't an African national.
NSFAS Application Process is Easy
When I first thought about applying for NSFAS financial aid, the most challenging step I thought of was the application process. But after applying for NSFAS, I can now claim that it is not difficult at all. You can easily apply for NSFAS online and in person. The NSFAS application process starts in September and November, but you can confirm the exact dates by visiting their official website.
Online NSFAS applications can be submitted on the official website of NSFAS, while for in-person application submission, you need to visit the Financial Aid Office or FAO. When I applied for NSFAS, I was not aware of the online application process, so I visited the Student Service Center at my educational institute for the application process of NSFAS.
NSFAS has Allowances For TVET College Students
If you are enrolled as a TVET college student and applied for NSFAS aid, you will get the transportation allowance i.e., R7000. If your college is up to 40 km far from your residence, you will receive an allowance of R7350 for transportation. Whereas, the allowance for incidental and personal care is up to R2900 per annum.
NSFAS has Allowances For University Students
NSFAS provides an allowance for books and other learning materials like notes, photocopy fare, and more of around R7500. The living allowance provided by NSFAS is R15000, whereas the transportation allowance is R7500. The incidental care allowance for university students is R2900.
NSFAS Disadvantages
Though NSFAS is opening gates for students by making higher education possible for those who can't afford it in South Africa the system still has downsides that need to be tackled for improvement. For example, NSFAS takes a long time to disburse the funds for living allowances, tuition fees, and more.
Not every South African is eligible for the NSFAS scheme, there are restrictions related to nationality, educational qualification, income, and more. Also, the postgraduate student load is limited to disable students and women who passed a certain criterion.
How much does NSFAS pay per student?
It depends on whether you are a college student or are enrolled in a public sector university. If you are enrolled as a TVET college student, you will get an R7000 transportation allowance and R2900 incidental care allowance. However, NSFAS provides an R7500 allowance for books and other learning materials, R15000 for living, R2900 for incidental care, and R7500 for transportation to university students.
How to apply for National Student Financial Aid Scheme?
You can apply for NSFAS financial aid scheme online or in person. For online application, you need to visit the official website of NSFAS, while for the in-person application process, visit the student care center at your institution or Financial Aid Office or FAO.
Which courses does NSFAS fund?
NSFAS funds multiple courses including hospitality, human resources, information studies, tourism, industrial and organizational governances, justice in society, life sciences, language courses, and more. You can see more information about it from the website (nsfas.org.za/content/).
NSFAS is a bursary scheme by the government of South Africa that helps students in completing their tertiary education. The aim and objective of the NSFAS program are significant and advantageous, but the system does have room for improvement. In this blog, I have shared the advantages and disadvantages of NSFAS based on my personal experience.