Does NSFAS Fund Teaching & What is Funza Lushaka Allowance?
Does NSFAS fund teaching degrees? Yes, NSFAS funds various training and courses, including teaching degrees like Education and development National Certificate (Vocational), Educare, and Early Childhood Development courses. The National Student Financial Aid Scheme, or NSFAS, is a South African bursary scheme offering free education.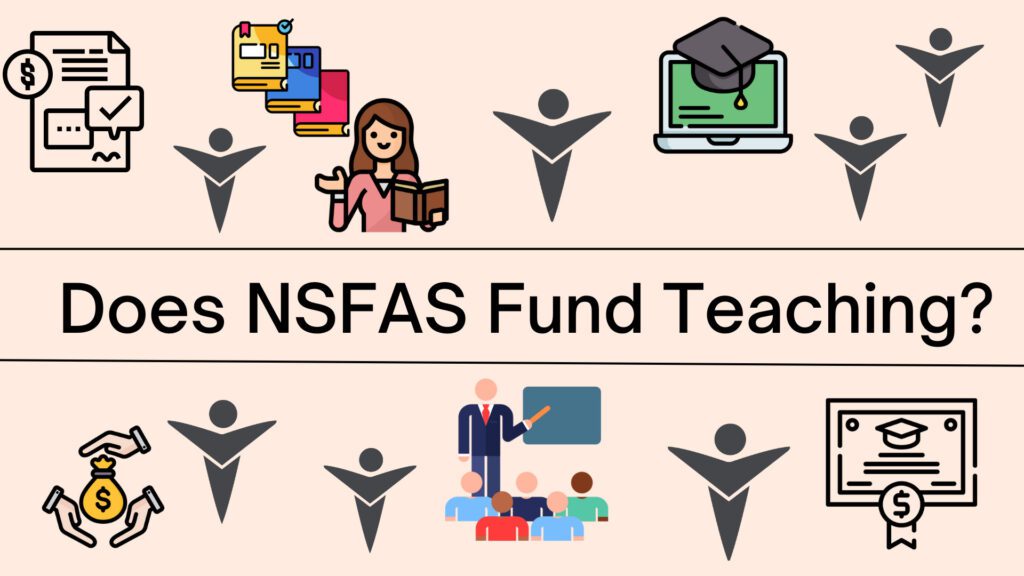 As the Department of Higher Education and Training funds this aid, it also includes allowances for teaching courses and training. There is a variety of courses that NSFAS offers. Along with a Bachelor of Education (BE.d) in public universities, NSFAS offers teaching courses at TVET colleges.
NSFAS Teaching Bursaries Eligibility Criteria
To apply for NSFAS bursaries for teaching, you need to be a South African citizen. You must be fulfilling the university or college requirements. You should have proof of registration at the university or college.
Students will have to pass all the subjects to continue getting funds. If they fail, they will have to return the money. Here are all the documents you will need for NSFAS bursaries for teaching.
Documents Requirements
Identity document (ID)
Grade 12 certificate or results
Parents' or guardians' identity documents and employment documents.
University registration proof
NSFAS Package for Teaching Bursaries
Students applying for teaching bursaries will have to go through NSFAS Means Test. This test will determine the amount of money a student will get. NSFAS will check how much their families can contribute. They can receive a maximum of R60000 per year. Following are the areas that this bursary will cover.
Tuition cost
Accommodation cost
Meals cost
Transport cost
Study material and books allowance
Funza Lushaka Bursary
Funza Lushaka bursaries are given by NSFAS. It is four years Bachelors of Education (BE.d). This course promotes specialization in teaching. It has various majors like Foundation Phase (Grade R to Grade 3), Intermediate Phase (Grade 4 to Grade 6), and Senior and Further Education and Training Teaching (Grade 7 to Grade 12).
Funza Lushaka Allowance Amount 2023
An amount of R 1,308,024,000 is allocated by the National Treasury for the Funza Lushaka Bursary and out of which R600 per month is given to cover living expenses.
NSFAS has been giving the funds on behalf of the Funza Lushaka department since 2007. Funza Lushaka bursary covers all expenses like tuition, accommodation, learning material, meal, registration, and an additional monthly allowance for living expenses. The eligibility criteria for the Funza Lushaka bursary are as follows;
Students must have passed or are about to pass grade 12.
Graduated under 30 with the intention of completing professional teaching qualification.
Unemployed under the age of 30.
There is no guarantee of four years of funding and one more year. The applicant will get an allowance for one year. Students will have to earn the allowance for the new year by passing their courses.
The next year's allowance will depend on the student's academic success and the availability of the funds. In this way, they can get an allowance by getting good grades until they graduate as a teacher.
To apply for Funza Lushaka bursary, visit eservices.gov.za and follow the prompts. Provide all of the information that they ask you. Type in the OTP sent to you and accept the declarations.
FAQs
Does NSFAS fund teaching in 2023?
NSFAS does not directly fund teaching and nursing in 2023. However, the Funza Lushaka bursary is especially for funding teaching courses, and these funds come from NSFAS. So, indirectly NSFAS is paying for your teaching courses.
Does NSFAS pay for the UNISA teaching courses?
Yes, NSFAS pays for UNISA teaching courses.
Conclusion
To summarize, NSFAS covers not only education but professional degrees and skills. Funza Lushaka bursary is specially made for those who are interested in pursuing teaching as a profession.