How to Change Address or Phone Number on SARS eFiling?
Keeping your personal information up-to-date with the South African Revenue Services (SARS) is vital for a seamless tax-filing experience. Whether you have recently moved or changed your phone number, maintaining accurate details ensures that you receive timely notifications and updates from SARS punctually.
Hence, it is necessary to promptly update your personal details on SARS e-Filing whenever any changes occur.
If you do not know how to change your personal details, then do not worry; you are in the raight place. In this guide, I will delve into details of how to change your phone number, email or postal address, and other necessary details. Therefore, keep reading and take notes.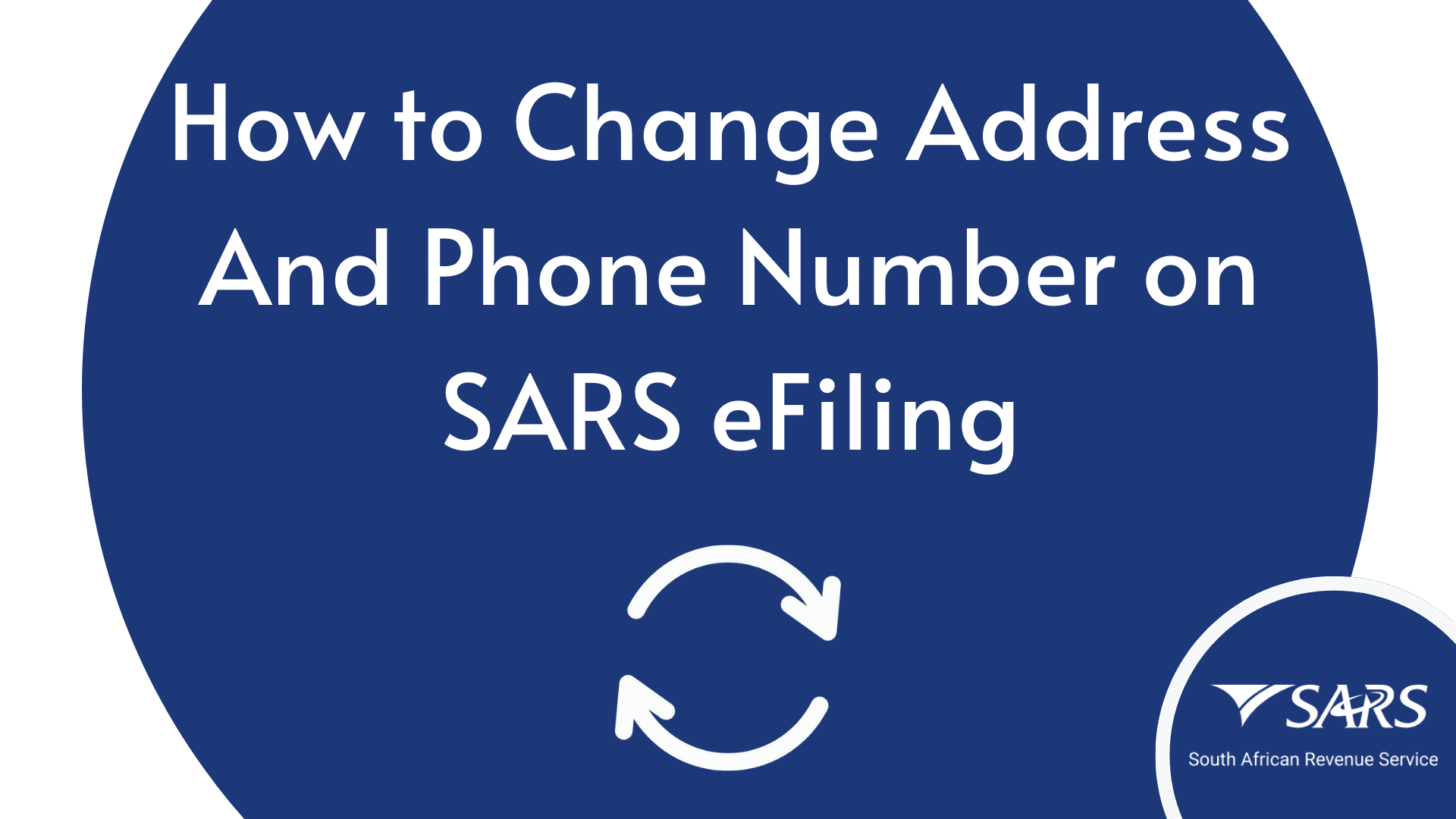 How To Update Personal Detail On SARS eFiling?
SARS relies on the information and details in your eFiling account to communicate with you efficiently. Hence it is necessary to keep your information up-to-date on SARS eFiling at all times. Outdated information can lead to delayed responses, missing deadlines, and other potential misunderstandings, which could have serious consequences for your tax affairs.
However, you can not randomly change personal details; you must follow certain steps and procedures to change your details on SARS eFiling successfully. You can change your personal details or information through the user-friendly online portal from the comfort of your home. Follow the provided instruction to change your contact details effortlessly:
Step 1: Open The SARS eFiling Official Website
Open any browser on your device and search for the SARS eFiling official website sarsefiling.co.za/. After opening the website, you will land on the homepage of the SARS eFiling platform. The website is user-friendly, and you can effortlessly navigate through it.
Step 2: Log in to Your Account
After opening the SARS eFiling homepage, click on the "Login" option in the top right corner. This will take you to another page, where you must enter your login credentials, such as your username and password, and then press "Login". Now, you can easily access your e Filing account.
Step 3: Access Your eFiling Dashboard
After signing in to your account, you will be taken to the eFiling dashboard. Here you can see your tax information, pending returns, outstanding payments, personal details, profile, and more. You will find a menu on the left side of the page; among it, search for the "SARS Registered Details" option and click on it.
Step 4: Navigate to "SARS Registered Details"
After you press the "SARS Registered Details," a drop-down menu will appear. Click on the "Maintain SARS Registered Details" option. This will allow you to make any form of changes you want in the registered form.
Next, select "I agree" after carefully reading the terms and conditions. Afterward, click the "Proceed" option to continue with the further steps. A new window will open, displaying your SARS registered details using an Adobe form.
If Adobe Form does not appear, it is suggested to ensure that you have the latest Adobe plugin installed and correctly operating in your web browser.
Step 5: Update Your Phone Number or Address
Next, a menu will appear on the left side of the Registration Amendment and Verification Form (RAV01). This menu contains different options, including "my contact number", "my email address", "my bank account" and more. If you wish to change or update your phone number, press the "My Phone number" option, and if you want to update your address, then press the "My address" option.
Step 6: Submit Form
After you have updated your SARS registered details, click "Done" and press "Submit Form". All of your details will be updated, and you will receive a notification on your eFiling homepage indicating "Change of Registered Particulars," or an email will be sent to your email address after SARS verifies your information.
How To Change Phone Number and Address via SARS eFiling App
Let me tell you about another convenient method that you can use to change your phone number and email or postal address. One of the convenient ways you can change personal details is by using the SARS app. Let me break it down for you in simple steps:
Step 1: Open The SARS Mobi App
The easiest and most convenient method to change your phone number and email address is by downloading the SARS Mobi mobile app. You can download the mobile from any app store for free.
Step 2: Enter Login Credentials
If you already have an account, you can directly log in to your SARS account; however, if you are not registered, you can create an account. After logging in, you will see a menu on the home page, including "Tax Returns", "Correspondance", " and "Profile Management". Click on the "Profile Management" option to change your email or postal address and phone number.
Step 3: Update Personal Details
Afterward, a form will appear presenting your personal information. The forms include your name, contact details, marital status, postal address, etc. Navigate to the contact detail section and change your old phone number and email address to the new one.
Furthermore, ensure that information is current and accurate to receive communication and important notifications from SARS.
Once you have made the changes, click on the "Update" button to change your contact details successfully. SARS will then verify and process your details, which may take some time. Hence, exercise patience.
In conclusion, changing your personal details on the SARS eFiling platform is simple and effortless and can be carried out using two methods. You can use the online method through which you can change your phone number and address from the comfort of your home. To change the contact details, go to the SARS eFiling website and follow the step-by-step instruction to update the details.
In addition, you can also update the contact details by downloading the SARS app from any app store without spending a single penny. After making the changes, SARS will have your most current contact information, ensuring seamless communication regarding your taxes and other related matters. If you encounter any issues or difficulties, do not hesitate to contact SARS for assistance.